A clean and healthy classroom, regardless of age group, is a critical component of student success, directly impacting student and instructor attendance and performance.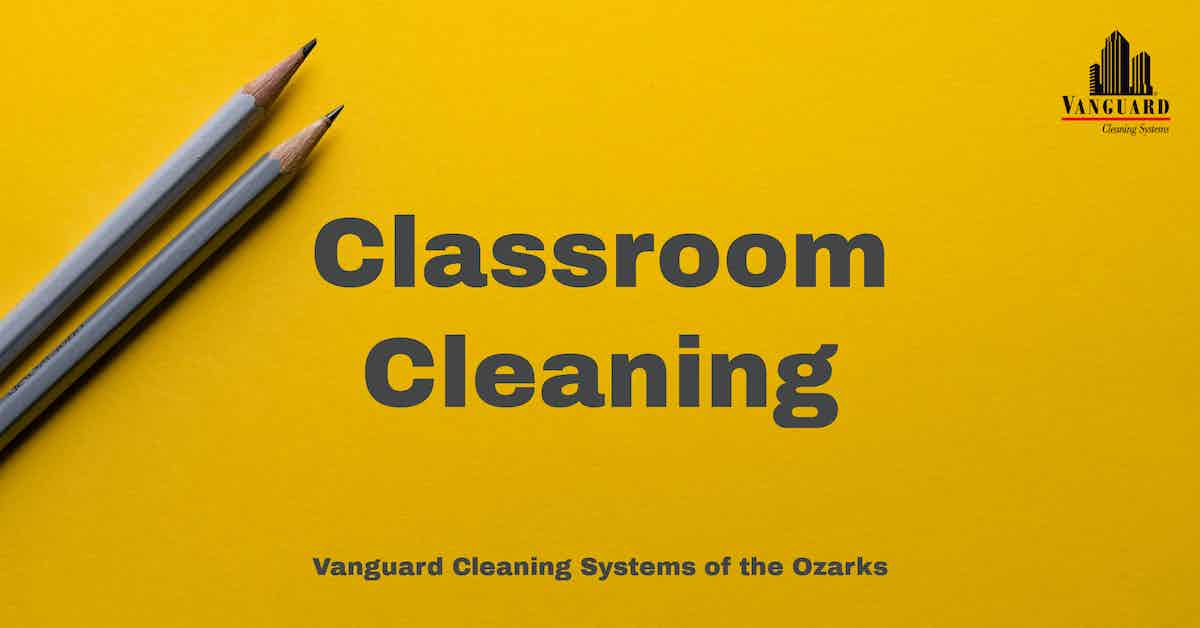 Enhanced Classroom Cleaning is an Investment
School buildings directly impact occupant health and performance.
The presence of mold, dust, germs, poor lighting, inadequate ventilation, noise, and poor temperature controls have been shown in multiple studies to contribute negatively to attendance and test scores.
According to the U.S. Environmental Protection Agency, nearly half of U.S. classrooms are plagued by one or more negative environmental impactors.
A Harvard University report examined more than 200 separate studies on the challenge of classroom cleanliness--finding that;
A study of 75,000 high school students in New York City found that students were 12.3% more likely to fail an exam on a 90°F day versus a 75°F day.

Poor ventilation in schools was associated with student fatigue, lower attention span, and loss of concentration.

In a study of 500 8-9 year olds, test scores were 5.5 points lower for each 10-decibel increase in classroom noise.

The U.S. Environmental Protection Agency has estimated that more than 60,000, or 46%, of all U.S. public schools have conditions that contribute to poor indoor environmental quality, according to the report.
Additionally, poor classroom environmental health carries heavy short and long-term public financial burdens.
According to the most recent data;
Public school teachers in the U.S. miss 9 or 10 days of school every year. This has implications for both student learning and school finances.

Researchers have found that being taught by a substitute for 10 days a year has a larger impact on a child's math scores than changing schools and that being taught by a substitute for even one day is more detrimental than replacing an average teacher with a terrible one.

The annual national cost of teacher absenteeism is estimated at $25.2 billion, with $4 billion due to stipends for substitutes and associated administrative costs.

Poor health is one of the main causes of chronic absenteeism (missing 15+ days of school) among students.

The U.S. Department of Education calls chronic absenteeism "a hidden educational crisis" that leads not only to higher dropout rates, but also poorer outcomes later in life. In the 2015-2016 school year, about 1 in 6 children was chronically absent.
Routine and Periodic Classroom Cleaning
A proven method for reducing the presence and transmission of germs while improving indoor air quality is enhanced cleaning.
Dividing up cleaning tasks based on occupancy, use, need, risk, and the season will improve efficacy.
For instance, each day a classroom is used:
Empty the trashcans.
Wipe down desks, chairs, and all horizontal surfaces, including communication and computer equipment.
Remove visible dust and soil from all surfaces.
Sweep or vacuum the classroom floor.
Sanitize hand hygiene stations, and;
Refill soap and paper towel dispensers.
Periodically--varying depending on the weather and seasonal outbreaks--custodial services should:
Deep clean floors or carpets.
Swap out the classroom walkway and entry mats.
Clean classroom vents and ducts.
Remove high dust from cabinets and light fixtures.
Replace bulbs as needed.
Professionally clean the classroom windows inside and out.
Wipe down horizontal surfaces with a commercial-grade detergent.
Additionally, during seasonal cold and flu outbreaks, studies have shown that disinfecting daily with an electrostatic sprayer significantly reduced absences and illnesses.
According to the data gathered from a multi-year study conducted at a Florida school district;
For the duration of the 2017-2018 school year, the district used the electrostatic cleaner once a month and conducted manual cleaning each day.

During the 2018-2019 school year, Flagler used electrostatic technology daily in one of its elementary schools and stuck to its old method in another.

Those two schools were then compared against the absenteeism rates for 2018.

The school that received daily treatment from the electrostatic technology reported the 14 percent reduction in absenteeism and no outbreaks of illness. The other school saw a decline in absenteeism, though it was less significant.
Takeaway
Designing a holistic clean for health first approach in the classroom is critical to the financial and educational outlook for the U.S.
However, school districts continue to struggle with in-house custodian retention and program funding, resulting in low-quality outcomes that negatively impact student health, attendance, and performance.
Outsourcing is a proven method for onboarding skilled service providers equipped with the latest training, processes, and technologies for a fraction of the price of maintaining a comparable service in-house.
Contact us today and discover why Vanguard Cleaning Systems® is the Standard of Clean® for businesses throughout Northwest Arkansas, Missouri, and Oklahoma.
In Oklahoma, dial 918-960-4450
In Arkansas, dial 479-717-2410
In Missouri, dial 417-812-9777