The general purpose of cleaning for health programs is to remove soil while mitigating health risks to occupants and the natural environment--a process sorely in need of improvement.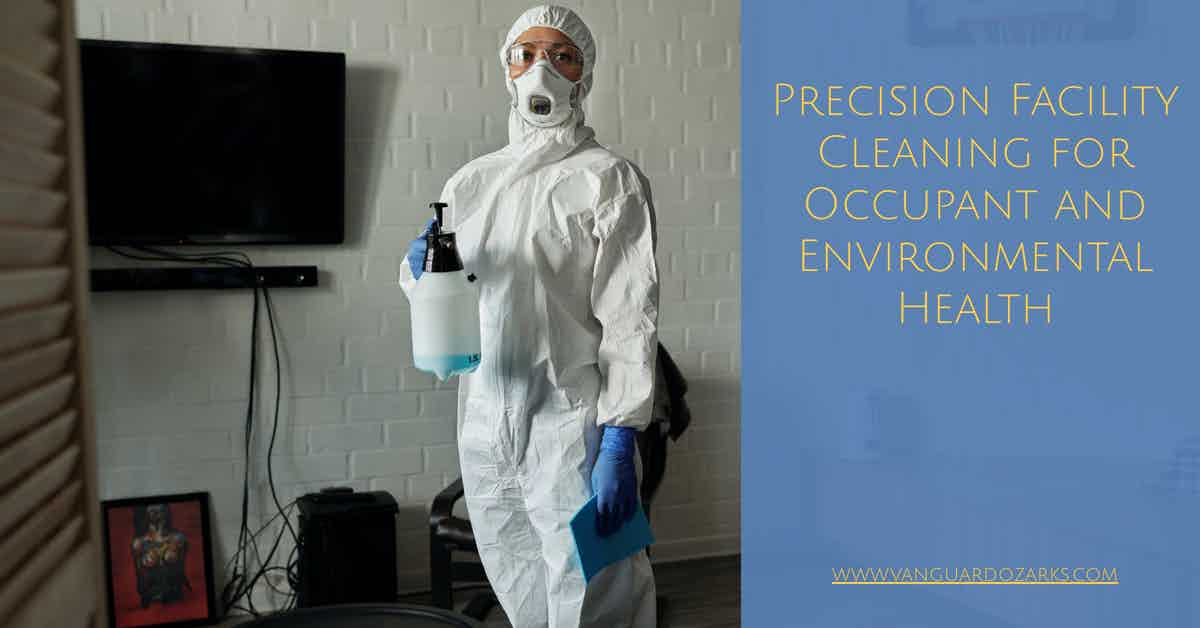 Cleaning Challenges Faced by Modern Custodial Teams
Facility cleanliness has fallen under intense scrutiny, forcing custodial teams to address significant challenges and overcome major hurdles, including:
Continuously removing contamination from high-touch surfaces.
Identifying additional facility areas that may harbor pathogens and assigning the correct labor and material resources to address those spaces.
Coordinating cleaning and maintenance schedules with internal departments.
Consistently meeting occupant expectations.
High internal turnover rates of valuable labor resources.
The absence of consistent training programs for custodial workers, and;
A lack of surface and air testing systems that can be used to demonstrate cleaning efficacy or justify increases in cleaning frequencies, budgets, and staffing.
Getting to "Clean"
Addressing the challenges modern custodial teams increasingly face requires clearly defining what "clean" means.
Conventional definitions of cleanliness involve the human senses:
Facility surfaces are free of streaks, visible soil, and debris.
Potentially, a pleasant scent left by the cleaning products remains, but no lingering malodorous smells, and;
Surfaces are dry and absent of any oily or slimy residue.
While these criteria are not inherently flawed in the judgment of cleanliness, they cannot imply the removal of demonstrably deadly pathogens and illness-causing, productivity-killing airborne microbes from facilities.
Post-COVID, most office workers and in-store shoppers are acutely aware of the impact cleaning frequencies and product effectiveness has on their health and safety, which has altered the previous flawed concept of facility cleanliness to include:
Increased visible cleaning efforts of high-traffic occupied facility spaces, with;
The use of proven-effective cleaning tools (microfiber and electrostatic sprayers) and products designed for use in a commercial facility against known harmful pathogens that are in the midst of a potential outbreak or that routinely spread during various times of the year.
According to the results of a survey published by Chain Store Age (CSA);
Consumers ranked frequent cleaning and sanitizing as the top (66%) measure that would make them more likely or more comfortable with visiting physical spaces in a survey conducted by the International Council of Shopping Centers.

Seventy-nine percent of consumers agreed that they were more likely to purchase from retailers/brands that acted responsibly and did something to help their own employees who permanently/temporarily lost their jobs during the coronavirus/COVID-19 outbreak than those who did not.

Survey: Cleaning is key to making consumers more likely to visiting stores again
Detecting and Preventing Surface Contamination
Recent data suggest that proactive infection prevention and control measures can:
Decrease an estimated 60 million missed school days and 50 million missed work days annually, and;
Reduce the financial cost of the burden of illness by hundreds of billions of dollars per year.
According to the American Cleaning Institute;
Americans spend about $5 billion each year on their colds - about $3 billion on doctors' visits and $2 billion on treatments.

An estimated 60 million days of school and 50 million days of work are lost annually because of the common cold.

Some 5.5 million visits to doctors' offices each year are due to skin infections.
Preventing the spread of illness requires the identification of:
Germs present on facility surfaces and microbes in the air through evidenced-based ATP and IAQ testing.
High risk and high needs areas, including fomites.
Available labor and material resources, and;
Service provider skill levels, competencies, and training requirements.
Once these items are identified and documented, a plan should be created that:
Brings operators up to an acceptable minimum level of training to ensure cleaning efficacy and workplace safety.
Reduces and updates material resources down to modern equipment and products that are designed for use in the environment they are being used in and are registered with the EPA against the pathogens identified in the previous stage.
Focuses heavily on fomite disinfection and increased cleaning frequencies in facility areas with a high risk and needs assessment.
Facilitates lines of communication between departments and custodial teams to ensure maximum occupant satisfaction.
Measurably improves indoor air quality, and;
Commits to routine follow-up surface and IAQ testing to ensure the highest outcomes.
Takeaway
The differences between conventional cleaning and precision cleaning for occupant health and environmental safety include:
Targeting cleaning and disinfection efforts based on risk and needs analysis combined with evidenced-based surface and air testing.
Using minimally toxic products that are designed for the facility type, surface, and environment they are employed in.
Focusing heavily on service provider training that includes product and process competencies, and;
Bi-directional communication between departments and stakeholders.
For many organizations, implementing services at that level will likely prove cost-prohibitive.
Outsourcing is a proven method for onboarding skilled service providers equipped with the latest training, processes, and technologies for a fraction of the price of maintaining a comparable service in-house.
Contact us today and discover why Vanguard Cleaning Systems® is the Standard of Clean® for businesses throughout Northwest Arkansas, Missouri, and Oklahoma.
In Oklahoma, dial 918-960-4450
In Arkansas, dial 479-717-2410
In Missouri, dial 417-812-9777