Before COVID-19, cold and flu season negatively impacted learning environments and student attendance, often due to a combination of low levels of hand hygiene compliance coupled with seemingly unassailable challenges with the cleaning and disinfection of large buildings and numerous classrooms.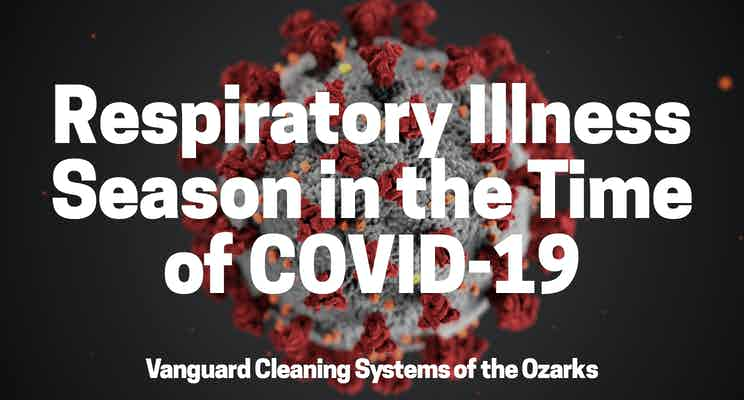 The Revolving Classroom Door of Cold and Flu Season in the Time of COVID-19
The 2021-2022 cold and flu season is predicted to be--potentially--a bleak and dangerous one.
Many healthcare officials have sounded the alarm since late 2020 regarding the increasingly likely challenges of a 'twindemic'--a simultaneous widespread outbreak of SARS-CoV-2 and its variants combined with a worse-than-usual influenza season.
Warnings were initially issued last winter in response to the virtually non-existent flu season, resulting in little to no exposure to the virus.
This year, a measurable uptick in Respiratory Syncytial Virus Infection (RSV) combined with the current pandemic and the predicted widespread outbreak of influenza and rhinovirus--most of which negatively impact school-aged and very young children--have school officials and parents on high alert.
The healthcare situation, already bleak, could soon get worse.

The unfortunate reality is that SARS-CoV-2 isn't the only respiratory pathogen currently circulating in our communities.

As respiratory illness season knocks at the door, illnesses such as influenza, respiratory syncytial virus (RSV), rhinovirus, and others will add stress on an already strained healthcare infrastructure.

We have already seen a glimpse of unusually high numbers of illnesses with the uptick in RSV cases beginning in April 2021 accompanying the relaxation of COVID-19 precautions.

Health experts fear the reality of a "twindemic" this year with the prediction of a severe flu season and the potential of increased coinfections.

This all points to the fact that it is likely only going to get worse before it gets better.

Respiratory Illness Season in the Time of COVID-19: An Added Burden for Healthcare
The significant areas of concern, aside from the fact that respiratory illnesses tend to hit children harder than adults (with the notable exception of the elderly), is the absence of available COVID vaccinations for children combined with the increased levels of interaction between children in schools, and the increased likelihood of children to acquire multiple respiratory infections simultaneously, all amid several notable increases in several common respiratory illnesses.
Prior to the pandemic, researchers at the Cleveland Clinic conducted a study to see how frequently people are infected with more than one respiratory virus at the same time.

Among a sample of over 1,000 respiratory infections, almost 1 in 5 children were infected with more than one virus at the same time.

Children were infected with multiple viruses 6 times more frequently than adults were.

This summer, we observed off-season outbreaks of a common and sometimes serious respiratory disease, respiratory syncytial virus (RSV).

The high levels of community transmission of SARS-CoV-2, the coming cold and flu season, in addition to other respiratory pathogens like pertussis (the bacterium that causes whooping cough), will increase the likelihood of co-infections in children this year.

Back to School and Right Back Home Again: Kids at Risk for More Than COVID-19
Combatting Classroom Outbreaks With Enhanced Infection Prevention and Control Methods
There are several methods for breaking the chain of infection and preventing the spread of pathogens and pathogenic bacteria, including:
Screen occupants and guests for signs of illness.
Encourage students and staff to remain at home if they feel ill or show signs of infection.
Teach, encourage, and practice good respiratory, hand awareness, and hand hygiene practices.
Clean classrooms and disinfect fomite surfaces failing with EPA-approved commercial detergents and disinfectants with the proper claims against the germs and bacteria you are combatting, and;
Implement no-touch electrostatic disinfection during widespread community outbreaks and in the event of localized contamination.
According to Dr. Robert R. Redfield, former director of the Centers for Disease Control and Prevention (CDC);
[W]hen we're talking about making sure high-touch surfaces are disinfected and actually safe to touch, I certainly recommend electrostatic sprayers over non-automated options – the improved surface coverage makes a big difference when it comes to deactivating virus particles.

Leaning into Electrostatic Sprayers: How the Pandemic Changed the Way We Disinfect
Takeaway
This cold and flu season has all the signs of a dangerous one for students already suffering from the downstream consequences of prolonged classroom closures.
Implementing enhanced cleaning, fomite, and no-touch disinfection services combined with commonsense hand hygiene practices and policies that encourage sick students and staff members to stay home when they are sick have been proven effective against a wide range of respiratory illnesses long before the present pandemic.
Outsourcing to an experienced provider is a proven method for onboarding critical infection prevention and control services as part of a more comprehensive facility cleaning subscription service at a fraction of the cost of maintaining a similar service in-house.
Contact us today and discover why Vanguard Cleaning Systems® is the Standard of Clean® for businesses throughout Northwest Arkansas, Missouri, and Oklahoma.
In Oklahoma, dial 918-960-4450
In Arkansas, dial 479-717-2410
In Missouri, dial 417-812-9777