The rapid spread of SARS-CoV-2 and the difficulty of effectively sanitizing large open-area facilities has piqued interest in advanced disinfection technologies, such as electrostatic disinfection sprayers, which are now registered with the U.S. Environmental Protection Agency against COVID-19 for hard, non-porous surfaces.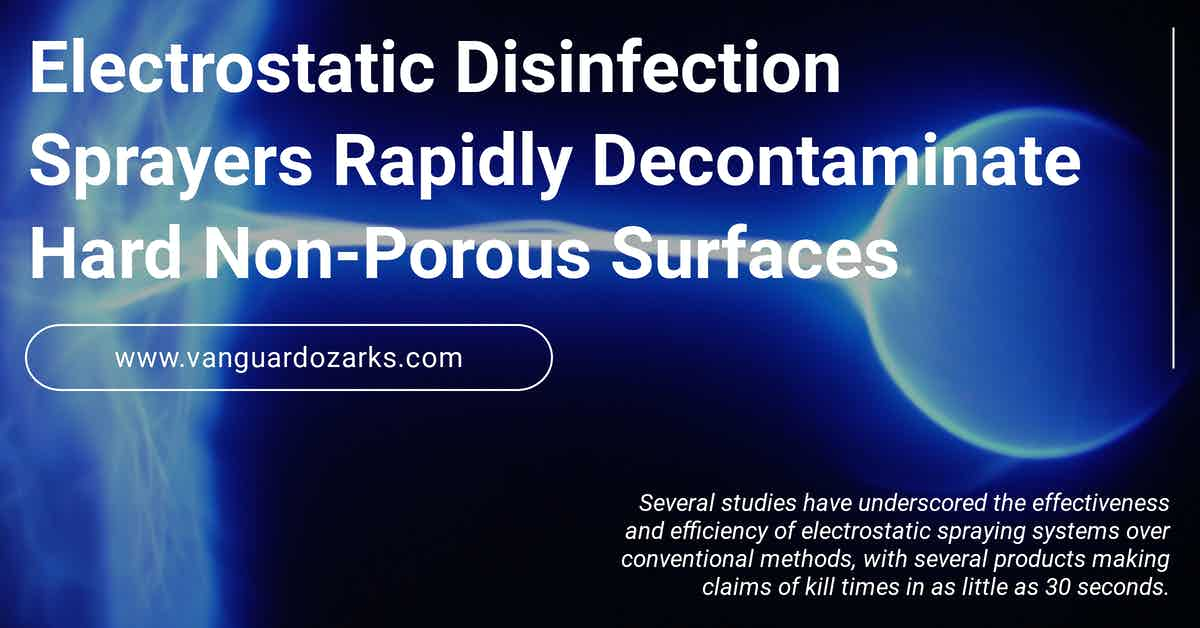 An Evaluation of Electrostatic Sprayers Efficacy for Disinfecting Portable Equipment and Large Open Areas Against SARS-CoV-2
As of the time of this document's writing, the EPA has approved seven different registered electrostatic sprayer disinfection products for use against SARS-CoV-2.
Source:
Several studies have underscored the effectiveness and efficiency of electrostatic spraying systems over conventional methods, with several products making claims of kill times in as little as 30 seconds.
However, when sanitizing surfaces against known or potential SARS-CoV-2 contaminants, the specific chemical used by the spraying technology--often proprietary to the application sprayers--is what matters most.
According to a recent paper published by the National Collaboration Centre for Environmental Health;
A study comparing a specific electrostatic spray system with a conventional spray system to apply an active ingredient found that the electrostatic sprayer was 29- times better than the conventional sprayer in depositing the active ingredient onto the backside of the target surface.

Past studies on the effectiveness of electrostatic sprayer systems have revealed that disinfectants applied via electrostatic sprayers are effective in reducing a variety of microorganisms from surfaces.

Other studies have found that while electrostatic sprayers and conventional disinfectant application techniques (manual or conventional sprayer) are both effective in reducing certain types of pathogens from a variety of surfaces, electrostatic sprayer systems are found to be more efficient than manual application.

Electrostatic sprayers may also use disinfectants more efficiently.

The electrostatic sprayer used in one study produced 75% less disinfectant wastage compared to the traditional backpack sprayer.

Additionally, disinfectant solutions applied via an electrostatic sprayer were found to be better able to encapsulate and inactivate the inoculated pathogen directly on the surface, compared with the traditional backpack sprayer, which washes the pathogen spores off the test surface and potentially cross-contaminates other areas.

While electrostatic spray systems promote better adhesion of disinfectants to surfaces, the effectiveness for inactivating SARS-CoV-2 depends on the disinfectant solution used.

COVID-19 in indoor environments — Air and surface disinfection measures
Another study published by the American Journal of Infection Control found clear evidence supporting the implementation of enhanced facility cleaning and disinfection services via electrostatic sprayer technologies against respiratory pathogens, including SARS-CoV-2.
Contaminated surfaces are a potential source for dissemination of many bacterial and fungal pathogens.

There is also increasing concern that the environment may be an underappreciated source for spread of respiratory viruses, including severe acute respiratory syndrome coronavirus.

Many respiratory viruses survive for hours to days on surfaces, and respiratory virus nucleic acid has been recovered from surfaces in health care and community settings, including households, day care centers, airports, and schools.

Enhanced environmental cleaning and disinfection is therefore recommended as one component of control measures for severe acute respiratory syndrome coronavirus 2 in health care and community settings.

Evaluation of an electrostatic spray disinfectant technology for rapid decontamination of portable equipment and large open areas in the era of SARS-CoV-2
Area Preparation and Operational Instructions for the use of Electrostatic Disinfection Sprayers
Before using an electrostatic disinfection sprayer to disinfect any surface, the area and personnel must first be prepared by:
Removing any paper products from the area you intend to treat to avoid damage.
Ensuring all individuals present are wearing the personal protective equipment recommended on the disinfectant product safety data sheet and that no unprotected individuals are in the area.
All visible soil is removed before the disinfectant product application to ensure maximum surface coverage and efficacy, and;
That warning signs are placed at entrances to the area being treated, warning occupants against entry while the area is being sprayed.
Once the area is prepared;
Stand approximately two to four feet away from the surface you intend to treat.
Move the sprayer nozzle slowly from side-to-side working from high surfaces downward.
After application, allow the disinfectant product to rest for the prescribed laytime before allowing occupant entry.
Typically, wiping of surfaces is not required.
Occasionally, depending on the type of disinfectant used and the nature of the bacteria or pathogen being disinfected, an additional pass may be required.
Takeaway
In a bit of outstanding news, the EPA has approved multiple electrostatic sprayer products for use in the fight against COVID-19.
The technology has proven to be far more efficient in disinfectant product application, which is good for occupants and the environment, as well as more effective at surface coverage and pathogen and bacteria reduction, which is good for everyone.
The use and maintenance of the appliance require advanced training, and should typically only be handled by qualified personnel.
Outsourcing advanced cleaning services, especially electrostatic disinfection, is a proven method for cost-effectively onboarding proven pathogen elimination methods.
Contact us today and discover why Vanguard Cleaning Systems® is the Standard of Clean® for businesses throughout Northwest Arkansas, Missouri, and Oklahoma.
In Oklahoma, dial 918-960-4450
In Arkansas, dial 479-717-2410
In Missouri, dial 417-812-9777