Like the mythological Goldilocks, commercial office cleaning customers often struggle with challenges stemming from the size--whether too large or too small--of their janitorial provider's business and corresponding capabilities.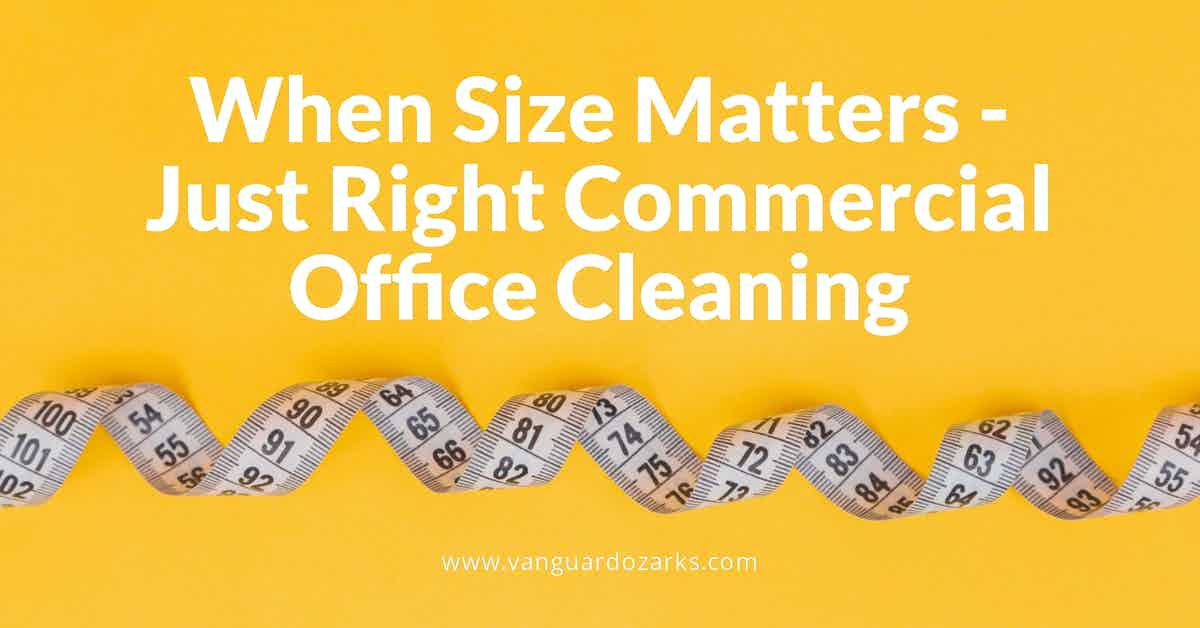 Size Matters When Hiring Commercial Cleaning Services
When considering prospective commercial office cleaning providers, time invested in assessing the size of the entire business and the team(s) that will be cleaning your office building(s) can be beneficial.
If the business as a whole is extensive, your organization may struggle to capture the attention it deserves due to the relative size of your contract versus larger nationwide clients.
Conversely, if the company is too small, it will likely struggle with consistently high cleaning outcomes and timely service delivery, specifically in an emergency call.
The Pros and Cons of Large Vs. Small Janitorial Service Providers
There are advantages and disadvantages to outsourcing your organization's custodial requirements to a large or small provider.
Larger organizations:
Typically have little to no issues maintaining fully staffed custodial teams.
Possess extensive knowledge regarding industry regulations and compliance requirements.
Have the budgets to provide up-to-date training and state-of-the-art equipment.
Can pay more, which correlates strongly with employee retention, job satisfaction, and engagement, and;
Have the labor resources necessary to address emergency requests and clean extensive facilities.
A notable disadvantage to retaining the services of a large commercial cleaning company is that, for obvious financial reasons, they prioritize their larger contracts over the mid-sized and smaller ones.
This scenario often leaves many businesses caught in a kind of bureaucratic bind when seeking remediation with service issues or matters concerning customer support--ultimately resulting in low satisfaction levels and poor cleaning outcomes.
Conversely, in smaller organizations:
The business and labor resources are typically locally owned and operated.
Customer service issues are often routed directly to decision-makers quickly, and;
The services are often priced below market value and ideal for organizations that only want basic cleaning services and are more concerned with costs.
However, smaller service providers often fall short in the areas that result in poor overall cleaning outcomes, including:
High labor turnover.
Little to no worker training or access to modern, well-kept equipment.
A lack of experience or knowledge surrounding industry regulations and requirements, and;
The absence of labor resources necessary to clean large facilities or address emergencies in a timely manner.
Franchised Cleaning Services - Just the Right Size for any Occasion
Nationally franchised custodial companies managed by a regional master franchise tend to possess positive traits of both large and small providers while avoiding the negatives.
The nationwide corporate presence allows the regional management team and each individual franchise business to benefit from:
Deep experience with Federal, State, and Local regulations and compliance requirements.
Access to top-level training opportunities and state-of-the-art equipment.
A wide range of labor resources and experience, and;
The ability to leverage multiple providers as necessary to clean large facilities with pricing that fits the needs of very small offices.
Additionally, the local individually owned franchise presence within the region, supported by the master franchise:
Is capable of rapidly deploying labor resources for nearly any commercial cleaning request, and;
Benefits from the incentives of business ownership, which increases each worker's stake in ensuring high-quality cleaning outcomes and the highest levels of customer satisfaction.
Takeaway
Outsourcing to a "just the right fit" commercial office cleaning service will positively impact:
The hygiene and sanitation of your building.
The health and wellness of facility occupants.
Your business's output quality, occupant satisfaction, and financial bottom line, and;
Your organization's public image.
Our independently owned franchise businesses clean an estimated 6.5M sq. ft. every week, and we boast unrivaled customer retention and satisfaction ratings.
Cleaning that much space every week has resulted in extensive expertise, which means:
Expert job workloading, which translates into accurate cost assessments for your business, so you know you're not throwing money down the drain, and;
Highly skilled and independently motivated franchise cleaning teams whose sole focus is to ensure the highest levels of cleanliness and customer satisfaction.
Need more capability from your janitor?--Let's talk.
In Oklahoma, dial 918-960-4450
In Arkansas, dial 479-717-2410
In Missouri, dial 417-812-9777