Facility cleanliness and hygiene are top priorities for office workers, shoppers, diners, and vacationers across nearly every industry and corresponds directly to business success.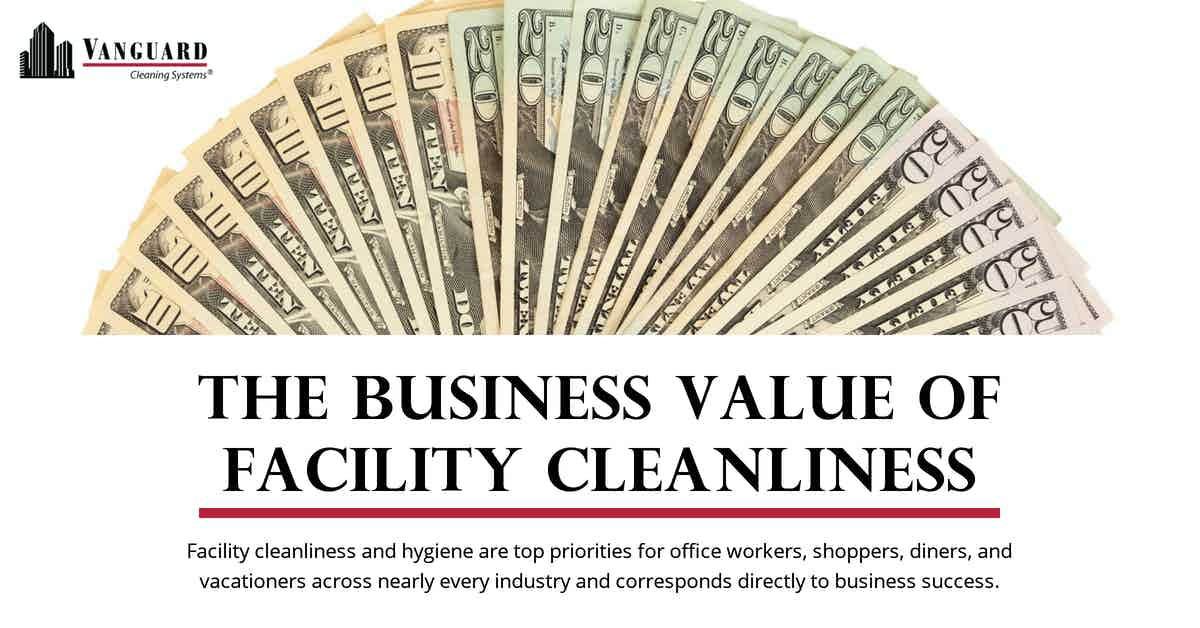 The Value of Cleanliness to Consumers and Office Workers
Facility occupants ranging from office workers to diners and hospitality guests rank building cleanliness and hygiene incredibly high on their list of must-haves to ensure a positive and potentially repeatable experience.
Conversely, the absence of consistent and high-quality facility cleanliness leaves occupants with a negative impression of a business, often resulting in complaints, lost business, and a diminished public reputation.
According to a 2017 survey conducted by Ipsos on behalf of P&G Professional, which interviewed more than 1,000 adults in the US:
86% stated they shopped at small businesses at least once per month.
92% said that facility cleanliness and hygiene were top priorities when determining whether they would return to patron the establishment.
91% said that a poorly cleaned facility would leave them with a negative overall impression of the business.
95% stated a clean facility could elevate a good business to a great one.
74% said they would overlook slow service in a noticeably clean facility.
87% said that if they encountered a dirty restroom, it would cause them to call into question the quality of a business's product or service.
83% said they would leave immediately if they encountered a bad smell, and;
73% said they would never return to a facility where they encountered a foul odor.
The areas of a facility that most disturbed customers were:
97% - Foul odors.
96% - Dirty restrooms.
94% - Sticky tables and chairs.
92% - Overflowing trashcans.
85% - Messy drink stations in restaurants and theaters.
82% - Hair on the floor.
77% - Stains on the carpet.
66% - Litter in the parking lot, and;
53% - Fingerprints on the windows.
Restroom Cleanliness as a Source for Recurring Revenue
Among all of the issues cited in the surveys, bad smells and dirty restrooms topped the list as the most likely sources of occupant dissatisfaction at a level that would:
Result in a negative overall impression of the business's products and services.
Give the reason to leave the establishment without buying anything.
Never come back, and;
Tell their friends and family about the negative experience, and potentially;
Leave a negative online review for others to see.
Conversely, a clean restroom accompanying a hygienic and odor-free facility can be a money-making game changer.
According to Paul Edmondson, Commercial Director, North America, P&G Professional;
This survey shows the importance customers place on cleanliness often has a much greater impact than business owners may believe.

Cleanliness can actually be a source of revenue through repeat business. It's easy to feel like cleaning is just a necessary cost of doing business, but it actually can be a moneymaker.
Restroom cleanliness is so important to shoppers and diners that another survey conducted by the Bradley Corporation found that the number of them who would spend more with a business that had a spotless restroom had climbed significantly in two years and that roughly 75% of consumers consciously made it a point to patron businesses they knew had a clean bathroom.
According to Facility Executive;
The number of Americans who will "definitely" or "probably" shell out more cash in response to clean restrooms has climbed to 62% this year from just 45% two years ago.

Millennials and Gen Xers are the two generations most likely to open their wallets.

The study also found that almost three out of four Americans make it a point to visit a business because they know it has nice restrooms.

Women are especially likely to show preferential treatment, as are Millennials and Gen Xers.
The evidence supporting the commercial value of clean public restrooms doesn't stop there.
According to a different study conducted by the Bradley Corporation, more than half of Americans would pay for a pleasant public restroom experience.
According to the survey, 56% of respondents stated they were open to paying to use public restrooms if they were guaranteed to be clean and well-stocked.
How much?
45% - Up to $0.25.
29% - Up to $0.50.
10% - Up to $0.75.
10% - Up to $1.00, and;
6% said they would pay more than $1.00!
References & Resources
Takeaway
Facility cleanliness and hygiene, especially spotless, odor-free, and fully stocked restrooms are critical to the success of businesses across a wide range of industries.
Restroom cleanliness is so important that, while a dirty restroom would most likely send a previously loyal customer running for the hills, unlikely ever to return, a clean restroom is clearly a source of customer attraction and revenue generation.
Unfortunately, restroom cleaning is commonly cited as one of a custodian's least favorite tasks, often due to a lack of training, support from a team, high-quality equipment, and specialized cleaning and disinfection products that simplify the tasks and drastically improve outcomes and occupant satisfaction.
Outsourcing to an experienced provider is a proven method for onboarding critical infection prevention and control services as part of a greater facility cleaning subscription service at a fraction of the cost of maintaining a similar service in-house.
Contact us today and discover why Vanguard Cleaning Systems® is the Standard of Clean® for businesses throughout Northwest Arkansas, Missouri, and Oklahoma.
In Oklahoma, dial 918-960-4450
In Arkansas, dial 479-717-2410
In Missouri, dial 417-812-9777