As time progresses and more studies are conducted, our knowledge regarding the function and behavior of SARS-CoV-2, including its survivability rate outside of the human body on various fomites, continues to expand.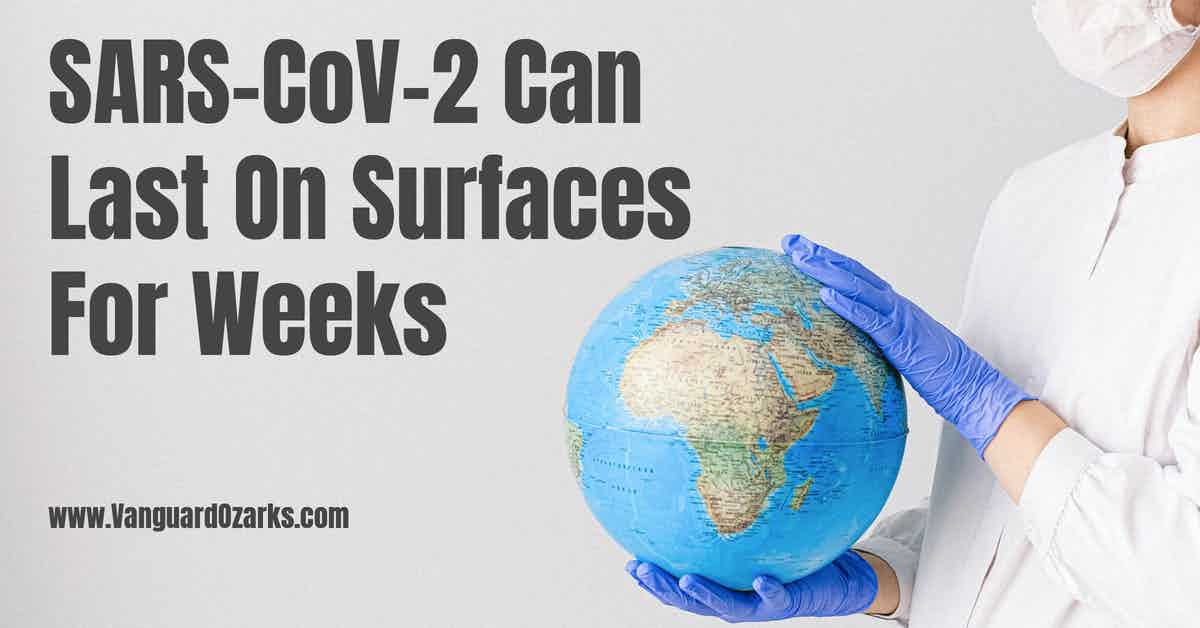 Coronavirus Survivability on Surfaces Underscores Importance of Regular Cleaning
Our knowledge regarding SARS-CoV-2, specifically survivability rates outside of the body and how it spreads, has evolved.
As an example, a study posted in the New England Journal of Medicine, which sought to compare the survivability rate of SARS-CoV-2 vs. SARS-CoV-1, found that under the right circumstances, SARS-CoV-2 could survive on cardboard for 24 hours and plastic for up to 72 hours.
SARS-CoV-2 was more stable on plastic and stainless steel than on copper and cardboard, and a viable virus was detected up to 72 hours after application to these surfaces, although the virus titer was greatly reduced.

The stability kinetics of SARS-CoV-1 were similar.

On copper, no viable SARS-CoV-2 was measured after 4 hours and no viable SARS-CoV-1 was measured after 8 hours.

On cardboard, no viable SARS-CoV-2 was measured after 24 hours and no viable SARS-CoV-1 was measured after 8 hours.

Aerosol and Surface Stability of SARS-CoV-2 as Compared with SARS-CoV-1
Shortly after, a study published by The Lancet discovered that--again, under specific circumstances--SARS-CoV-2 could survive on stainless steel and, surprisingly, surgical masks, for up to a week.
No infectious virus could be recovered from printing and tissue papers after a 3-hour incubation, whereas no infectious virus could be detected from treated wood and cloth on day 2.

By contrast, SARS-CoV-2 was more stable on smooth surfaces.

No infectious virus could be detected from treated smooth surfaces on day 4 (glass and banknote) or day 7 (stainless steel and plastic).

Strikingly, a detectable level of infectious virus could still be present on the outer layer of a surgical mask on day 7.

Stability of SARS-CoV-2 in different environmental conditions
However, a team of researchers from Australia's Commonwealth Scientific and Industrial Research Organization (CSIRO) found that as temperatures decrease to approximately 68 degrees, SARS-CoV-2 showed a survivability rate of nearly one month on various smooth surfaces, including money, glass, and stainless steel.
As a means of comparison, the Influenza virus can only survive for 17 days under similar conditions.
According to Good Housekeeping;
[The research team] conducted a study in which they applied SARS-CoV-2 virus particles on even more common surfaces than were previously studied, including glass, stainless steel, and paper money, in a new environment altogether.

Their findings suggest that the virus could remain infectious for up to 28 days, much longer than the traditional flu virus, and significantly longer than previous evidence postulated.

Smooth surfaces, like the glass screens found on our phones, hosted infectious germs at 20 degrees Celsius (around 68°F) for almost four weeks, whereas regular flu germs may only be infectious for a maximum of 17 days.

How Long Can Coronavirus Really Live on Surfaces? Experts Weigh In on New Evidence
While it is important to keep in mind that these findings are contingent upon fairly strict laboratory conditions, they emphasize the importance of enhanced facility cleaning and hand hygiene as a method to eliminate the spread of the virus.
Facility Surface Cleaning and Disinfection Measures to Combat SARS-CoV-2
Given the prevalence and long-term survivability of SARS-CoV-2 on smooth surfaces, the best approach to eliminate the spread of the virus includes:
Regular handwashing with soap and water followed by thoroughly drying the hands with a paper towel or clean and dry cotton towel.
Daily enhanced cleaning of high-traffic areas, such as bathrooms, classrooms, public transit stations, facility entryways and offices, retail desks and kiosks, and kitchens and dining areas in restaurants, and;
Day porter services to facilitate fomite disinfection on high-touch germ hotspots, especially computer equipment, touchscreens, door handles, coffee pots, elevator and vending machine buttons, and water faucet handles and spigots.
Additionally, weekly deep cleanings have proven effective, as well as the ongoing use of automated floor scrubbing systems, no-touch scrubber-vacuums, and electrostatic disinfection appliances, which reduce the number of workers necessary to clean and disinfect a room, thereby reducing the potential for spreading the virus between workers several-fold.
References & Resources
Takeaway
As the SARS-CoV-2 virus continues to run its course, new information continues to become available regarding the behavior, methods of spread, and survivability of the infection.
While it is critical that we take these studies with a grain of salt--they are conducted under fairly strict laboratory conditions--we can use the information coming from them to point us towards specific courses of action that can produce the greatest amount of good.
What we know, at least so far, is that the virus most commonly spreads while in close quarters with infected people for prolonged periods of time, and it can last for hours to days on surfaces commonly found in schools and office buildings.
That information is critical when developing strategies for facility infection prevention and control.
A clean facility is less likely to house the virus and contribute to its spread, and advanced cleaning technologies allow a building to be cleaned faster and better by fewer people, which significantly hinders the virus's ability to jump from one person to another.
Outsourcing to a highly trained and dedicated service provider is a proven method for ensuring the highest cleanliness and safety standards.
Contact us today and discover why Vanguard Cleaning Systems® is the Standard of Clean® for businesses throughout Northwest Arkansas, Missouri, and Oklahoma.
In Oklahoma, dial 918-960-4450
In Arkansas, dial 479-717-2410
In Missouri, dial 417-812-9777