Winter is upon us, and travels for both work and pleasure are increasing, which means businesses will need to protect their customers and workers from the elements and potential slip and fall injuries.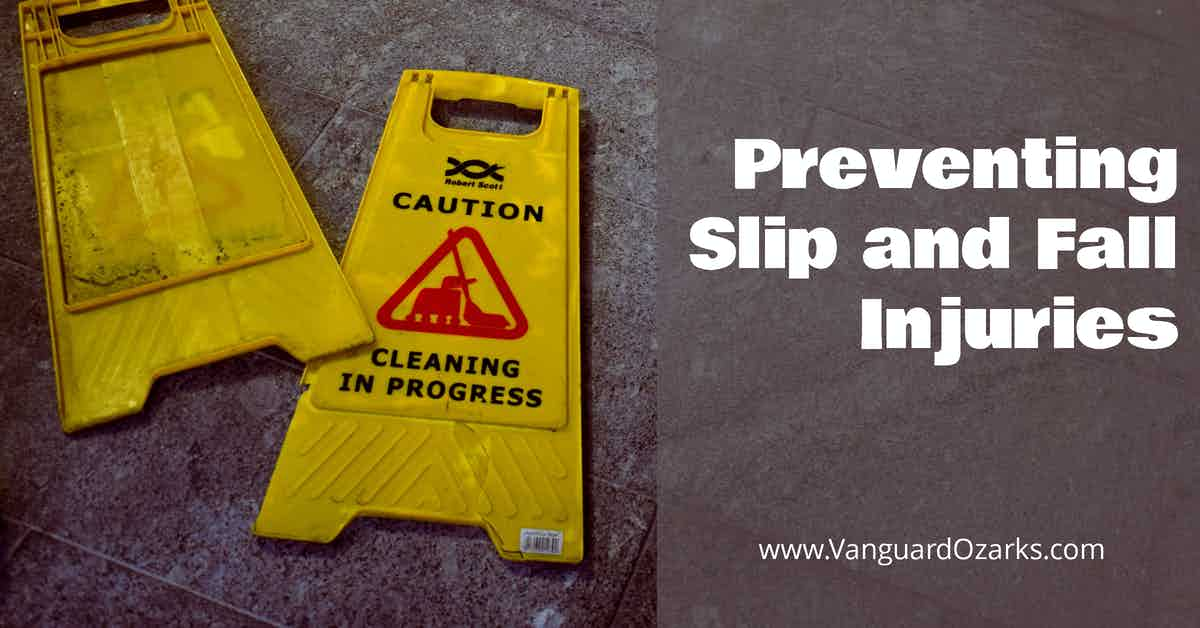 Protecting Businesses and Occupants From Slip and Fall Injuries
Winter is nearly upon us, and with it will come low temperatures and increased moisture, ice, and snow, all of which can combine to wreak havoc on facility properties, especially flooring, and presents an increased risk for occupants and guests in the form of slip and fall accidents--accounting for more than 1 million hospital visits each year.
According to the National Floor Safety Institute;
Falls account for over 8 million hospital emergency room visits, representing the leading cause of visits (21.3%).

Slips and falls account for over 1 million visits or 12% of total falls.

Slips and falls do not constitute a primary cause of fatal occupational injuries but represent the primary cause of lost days from work.

Slips and falls are the leading cause of workers' compensation claims and are the leading cause of occupational injury for people aged 55 years and older.

85% of worker's compensation claims are attributed to employees slipping on slick floors (Industrial Safety & Occupational Health Markets 5th edition).

22% of slip/fall incidents resulted in more than 31 days away from work (US Bureau of Labor Statistics (2002).

Compensation & medical costs associated with employee slip/fall accidents are approximately $70 billion annually (National Safety Council Injury Facts 2003 edition).
And while the law is somewhat vague regarding the business owner's responsibility to remove ice and snow buildup outside of their facility, according to FindLaw.com, it is best to err on the side of caution.
Q: What duties do property owners have regarding ice and snow removal?

A: Generally, the law doesn't require a property owner to remove ice or snow that accumulates outside his or her building as the result of the weather.

However, if conditions on the property cause an unnatural accumulation of ice or snow, the property owner may be liable for slip and fall accidents.

In addition, if a property owner elects to provide snow or ice removal, he or she must not do so negligently.
Additionally, the methods used for snow and ice removal have their own benefits and drawbacks, such as:
Creating a scenario where ice melt can contribute to slip and fall accidents.
Environmental and health concerns, and;
Property damage.
So, the question remains, what is the best method for preventing the buildup of ice and snow or removing ice and snow once it has accumulated while simultaneously protecting your facility and its occupants?
Assessing the Pros and Cons of Snow and Ice Removal
Different types of ice melt behave differently and are ideal for specific scenarios but require certain precautions.
Before applying ice melt, the roads and sidewalks should be professionally plowed before entryways are shoveled.
After the walkways are clear, rock salt can be applied.
Following that order prevents the rock salt from being swept or plowed away.
Additionally, it is critical to observe the rate of application to protect facility property and occupant safety.
Too much rock salt on the ground will result in salt being tracked across floors and matting, resulting in salt-stained rugs, dulled floors, and, with the introduction of just a little moisture, a potential slip and fall hazard on hard flooring.
Rock salt is typically the recommended solution for large asphalt parking lots, but concrete walkways may require a different method--liquid ice melt.
Liquid ice melt is a preventative measure, so it must be applied before the ice or snow event to be effective.
However, liquid ice melt contains several chemicals that may be hazardous to the environment, so its use may be regulated, but it should be used only as recommended.
Protecting Facility Floors and Occupants With Matting and Proper Floor Care
Addressing ice and snow is only part of the slip and fall prevention equation.
Another aspect, perhaps the most critical, is the placement of high-performance walkway mats, combined with enhanced floor care services.
For facilities where ice buildup and snow is a regular occurrence, aggressive entry and walkway mats are a necessity, ideally consisting of ten feet in length on the outside of the building, followed by an additional ten feet inside the building--used to remove ice melt, dirt, and other debris from the bottom of shoes--with another ten-foot mat used for drying feet following those.
Obviously, these measurements should be adjusted to your facilities size, but one recommendation stands true across the board--employ a solution that favors safety and functionality over appearance.
The final factor in slip and fall prevention is floor care.
Using the conventional method of a single bucket and a worn cotton string mop to clean salt rock and other debris from floors exposed to ice, snow, ice melt, and moisture is a recipe for disaster--resulting in slick surfaces almost certain to lead to an accident.
Two-chamber buckets, microfiber mops, and auto scrubbers are the ideal solution for routine floor care during winter months, with subsequent scrubbing and waxing or other surface-relevant services after the rain and snow stops and the temperatures increase.
References & Resources
Takeaway
Protecting occupant safety and a business's property is critical while navigating these difficult times.
Preventing slip and fall accidents is a mandatory component for schools and businesses trying to successfully reopen in areas routinely exposed to high levels of snowfall and low temperatures.
Doing so requires the skill, tools, and attention of experienced service providers.
Outsourcing to a highly trained and dedicated service provider is a proven method for ensuring the highest cleanliness and safety standards.
Contact us today and discover why Vanguard Cleaning Systems® is the Standard of Clean® for businesses throughout Northwest Arkansas, Missouri, and Oklahoma.
In Oklahoma, dial 918-960-4450
In Arkansas, dial 479-717-2410
In Missouri, dial 417-812-9777