Due to the social distancing requirements put in place to combat the SARS-CoV-2 pandemic, many "we" designed office spaces, which focused on open and shared spaces to encourage worker collaboration, will be upgraded or retrofitted in line with the "me," or individual workspace design.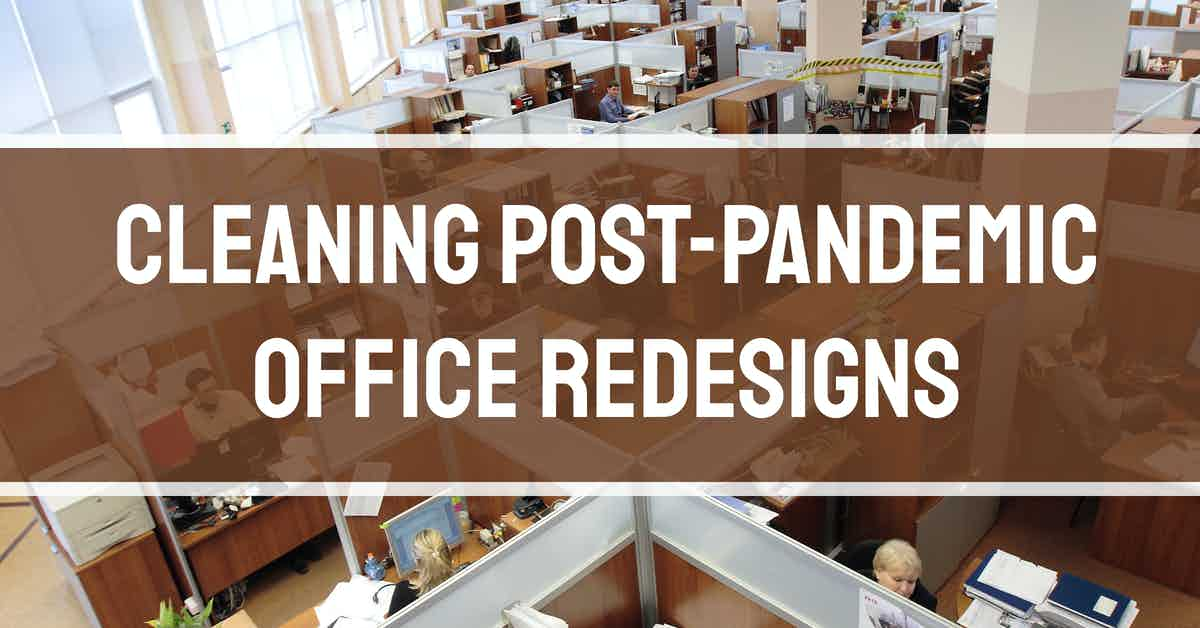 Cleaning Strategies for the New Me-Focused Office Designs
Despite their numerous drawbacks, including:
Constant distractions and stress.
The spread of germs, and;
A lack of privacy;
Open or shared office space designs had been on the rise in the U.S. for several years due, in large part, to managements' desire for a more collaborative and creative workforce.
However, these designs are counterproductive in the fight against the spread of COVID-19, and their implementation will be shelved, if not fully reversed, for the foreseeable future.
Those aren't the only changes coming.
According to Klaus Reichardt, CEO and Founder of Waterless Co., Inc., several other changes that present unique challenges for building maintenance and cleaning staff are on the horizon, including the removal of:
Long worktables.
Small conference rooms and furniture.
Sofa-style couches.
Cafeteria tables and chairs, and;
Traditional toilets and urinals.
The collaborative and open design workspaces will be replaced with partitions or cubicles, water-efficient toilets, and waterless urinals.
Additionally, small conference rooms and cafeterias are expected to remain empty and closed for the foreseeable future.
Cleaning Cubicles
For better or worse, cubicles or workspace partitions may well become a mainstay in office design for some time.
Keeping them clean and organized is the best way to maintain sanity, health, and creative productivity, which means at a minimum:
Workspaces should be decluttered and wiped down with a multipurpose cleaner and microfiber cloth at the end of each workday, and any food or drink must be disposed of.
Every surface should be deep cleaned and disinfected every week, including phones, computer screens, mice, and keyboards.
The floors in and around the partitioned workspaces should be vacuumed or swept and mopped every day, and the whole area should be dusted, especially high dust, at least once per week, and;
The partition walls and office chair should be vacuumed and all stains removed, at least once per year, according to manufacturer instructions.
Cleaning Empty Office Spaces
Emptied office spaces that see little to no foot traffic can be a blessing and a curse for facility managers and business owners.
On the one hand, the fewer people using the space, the less it costs to clean and maintain.
On the other, unused spaces can quickly become ignored parts of your facility and leave the door open for pests to take root, dust to accumulate, or mold and bacteria to grow.
The recommended method for addressing the potential health and safety concerns of emptied and unused parts of your facility is to:
Maintain a routine cleaning schedule that includes dusting and inspection for pests and mold, mildew, or bacteria.
Vacuum or sweep regularly to prevent the accumulation of dirt in your carpets or on your floors.
Address any pest control issues immediately and have a professional identify and block off the point(s) of entry.
Move any storage boxes away from the walls and to different parts of the room regularly to ensure no part of the office space is missed during the routine cleaning and inspection process, and;
Maintain a yearly deep cleaning process where everything is moved out, and the entire empty space is thoroughly cleaned and disinfected.
Cleaning Waterless Urinals
Replacing outdated toilets and urinals makes a lot of sense under the current paradigm.
A body of evidence exists in support of the spread of pathogens, including SARS, by way of aerosolized particles expelled by toilets when flushing.
Updating to low-flow toilets means a reduced toilet plume and fewer germs and bacteria spread around the restroom.
However, low-flow toilets can lead to some pretty gross issues if left unattended, so regular porter services to check on the status and hygiene of the restroom and lavatories are highly recommended.
And while the idea of waterless urinals sounds novel, their maintenance can be somewhat challenging and requires the presence of a trained service provider.
The systems use a cartridge to prevent sewer gases and urine odors from entering the restroom area.
The cartridges have a definitive shelf-life and must be replaced or serviced regularly.
Additionally, the systems are typically constructed from custom porcelain or high-performance composite material and will require specialized cleaning and disinfection products to avoid damaging the surface and creating microscopic cracks where bacteria can form.
In general, the recommended practice is to clean from the outside of the urinal inwards with a commercial-grade microfiber cloth and manufacturer recommended cleaning and disinfectant agent.
Cleaning service personnel should keep an eye out for slow flow issues and backups, indicating it's time to replace the cartridge or the presence of a clog.
These issues can often be resolved by replacing the cartridge or flushing the pipes with a few gallons of water, but only a trained service provider should assess and service the issue.
References & Resources
Takeaway
The SARS-CoV-2 pandemic has forced a step backward in many regards for office space design, but a step forward in restroom provisioning and water conservation.
Both will require facilities maintenance and janitorial service providers to adjust their approach to cleaning, as well as update their cleaning cart and skillset.
Those updates will require schools and businesses to increase their training budgets, something potentially undesirable during these trying times.
A cost-effective solution to that challenge is outsourcing your facility's routine and special needs cleaning services.
Outsourcing to a highly trained and dedicated service provider is a proven method for ensuring the highest cleanliness and safety standards.
Contact us today and discover why Vanguard Cleaning Systems® is the Standard of Clean® for businesses throughout Northwest Arkansas, Missouri, and Oklahoma.
In Oklahoma, dial 918-960-4450
In Arkansas, dial 479-717-2410
In Missouri, dial 417-812-9777