Due to the wide range of facility types and available services, cleaning and disinfecting a recreation center requires an adaptive approach to enhanced cleaning for health and safety.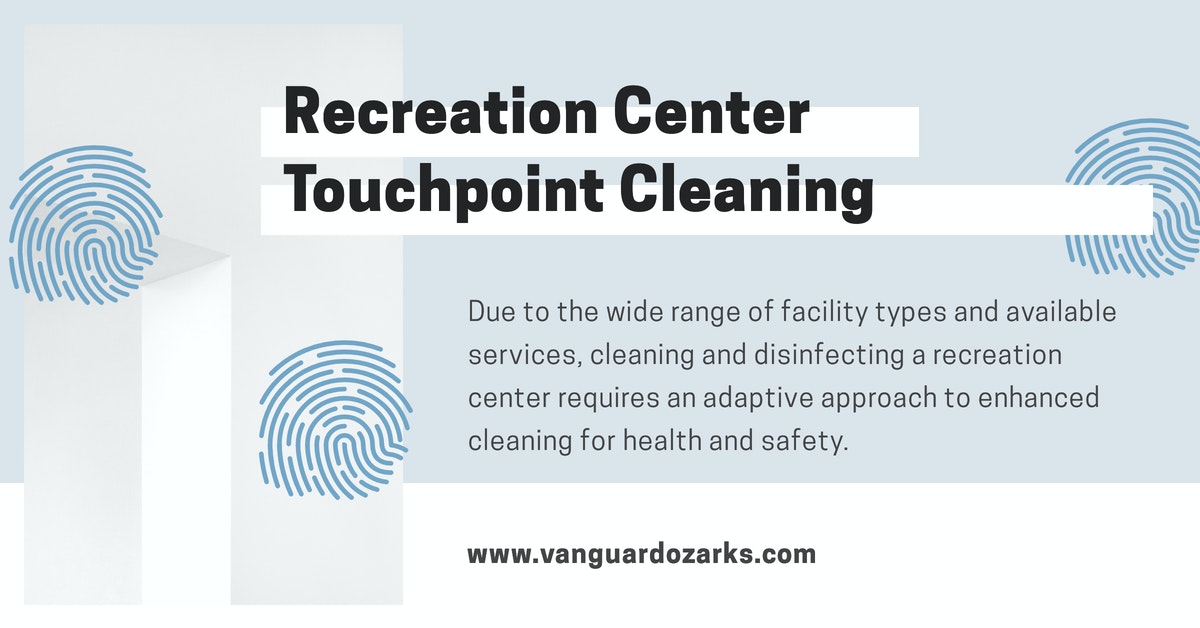 Touchpoint Cleaning for Rec & Fitness Centers
Touchpoint cleaning and disinfection services are crucial for maintaining the health and safety of facility occupants in recreation and fitness centers.
The high volume of foot traffic combined with the humid environment and the regularity of hand-to-surface and person-to-person contact equates to a significant number of germs and bacteria being passed around.
Additionally, the different facility types, ranging from weight rooms and basketball courts to locker rooms and swimming pools, and consisting of membership demographics ranging from children to the elderly, mandates the use of specialized cleaning and disinfection products and practices intended for specific surface types and deemed safe for those guests using the facility services.
However, due to the nature of the various facility surfaces and the repetition of direct human contact, recent studies have demonstrated that some regions of a recreation center, referred to as touchpoints, require additional and ongoing coverage to ensure facility hygiene, as well as occupant health and safety.
According to a recent article published on industry magazine CleanLink;
Recent statistics demonstrate the importance of surface cleaning in reducing the transmission of infectious disease in all commercial facilities including fitness centers.

Up to 80 percent of all infections are spread by hand – often indirectly through objects touched by an infected person.

Thus, the proper cleaning of fitness center facilities and equipment, where patrons come into contact with multiple rooms and equipment surfaces, is an important component in programs to keep fitness club patrons healthy.

The research team concluded that specific surfaces in the fitness center represent key points of potential germ transmission, as related to high levels of ATP readings.

Infection Control: Study Establishes Cleaning Efficiency Rates for Fitness/Recreation Market
Recreation Facility Cleaning Tips
Whether large or small, rec and fitness facilities are covered in the same kinds of illness-causing germs and bacteria, including:
Tinea Pedis (Athlete's Foot).
Conjunctivitis (Pink Eye).
Ringworm
Herpes Gladiatorum (Mat Herpes).
Methicillin-resistant Staphylococcus Aureus (MRSA).
Staph.
Strep.
Impetigo, and;
Necrotizing Fascitis (Flesh-Eating Disease).
The best method for eradicating these germs and bacteria is to break the various touchpoint surfaces of a rec facility into zones, specifically:
Hard surfaces - Everything from the wood floor on basketball courts to sealed concrete floors should be regularly cleaned and sanitized with a no-touch spray and vacuum scrubber system.
Wet surfaces - Pools, saunas, locker rooms, restrooms, and showers should all be cleaned with the same no-touch cleaning approach as recommended with hard floor surfaces, only more often due to increased humidity levels.
Soft surfaces - Gym mats, floors, and carpets, especially those used in daycare and elderly care areas of the rec center should be regularly cleaned and disinfected according to manufacturer recommendations, and;
High contact surfaces - Doorknobs, coffee pots, and vending machine buttons host millions of germs and bacteria that rapidly spread from one unsuspecting guest to another, as well as throughout your facility, and so should be wiped down with an EPA-registered medical-grade disinfectant wipe several times per day.
References & Resources
Takeaway
There is no recommended one-size-fits-all solution to cleaning and disinfecting recreation facilities that can adequately ensure the health and safety of the facility staff and guests.
Conventional cleaning and disinfection methods involving mops, single buckets, dirty wash rags, and bleach for pretty much everything have been shown to be not only ineffective at reducing the microbial count of germs and bacteria, but are likely responsible for their wider spread throughout the facility via cross-contamination.
No-touch cleaning methods utilizing combination cleaning product sprayer and vacuum scrubber systems combined with electrostatic disinfection appliances have proven safer, more effective, and less expensive.
These machines require a level of experienced handling and maintenance atypical in many in-house custodial teams, so the recommendation is to outsource the more advanced touchpoint cleaning and disinfection requirements for your facility to a provider with a proven track record of high-level service and customer satisfaction.
Contact us today and discover why Vanguard Cleaning Systems® is the Standard of Clean® for businesses throughout Northwest Arkansas, Missouri, and Oklahoma.
In Oklahoma, dial 918-960-4450
In Arkansas, dial 479-717-2410
In Missouri, dial 417-812-9777