Customer service is paramount in the retail industry, and providing a clean, safe, and inviting store is a critical component of that concept.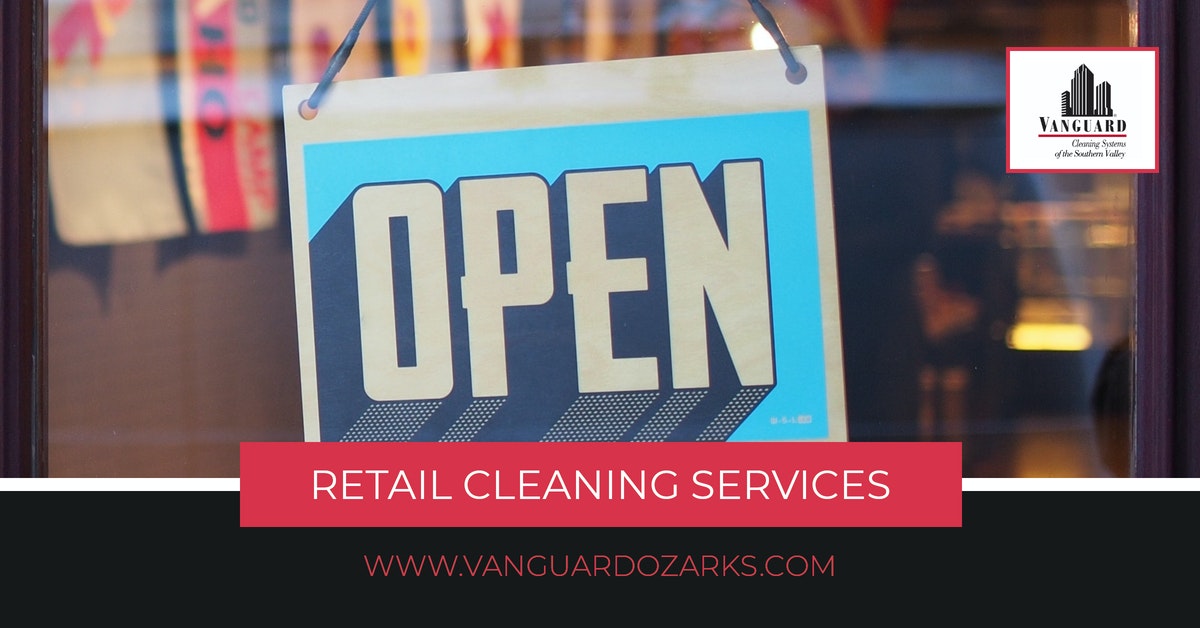 How Cleanliness Impacts Retail Success
Cleanliness is an aspect of retail facility success that rarely receives a lot of attention.
However, retail store cleanliness--specifically restroom and floor cleanliness, as well as indoor smells and air quality--says a lot to customers about the facility and the business, which translates directly to shopping and purchasing decisions.
According to a survey conducted by ISSA – The Worldwide Cleaning Industry Association, 95 percent of shoppers reported that unclean restrooms and unpleasant odors would influence shopping decisions along with, dirty floors, spills or stains, dirty shopping carts and other factors.

Shoppers want to feel comfortable when visiting a retail environment and ensuring that a store is clean and healthy is a crucial part.
Retail Store Cleaning Tips
The three most critical areas to ensure customer satisfaction in retail cleanliness are:
Restrooms.
Floors, and;
Indoor air quality.
Retail Store Restroom Cleaning Tips
Retail facility restrooms need to be immaculate, which means spotless from top to bottom and no mal- or poorly functioning equipment.
Depending on the number of visitors, the restroom should be deep cleaned at least once per week, wiped down and disinfected at the end of every business day, and attended to regularly by a porter to ensure toilet paper, paper towel, and soap supply levels are topped off, the garbage is removed and off the floor, and that countertops are free of debris and water.
Additionally, restroom tile and grout are often home to odor-causing bacteria that feed off of the protein in urine, which can typically only be entirely removed with specialized enzyme-based cleaning products and deep-penetrating pressure washers.
A few things that should be avoided are the use of cotton-swab mops, which will just move the dirty water around and feed the odor-causing bacteria found in the grout, and haphazard approaches to cleaning that do not address the dangers of surface cross-contamination and the spread of germs and bacteria to other parts of the store.
Retail Store Floor Cleaning Tips
Just like retail store restrooms, the floors should be swept and mopped with microfiber equipment daily and deep cleaned at least weekly based on foot traffic and the weather conditions.
Spills should be cleaned up immediately, and any stains should be addressed as soon as possible to avoid deterring customer interaction with your store.
Walkway matting at the entrance will help maintain floor hygiene and longevity, as well as occupant safety; just make sure to have the mats regularly serviced and swapped out.
Retail Store Tips to Ensure High-Quality Indoor Air
Smelly restrooms and poor cleaning practices, including the incorrect use of commercial cleaning and disinfectant products, can lead to indoor air quality issues that will drive away retail business, and could potentially lead to occupant health hazards.
Commercial cleaning and disinfection products can off-gas malodorous vapors that have been shown to lead to various health issues in facility occupants ranging from headaches to shortness of breath, unconsciousness, and even death.
Masking agents, such as air fresheners, contain chemicals that can bond at a molecular level with other airborne particles and create a form of synthetic formaldehyde and, quite literally, poison the air in your store.
Cleaning for health requires that occupant safety be put first, which means strategically applying the right kind of products for the facility with adequate levels of airflow and ventilation.
References & Resources
Takeaway
In light of recent events, retail facility cleanliness is crucial for business success and occupant safety.
Given the current product recommendations, being the use of medical-grade cleaning and disinfection products, as well as the heightened concerns regarding surface cross-contamination, it is highly advisable that store owners and managers outsource their facilities routine cleaning and disinfection services to an experienced service provider.
The incorrect application of cleaning and disinfection products and services, at best, will render the process ineffective.
However, incorrectly applying certain products or not adhering to cross-contamination prevention methods can lead to potentially hazardous conditions, including the creation of deadly chemical gas clouds, or the spreading of the exact infectious diseases you are trying to eliminate.
Contact us today and discover why Vanguard Cleaning Systems® is the Standard of Clean® for businesses throughout Northwest Arkansas, Missouri, and Oklahoma.
In Oklahoma, dial 918-960-4450
In Arkansas, dial 479-717-2410
In Missouri, dial 417-812-9777