As restaurants and hospitality-based foodservice operations return to business across the country, new approaches to cleanliness and hygiene will be required to ensure the ongoing health and safety of their workers and diners.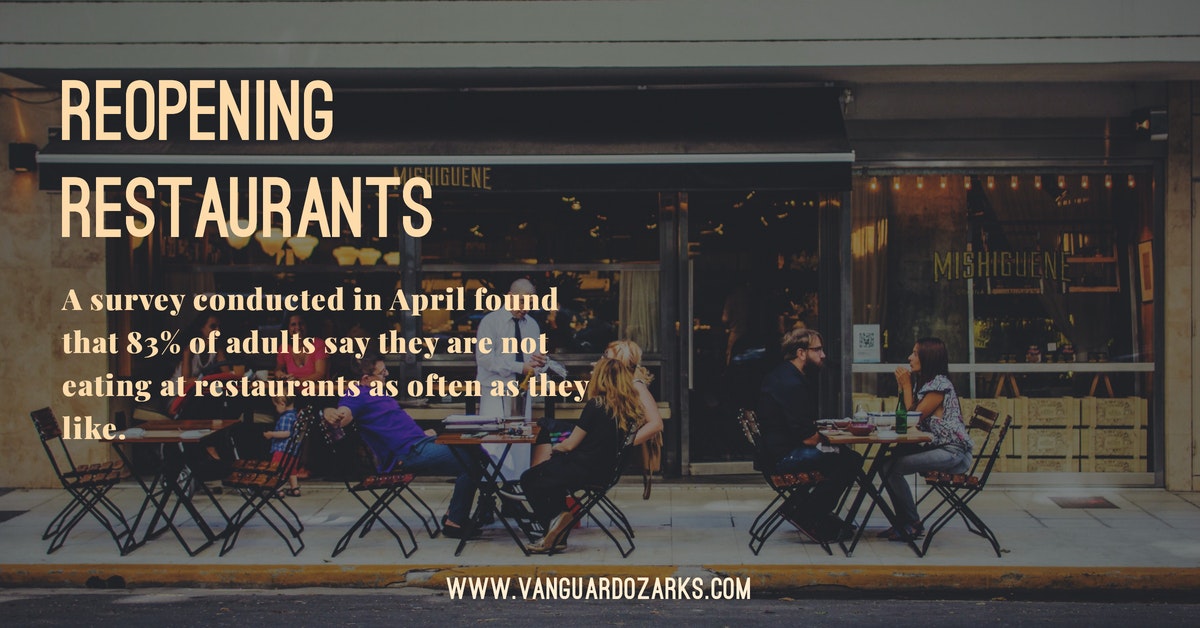 Reopening Restaurants With Enhanced Cleaning Protocols
Restaurants across the country took a significant hit this year, and business-as-usual is likely a thing of the past.
Fortunately for the industry, a new study shows that American consumers are eager to return to dining out of the home.
According to data gathered by the National Restaurant Association;
The Association [...] sees [a] pent-up desire for diners to come back.

A survey conducted in April found that 83% of adults say they are not eating at restaurants as often as they like.

That's good news for restaurant owners as they get ready to reopen.
However, early dining capacities are predicted to be sparse due to diner uncertainty regarding facility health and safety, meaning restaurant and facility managers will need to kick their enhanced cleaning for health and safety protocols into high gear.
Cleaning Tips to Reopen Restaurants
Adhering to standard outbreak practices as recommended by the U.S. Centers for Disease Control and Prevention is the best method for restaurants looking to successfully and sustainably return to business as usual in the months to come.
According to Nation's Restaurant News;
Keep your guests, managers, employees and families safe by building consumer confidence through the following: keeping sick people at home; maintaining distances between guests and staff where you can; increasing the frequency of cleaning, sanitizing and disinfecting; and using risk mitigations such as masks where it makes sense and as recommended by the Centers for Disease Control and Prevention or local public health authorities.

Best strategies for reopening restaurants in the coronavirus era
To ensure occupant safety, depending on which state your facility operates, restaurant employees may be responsible for taping off tables and barstools to limit capacity and enforce social distancing to atypical tasks such as taking the temperature of prospective diners as they enter the restaurant.
While these protocols are sure to turn away many guests, those that are willing to run the gauntlet of restrictions will expect your establishment to be impeccably clean, which means a complete overhaul of conventional practices and the adoption of enhanced cleaning procedures, including:
Advanced Cleaning and Disinfection - Everything from the use of cotton mops and dirty rags to sloshing around dirty water on the floor in kitchens and restrooms will need to be replaced by advanced microfiber solutions, touchless technologies, EPA-registered medical-grade disinfectants, and professionally designed zone cleaning plans to avoid cross-contamination and protect facility occupants.
Porter Services - In the past, tables and occasionally seating were wiped down by a (likely unsanitary) cloth carried by a restaurant worker. To ensure the highest standards of cleanliness, health, and safety, everything from the table condiment bottles, tabletops, and counters, to the reusable menus, check presenters, and self-service kiosks and payment solutions will need to be regularly wiped down with an EPA-registered medical-grade disinfectant wipe after each guest has departed and before a new guest is seated.
Restroom Cleanliness - Prior to the recent events, restroom cleanliness could make or break a restaurant.  Now, they are focal points facilitating critical hand hygiene practices and, as such, must be odor free, well supplied, and spotless from top to bottom, both for the safety of diners and to protect the restaurant's reputation.
References & Resources
Takeaway
Restaurant employees are eager to return to work, and diners are eager to return to some semblance of their date night and public social gathering conventions.
To accomplish this safely and productively, restaurant managers and employees will need to adhere to strict guidelines regarding facility cleanliness and hygiene, including the adoption of advanced no-touch cleaning and disinfection appliances, improved cleaning routines and procedures, and enhanced dining and kiosk station sanitation between diner visits.
Additionally, the restaurant restroom is going to increase in its relevance and importance to both owners and diners and must be maintained according to the highest standards of cleanliness.
Contact us today and discover why Vanguard Cleaning Systems® is the Standard of Clean® for businesses throughout Northwest Arkansas, Missouri, and Oklahoma.
In Oklahoma, dial 918-960-4450
In Arkansas, dial 479-717-2410
In Missouri, dial 417-812-9777