Recent events have underscored the highly valuable service that building service contractors--including facilities maintenance and custodial staff--provide the schools and businesses they clean and maintain.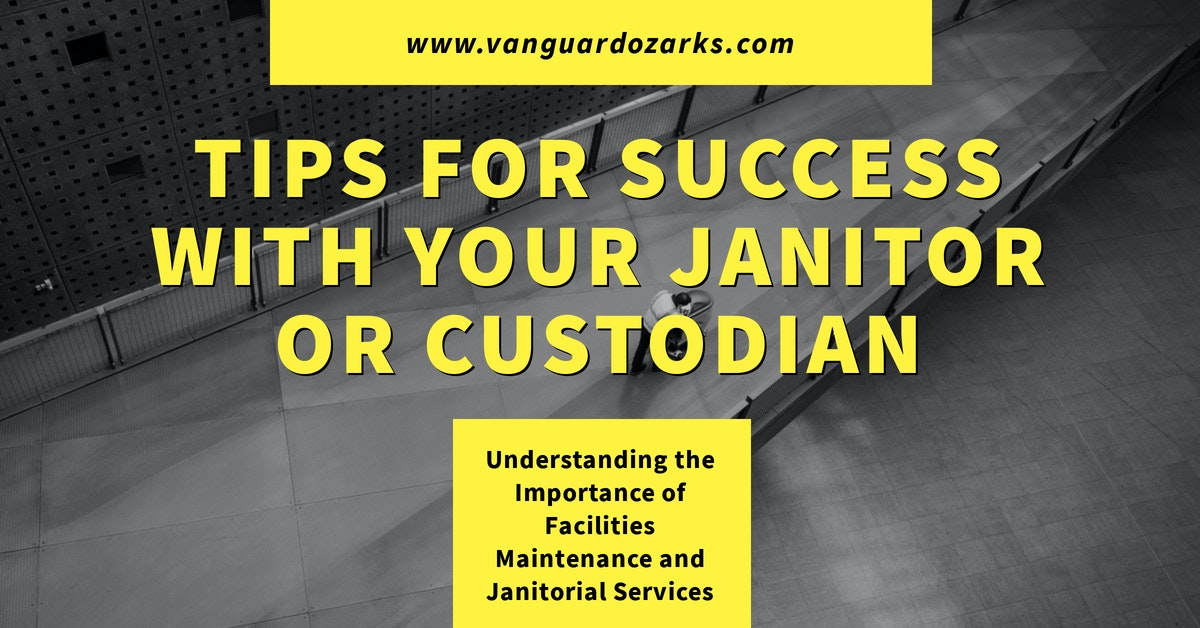 Understanding the Importance of Facilities Maintenance and Janitorial Services
The value of the service delivered by facilities maintenance and janitorial providers has rarely been more apparent than under present circumstances--a worldwide coronavirus pandemic layered over the top of a near epidemic U.S. influenza season.
Current estimates place the transmission of common infectious disease via touch at 80%, making the cleanliness and hygiene of the surfaces we interact with everyday vital to our health and safety.
According to the Los Angeles Times;
The Centers for Disease Control and Prevention estimates that 80% — 80%! — of all infections are transmitted by hands.

That very well might explain why you are sick —- or recovering from being sick.

Same goes for your co-workers.

Your kids. Your S.O. And so on.

Experts say frequently that hand washing goes a long way toward curbing the spread of "influenza-attributable illness" in adults, which costs the nation more than $83.3 billion each year in lost productivity and medical bills.
In a world where our health, the availability of vital services, including public schools, healthcare, and transportation, and the economy itself are contingent upon our ability to prevent the transmission of infectious diseases--ensuring a successful relationship with custodial service providers and facilities maintenance personnel is paramount.
Mission Critical
Custodians are demonstrably critical to the success of our nation's schools and businesses.
Unfortunately, much to our detriment, the contribution of janitorial service providers in the past has been overlooked.
However, establishing and maintaining a productive relationship with this vital sector of our economy is relatively simple.
Inclusion - Custodial service providers stem from a wide range of backgrounds and demographics.  Successful partnerships will, by necessity, be inclusive and recognize the importance and value of diversity.
Communication - Breakdowns and failures in communication are always the fault and responsibility of management.  Communicating mission-critical targets--the 'why'--and each department's relevancy in pursuit of those goals is mandatory for motivating workers in the direction an organization wishes to go.  Additionally, listening to worker feedback and implementing constructive corrections to an organization's practices will help it maintain its momentum and trajectory.
Training & Mentorship - Providing interesting, relevant, ongoing training has been repeatedly cited as critical to the successful retention of in-house custodial staff.  Further, mentorship provides an engaged level of leadership that guides workers through a process of personal and professional growth and development--justifying their investment in the organization, and;
Recognition - Recognition comes in many forms--ranging from awards, promotions, raises, and paid time off.  For contract workers, this can mean increases in responsibility and an extension of contract terms.  Recognition provides the social proof everyone needs to validate their contribution, as well as the motivation necessary to keep improving and raising the bar.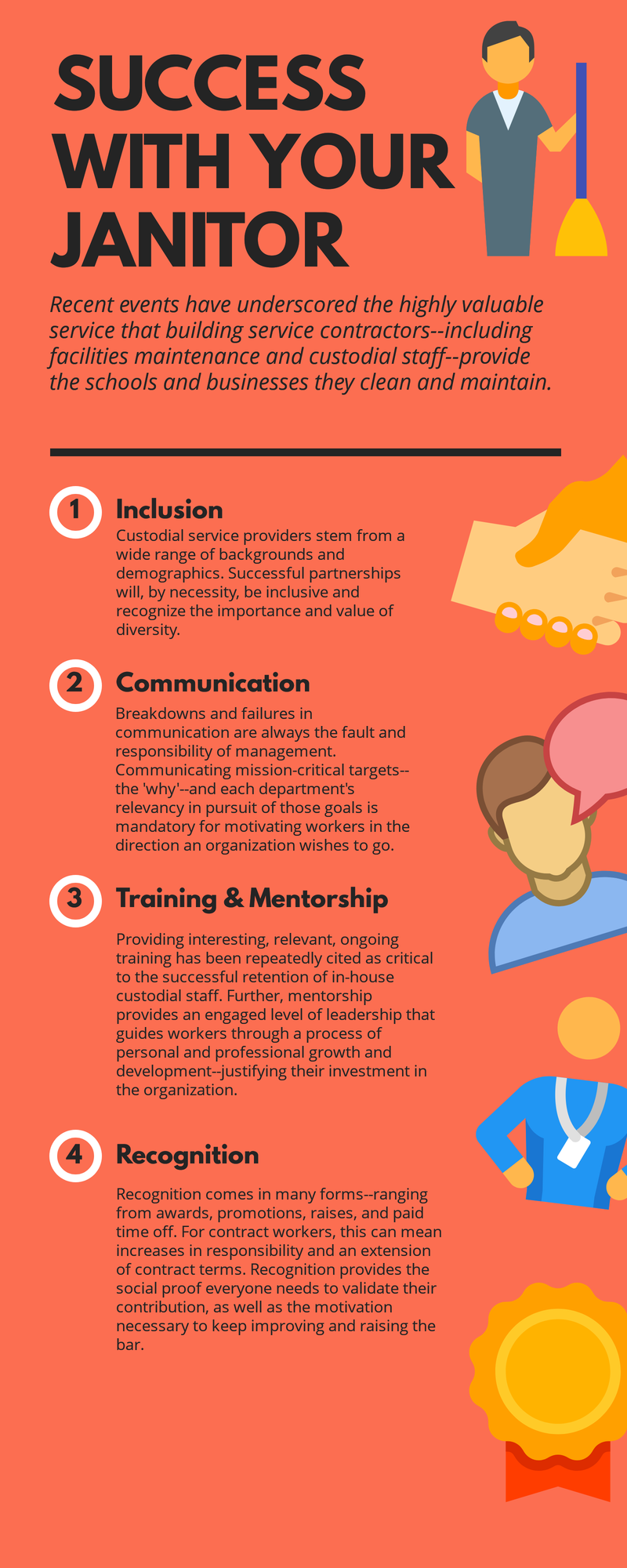 Advantages
The advantages of maintaining a productive and collaborative relationship with your facilities' janitorial service providers are likely more apparent now than ever, but include:
Cleaner Healthier Workplaces and Classrooms - Organizations that maintain high-quality relationships with their custodial teams ensure their facilities are maintained at the highest standards of cleanliness and hygiene.
Reduced Customer Complaints - Facility cleanliness and hygiene tops the list of customer complaints and has a direct impact on a business's bottom line and the performance of students in the classroom.
Time and Resource Efficiency - Highly trained custodians who understand exactly what is expected from them and why each task is vital to the success of a business perform their tasks more efficiently and in less time, resulting in a more profitable service delivery, and;
Worker Happiness - A clean, hygienic workplace or classroom ensures occupant health and safety, translating into improved employee and student performance--ultimately resulting in a happier workforce and student body.
References & Resources
Takeaway
The value of the service provided by skilled and motivated janitorial service providers has recently, and deservedly, been ushered onto the mainstage.
Each day these unsung heroes risk their health and wellbeing--often exposing themselves to dangerous chemicals and the lifelong pain of repetitive motion injuries--to provide each of us with a clean and safe workplace or classroom.
A critical component of the success of the service provider and customer relationship relies on the training, diligence, and professionalism of the individuals providing the service.
Time and again, outsourced service providers have been shown to outperform in-house cleaning staff due, in part, to more lucrative financial motivations, access to modern tools and products, and increased training opportunities, resulting in a superior level of facility health and hygiene.
Contact us today and discover why Vanguard Cleaning Systems® is the Standard of Clean® for businesses throughout Northwest Arkansas, Missouri, and Oklahoma.
In Oklahoma, dial 918-960-4450
In Arkansas, dial 479-717-2410
In Missouri, dial 417-812-9777