Outsourcing your facility's cleaning services has several benefits over in-house services that will assist administrators, managers, and business owners increase occupant health and productivity while improving safety and reducing operational overhead.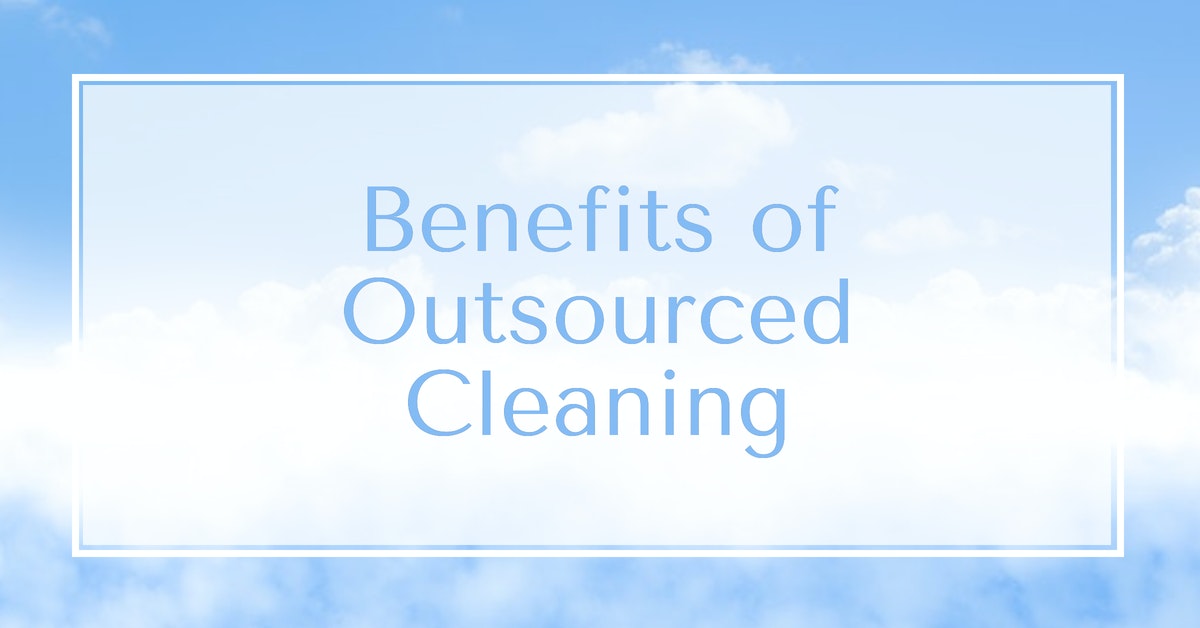 The Benefits of Outsourced Commercial Cleaning Services
Depending on the size and scope of an organization, commercial cleaning services typically fall into one of four categories:
In-house, whereby the entire facility is cleaned and maintained by direct-hire staff who are managed internally.
Outsourced, whereby the facility is cleaned and maintained according to agreed-upon terms with a contracted third-party.
Hybrid, encompasses aspects of both in-house and outsourced cleaning and maintenance services and is most commonly found in large facilities where routine services are maintained by in-house staff. In contrast, specialized services are outsourced to a third party.
Other duties as assigned, whereby staff and business owners whose duties conventionally encompass responsibilities that have little to nothing to do with cleaning and office maintenance, perform essential cleaning and janitorial tasks.
While the first three services--in-house, outsourced, and hybrid--have demonstrable advantages and disadvantages, depending on facility type, desired outcome, and budget, assigning regular staff to routine cleaning duties is typically ill-advised and potentially dangerous.
The Advantages of Outsourcing
Outsourcing your facilities commercial cleaning services has several commonly observed advantages over hybrid, in-house, or assigning rank and file staff, including:
Cost - In an outsourcing model, costs are controlled via a service agreement. They can be negotiated/re-negotiated at pre-determined intervals to ensure the expense absorbed by the client facility is equivalent to the value received.  Additionally, client businesses are not subject to variations in employment laws, payroll taxes, subject to unemployment claims, or need to fund ongoing training or provide medical or sick leave.
Supplies - Supply costs and storage can have a dramatic impact on the overall outcome of cleaning services.  Outsourcing allows a facility to avoid the high cost of purchasing, shipping, storing, managing, and training on the safe handling of commercial cleaning products.  The total cost of the cleaning products is spread out across several commercial cleaning customers, typically at the significantly reduced bulk-rate prices available to commercial cleaning service providers.  Additionally, shipping, storage, and safe handling training are the responsibility of the outsourced third-party, which significantly reduces the burden on facility managers when compared to other service models.
Budgeting - Outsourcing your facilities janitorial services allows you to manage budgets modularly, especially with non-commital month-by-month agreements, and scale desired services up or down with need.  An example of where this is especially valuable is with schools and universities and the stark contrast between services required during the regular school year as opposed to the requirement for deep-cleaning services when classes are out of session.
Employment - In-house custodial retention and turnover rates are abysmal across the board--a rate commonly approaching 400%.  The cost of recruiting, hiring, training, and then replacing your cleaning staff several times per year is cost-prohibitive and, more often than not, results in undesirable outcomes and poor facility hygiene and safety.  Conversely, outsourced providers are contractually responsible for maintaining service levels with your organization and are typically able to concentrate the resources which have been proven as necessary for retaining high-quality service providers, long-term.
Training - Ongoing custodial worker training is vital for retention and ensuring the highest standards of facility health and hygiene.  Commercial cleaning has long since entered the 21st century. It boasts a wide range of complicated and automated machinery, cleaning chemicals and products, practices, and techniques that have elevated the industry to that of skilled technical services.  Additionally, knowing what chemicals to apply when, where, and how is critical for ensuring facility surfaces and property are protected, and that deadly toxic chemical clouds are not accidentally created.  Further, in-depth knowledge regarding the avoidance of surface cross-contamination is mandatory in today's world to prevent the spread of dangerous germs and bacteria.
References & Resources
Takeaway
Outsourcing your facilities regular and special requirements cleaning services has several advantages over other commonly employed models, including:
Cost management and budgeting.
Training and worker supervision, and;
Supply chain management.
One of the core advantages of outsourcing is that it frees up critical internal resources to focus on essential business-specific tasks that generate revenue instead of incurring cost.
Outsourcing to the right provider will ensure that your workers and students can achieve maximum productivity while demonstrating a significant decline in facility-related health issues, especially during cold and flu season.
Contact us today and discover why Vanguard Cleaning Systems® is the Standard of Clean® for businesses throughout Northwest Arkansas, Missouri, and Oklahoma.
In Oklahoma, dial 918-960-4450
In Arkansas, dial 479-717-2410
In Missouri, dial 417-812-9777