Discover how professional janitorial services can transform your office environment, boosting productivity, health, and your company's image.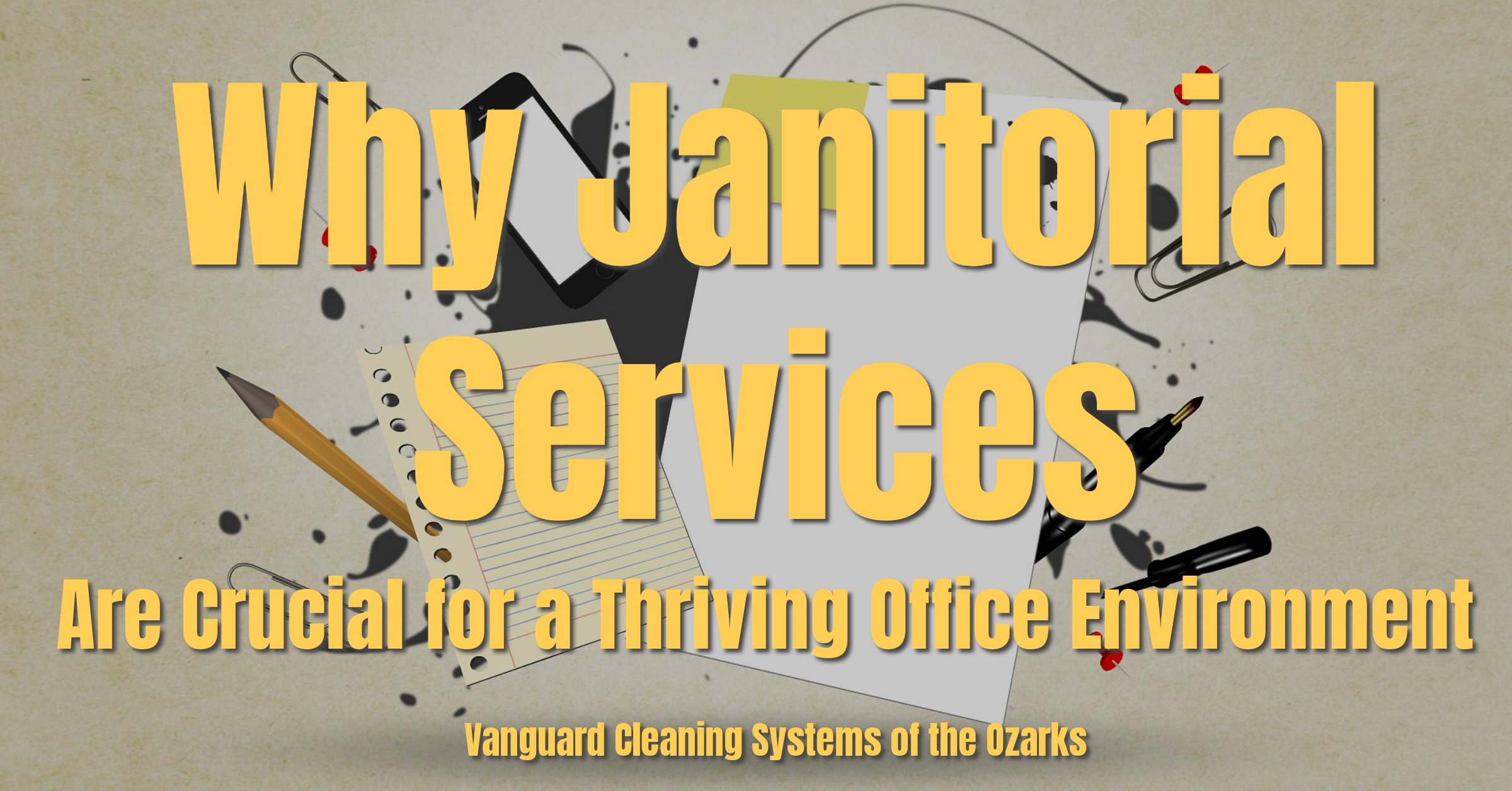 The Multifaceted Benefits of Professional Janitorial Services
In today's fast-paced business world, a clean workspace might not always be top of mind.
Yet, the cleanliness and order of an office play a pivotal role in shaping its productivity, health, and overall image.
According to MindTools;
One consequence is that people get sick, stop working, and take time off to recover. However, your business can suffer even more when people who are sick continue to work and end up spreading germs around the office, instead of taking the proper amount of sick leave that they need. This is called "presenteeism" and it costs companies more than $150 billion a year in the U.S. alone.

Research also shows that poor standards of hygiene reduce people's ability to focus on their work, and trigger a negative mindset. This can affect productivity and morale.

A dirty or untidy office puts off potential clients and hires, too. People gain an instant insight into your workplace culture when they step into your premises, and bad first impressions do nobody any favors.[1]
At the heart of this, professional janitorial services stand as silent but vital contributors to an organization's success and smooth functioning.
Direct Impact on Employee Productivity
A spotless environment isn't just about aesthetics; it's directly correlated with how efficiently an organization runs.
Cluttered spaces can become overwhelming, leading to distractions and decreased morale.
According to Verywell Mind;
Clutter and mental health are connected. While clutter is sometimes associated with increased creativity, it can also leave you feeling stressed and overwhelmed if it gets to be too much or interferes with your ability to function effectively in your daily life.[2]
On the contrary, a clean environment, maintained by janitorial services, promotes clarity, focus, and overall well-being, ensuring employees give their best every day.
Reflecting Company Image
First impressions matter, especially in business.
A clean office space communicates professionalism, attention to detail, and care.
According to Forbes;
First impressions are inherently difficult for people to make—it's a tricky aspect of human life that we can all commiserate with. First impressions are also, by and large, long-lasting and difficult to alter long term. This reality is amplified for business owners, who must navigate first impressions at a much more frequent rate.[3]
Whether it's a potential client, partner, or a new hire walking through those doors, a pristine environment supported by janitorial services speaks volumes about the company's values and standards.
Cost Savings in the Long Run
While some may view janitorial services as an additional expense, they are, in fact, a long-term investment.
Regular professional cleaning prolongs the lifespan of office assets, prevents costly repairs, and ensures fewer replacements.[4]
Add to that the financial impact of reduced sick days, and the return on investment becomes evident.
Ensuring the Use of the Right Cleaning Products
Not all cleaning agents are created equal.
Some can be too harsh, leading to premature wear and tear, while others might not be effective at all.
Per the U.S. Environmental Protection Agencies Guidance for Cleaning and Disinfecting;
Some surfaces only need to be cleaned with soap and water. For example, surfaces and objects that are not frequently touched should
be cleaned and do not require additional disinfection. Additionally, disinfectants should typically not be applied on items used by
children, especially any items that children might put in their mouths. Many disinfectants are toxic when swallowed.[5]
Janitorial services bring expertise to the table, selecting the perfect balance of cleaning products that are both effective and safe for office equipment and furnishings.
Eco-friendly Cleaning and Sustainability
As businesses globally are leaning towards sustainable practices, janitorial services are no exception.
Modern cleaning services adopt green cleaning methods, utilizing eco-friendly products that are safe for both the environment and the inhabitants of the office.
Peace of Mind for Management
Beyond the tangible benefits, there's an invaluable peace of mind that comes from knowing your office's cleanliness and hygiene are in expert hands.
This assurance allows management to channel their focus where it's needed most: driving the business forward.
References
MindTools | Home. (n.d.). Www.mindtools.com. https://www.mindtools.com/a2t9xhi/health-and-hygiene-at-work
Clutter and Mental Health: What's the Connection? (n.d.). Verywell Mind. Retrieved September 12, 2023, from https://www.verywellmind.com/decluttering-our-house-to-cleanse-our-minds-5101511#toc-impact-of-clutter-on-mental-health
Ghimire, S. (n.d.). Council Post: The Power Of First Impressions: A Marketing Strategy That Optimizes Search For A Transformed Digital Landscape. Forbes. https://www.forbes.com/sites/forbesbusinesscouncil/2022/03/11/the-power-of-first-impressions-a-marketing-strategy-that-optimizes-search-for-a-transformed-digital-landscape/
Rodriguez-Zaba, D. (n.d.). Council Post: Five Types Of Commercial Cleaning For Workplaces To Consider Post-Covid-19. Forbes. Retrieved September 12, 2023, from https://www.forbes.com/sites/forbesbusinesscouncil/2021/07/20/five-types-of-commercial-cleaning-for-workplaces-to-consider-post-covid-19/
GUIDANCE FOR CLEANING AND DISINFECTING. (n.d.). https://www.epa.gov/sites/default/files/2020-04/documents/316485-c_reopeningamerica_guidance_4.19_6pm.pdf
Takeaway
Janitorial services, often operating behind the scenes, play a critical role in sculpting a thriving office environment.
They not only ensure cleanliness, but enhance productivity, health, and the company's image.
As businesses weigh the cost against the benefits, it's imperative to see janitorial services not as an expense but as an investment in the company's future.
Vanguard Cleaning Systems® of the Ozarks' franchise-owned custodial service provider business cleans more than 8M sq. ft. weekly, maintaining an industry topping 95+% of its customer base, year-over-year, and boasting more than 60 5-star Google reviews.
Need more capability from your vendor partners? --Let's talk.
In Oklahoma, dial 918-960-4450
In Arkansas, dial 479-717-2410
In Missouri, dial 417-812-9777