Slip and fall accidents are a leading cause of injuries in the workplace and most commonly occur on wet or lubricated (oil, dust, grease, etc.) surfaces.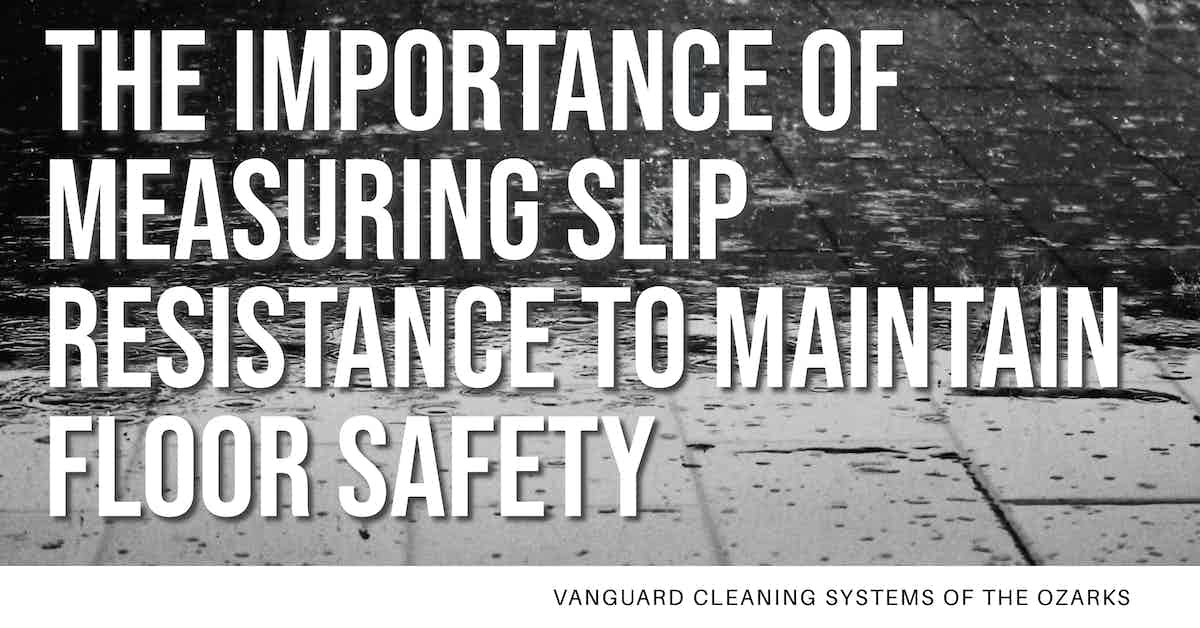 Keep Floors Safe by Measuring Slip Resistance
While most flooring products maintain some degree of slip resistance, the degree of resistance varies widely by product type and quality and is heavily influenced by several external factors.
The level of slip resistance required for a floor to be considered safe depends on the floor type, traffic levels, and environmental conditions.
It is vital to measure the slip resistance of a floor before and after it is installed to ensure that it meets the required safety standards.
There are several methods for measuring slip resistance, but the most common is the DCOF, or dynamic coefficient of friction test.
Per Daltile;
DCOF, or dynamic coefficient of friction, is the primary product performance measure used by the North American tile industry to identify suitable applications for a flooring product.

ANSI A137.1 requires tile flooring products to have a DCOF of 0.42 or greater and is recommended for use in a level interior space intended to be walked upon when wet.

Friction is the innate force that resists the sliding motion of one surface against another.

The DCOF of a surface is a measurement of the force necessary to keep a surface already in motion sliding over another surface.

It is likened to the frictional forces a person experiences when walking.
Why Maintaining Floor Safety Matters
Maintaining floor safety in public facilities is critical for a variety of reasons.
Slip and fall accidents:
Are a leading cause of injuries in the workplace.
Often result in expensive litigation and worker's compensation claims.
Can cause additional damage to expensive equipment and the built environment, and;
Can result in further safety hazards for customers and employees.
Further, per the U.S. Occupational Safety and Health Administration (OSHA);
Falls are among the most common causes of serious work related injuries and deaths.

Employers must set up the work place to prevent employees from falling [...]

OSHA requires employers to provide working conditions that are free of known dangers, [and] keep floors in work areas in a clean and, so far as possible, a dry condition.
Addressing Slippery Challenges
A major hurdle in addressing slip and fall accidents resulting from dangerous floor conditions is the absence of information about proper maintenance and care from the flooring manufacturers, resulting in maintenance providers seeking guidance from the chemical cleaning industry.
Unfortunately, chemical cleaning manufacturers rarely test and label their product's impact on slip resistance for various floor types.
Compounding the issue, many household and commercial floor care products leave a thin, slippery film on the floor surface, resulting in hazardous slip and fall conditions.
[...] flooring manufacturers rarely inform their customers as to how to properly clean their products.

This leaves the consumer to rely on the chemical cleaning industry for guidance, but these chemical manufacturers don't always test or label their products effect on slip resistance, either.

Many floor cleaning products leave behind a slippery film, which directly contributes to making floors slick.

In 2006, the National Floor Safety Institute (NFSI) studied the top-20 household floor cleaners and found that many of them actually made floors more slippery than if they hadn't been used at all.

Since the chemistry of household floor cleaners is similar to that of commercial floor cleaners, it is fair to assume that that the floor cleaners being used in facilities may also be leaving a slippery film behind.
The simplest method for addressing these issues is to:
Routinely assess the flooring for risks, including inadequate or incorrect cleaning protocols.
Check the floor for physical trip hazards or contaminants when cleaning and throughout the day.
Perform regular DCOF testing.
Contact the flooring manufacturer to determine what slip-resistance testing has been performed, what products should be used for maintenance and care, and what the recommended deep cleaning schedule is.
Additionally, standard recommendations for improving the slip resistance of commercial flooring involve destructive processes, such as sandblasting, acid edging, and grinding, where less expensive and impermanent solutions in the form of high-performance entryway and walkway matting would more than suffice.
References & Resources
Takeaway
Measuring the slip resistance of your facility's commercial flooring will help ensure the health and safety of the facility occupants and the investment into the built environment by gauging the efficacy of floor maintenance programs and providing a baseline for occupant safety.
Inadequate or incorrect cleaning compounds and methods can seriously damage commercial flooring resulting in significant financial losses and exposing the facility owners to workers' compensation claims and civil litigation.
Onboarding and managing the requisite labor and material resources in the current market may prove cost-prohibitive and undesirable for many organizations.
Outsourcing is a proven method for onboarding skilled service providers equipped with the latest training, processes, and technologies for a fraction of the price of maintaining a comparable service in-house.
Contact us today and discover why Vanguard Cleaning Systems® is the Standard of Clean® for businesses throughout Northwest Arkansas, Missouri, and Oklahoma.
In Oklahoma, dial 918-960-4450
In Arkansas, dial 479-717-2410
In Missouri, dial 417-812-9777