Microfiber and cotton-based products have long been the go-to application material for cleaning surfaces and picking up spills, but which is best for each situation?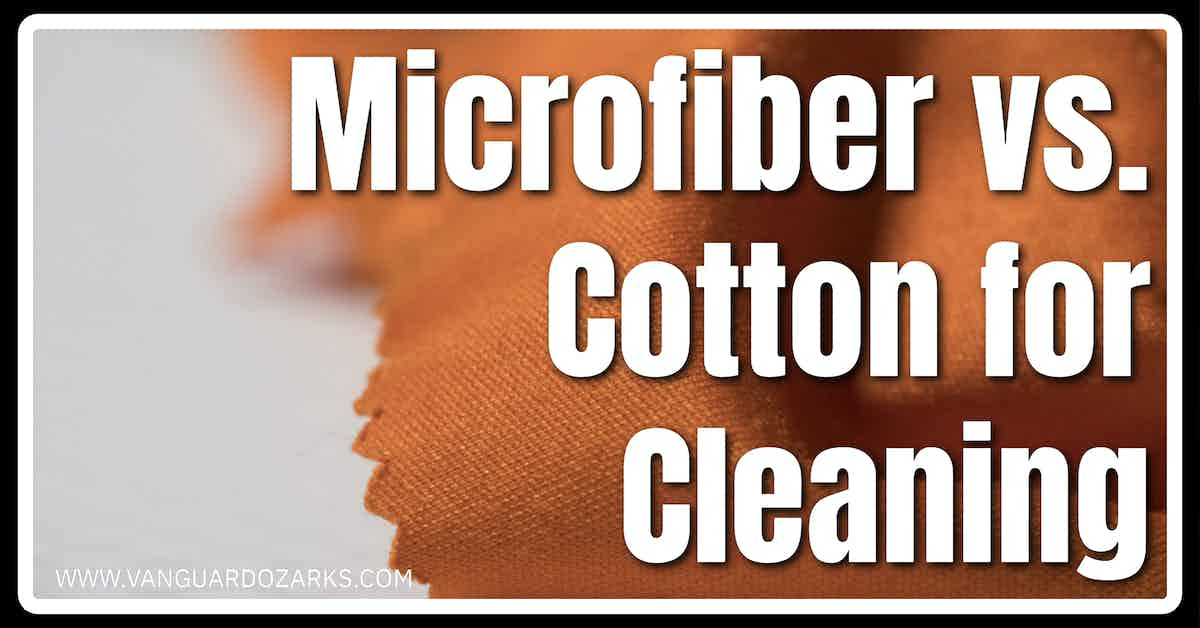 Microfiber--The Basis for High-Tech Cleaning
Microfiber is a synthetic material that is the basis for modern high-tech cleaning solutions due to its unmatched power to trap dirt and remove soil and germs from surfaces combined with a low cost of ownership.
Conversely, cotton is a natural fiber used to clean homes, schools, and businesses for generations. Despite its numerous drawbacks, it remains the material of choice for custodians in many situations.
For instance, many service providers prefer cotton over microfiber for:
Applying bleach--bleach has a corrosive and harmful effect on microfiber, reducing its useable lifespan.
Cleaning up concrete--the coarse surface of concrete can severely damage microfiber material.
Soaking up water--many providers prefer cotton mop heads for cleaning up large spills and standing water because they can hold up to 25x its weight in liquid, and;
Cleaning certain surfaces--microfiber can scratch certain surfaces, such as stainless steel.
However, microfiber proponents state that, even where microfiber has issues under specific conditions, there is no circumstance where it does not outperform cotton.
Microfiber Outperforms Cotton Across the Board
Cotton material notoriously pushes dirty water and bacteria around on surfaces without removing them, resulting in cross-contamination and low-quality cleaning outcomes.
On the other hand, microfiber-based products are:
More ergonomic, using ten to thirty times less liquid than cotton alternatives--meaning the cleaning medium weighs less and puts less of a strain on the service provider.
More sustainable--while concerns regarding microfiber's biodegradability exist, the construction of cotton-based cleaning products leaves a substantial carbon footprint compared to microfiber (including the use of fertilizers and pesticides), and microfiber has a significantly longer useable lifespan.
Better at removing germs and bacteria--according to the U.S. Environmental Protection Agency (EPA), up to 98 percent of bacteria and 93 percent of viruses from a surface using only water.
Modern Health Concerns and the Demand for High-Tech Sustainable Solutions
The world's population is getting older and sicker.
According to the World Health Organization;
The pace of population ageing is much faster than in the past.

In 2020, the number of people aged 60 years and older outnumbered children younger than 5 years.

Between 2015 and 2050, the proportion of the world's population over 60 years will nearly double from 12% to 22%.
Per WebMD;
A new global tally of health finds that only about 4 percent of people worldwide had no health problems in 2013, while a third -- about 2.3 billion people -- had more than five health problems.

And the situation is getting worse, not better: Worldwide, the proportion of years of healthy life people lost because of illness (rather than simply dying earlier) rose from 21 percent in 1990 to 31 percent in 2013, according to the Global Burden of Disease study.

The growing number of elderly people also means that the number of people who will be living with health problems will rise rapidly over coming decades, the researchers warned.
The combination of an aging and increasingly sick population with rising environmental concerns and new demand for healthier facilities have created a boom in the cleaning and disinfectant product industry.
Unfortunately, many of those in want of increased cleaning and disinfection services are susceptible to the negative consequences of increased chemical exposure.
Chemical surface disinfectants have some adverse impacts on the environment and acts as a major barrier for growth.

For instance, hydrogen peroxide used in chemical surface disinfectants can cause portal vein thrombosis, gastrointestinal problems, mild mucosal irritation, and vomiting.

According to a study conducted by the National Library of Medicine, in the United States, Australia, the United Kingdom, and Sweden 15.7 percent of the general population, and 32.9 percent of asthmatics, report health problems from being in a room after it has been cleaned by fragranced products which include surface disinfectants.
References & Resources
Takeaway
The solution to decreasing the impact humans have on the planet while increasing the hygiene and safety of the buildings we spend most of our time in without further diminishing our health will require safer, more sustainable cleaning products and tools, such as microfiber, which, when compared to conventional cotton tools:
Removes more germs and bacteria.
Uses less water.
Requires less cleaning and disinfectant to coat surfaces and kill pathogens and bacteria.
Contributes to improved indoor air quality, and;
It costs less and delivers better results.
Using commercial-grade, color-coded, and numbered microfiber products can virtually eliminate cross-contamination risks and are all but guaranteed to improve the cleaning outcomes in your building.
However, using the products effectively requires planning and training. Many organizations in need of the services afforded by daily enhanced cleaning services typically find the overhead of onboarding and managing the service department in-house to be cost-prohibitive.
Vanguard Cleaning Systems of the Ozarks' franchise-owned custodial service provider business cleans more than 8M sq. ft. each week, maintaining an industry topping 95+% of its customer base, year-over-year, and boasting more than 60 5-star Google reviews.
Need more capability from your vendor partners? --Let's talk.
In Oklahoma, dial 918-960-4450
In Arkansas, dial 479-717-2410
In Missouri, dial 417-812-9777