Clean work environments positively impact challenges associated with work-related stress, including attendance, motivation, and productivity.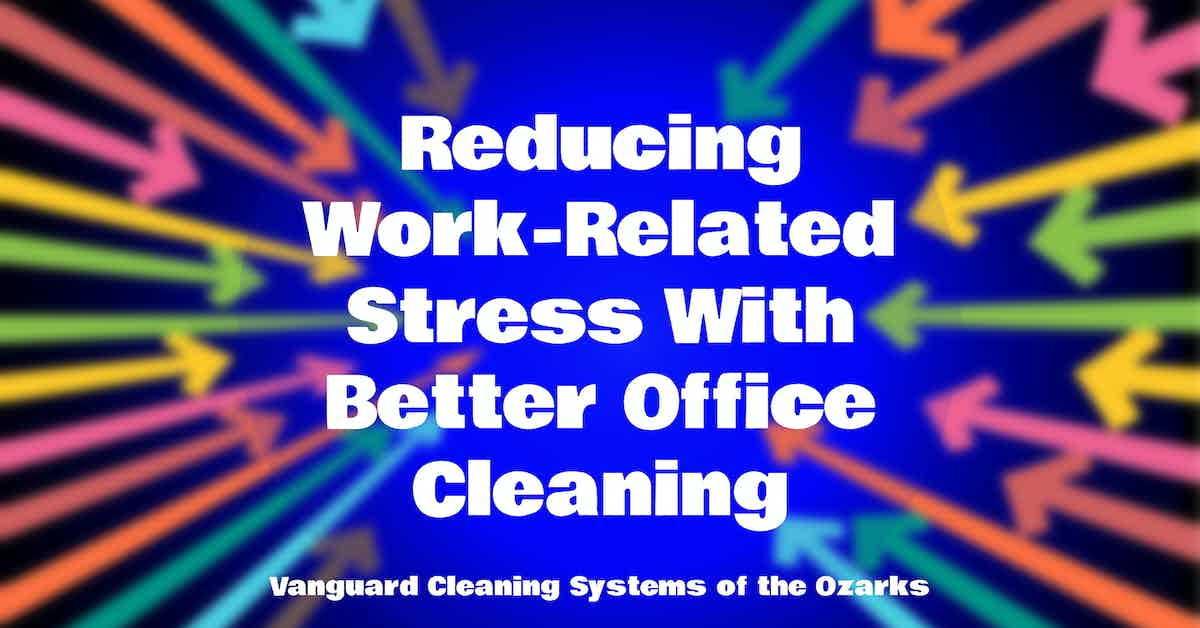 The High Cost of Work-Related Stress
Post-COVID work-related stress levels carry significant social and economic burdens.
According to the latest statistics:
Workplace stress costs U.S. businesses an estimated $300B in annual productivity.
Work-related stress and associated mental health challenges cost the world economy roughly $1T in annual productivity.
Work-related stress is blamed for an estimated 120,000 deaths in the U.S. annually, at a yearly cost of $190M.
Approximately 1M U.S. workers are reportedly absent daily due to stress or stress-related health issues.
94% of U.S. workers reportedly feel work-related stress.
63% of U.S. workers report feeling ready to quit their job to avoid work-related stress.
55% of Americans report feeling stressed during the day.
Roughly 33% reported feeling extreme stress levels.
77% feel stress negatively impacts their physical health.
73% feel workplace stress negatively impacts their mental well-being.
26% of workers blame stress for job burnout.
50% of U.S. workers believe they could use some assistance with workplace stress.
25% of stressed-out respondents say they feel like screaming or hitting something.
25% have reportedly cried due to work-related stress.
63% report workplace stress causing challenges in the home and;
10% report work-related stress resulting in personal issues.
The symptoms of work-related stress often manifest in several ways, including:
Physical - Headache, fatigue, muscle tension, and trouble sleeping.
Psychological - Depression, anxiety, irritability, and reduced cognitive functions, and;
Behavioral - Aggression, mood swings, and decreased work performance.
Benefits of Reducing Work-Related Stress
Workplace stress takes a tremendous toll on the U.S. workforce.
Reducing its influence can significantly improve several critical employee metrics, including:
Mood and morale.
Concentration and cognitive functions.
Attendance.
Physical and mental health, and;
Job satisfaction.
Enhanced Cleaning Removes Workplace Stressors
Reducing workplace stress means eliminating stressors.
A low-quality, poorly cleaned work environment is one of the most commonly cited sources of workplace stress.
According to one U.S. office worker poll, 44% of respondents stated workplace cleanliness post-pandemic is one of the primary causes of stress at work.
Another study conducted by the Cleaning Coalition of America found that 66% of the U.S. workforce views office cleaning practices as critical.
Daily enhanced cleaning programs reduce workplace stress by:
Increasing office hygiene levels.
Reducing germs and bacteria that cause illness.
Eliminating the source of foul odors.
Improving indoor air quality, and;
Removing clutter.
References & Resources
Takeaway
Work-related stress is devastating U.S. workforce productivity.
Eliminating workplace stressors is key to combatting the problem, which means implementing better cleaning programs designed to protect and enhance occupant health and safety.
According to Thrive Global;
Studies have shown that people who work in a cluttered environment usually suffer from unrecognized stress and may feel overwhelmed by always having to search for documents, step over piles of clutter or navigate a dirty desktop.

This isn't only frustrating and stressful, it's downright unsafe.

A clutter-free workspace is important, but so is having a clean, dirt-free space. This is the other side of cleanliness, the part of disorganization that can impact your physical health as well.
Need more capability from your vendor partners? --Let's talk.
In Oklahoma, dial 918-960-4450
In Arkansas, dial 479-717-2410
In Missouri, dial 417-812-9777