Vanguard Cleaning Systems of the Ozarks offers a wide range of professional office cleaning services ideally suited for law firms, administrative services, real estate, accounting offices, insurance companies, government buildings, and more.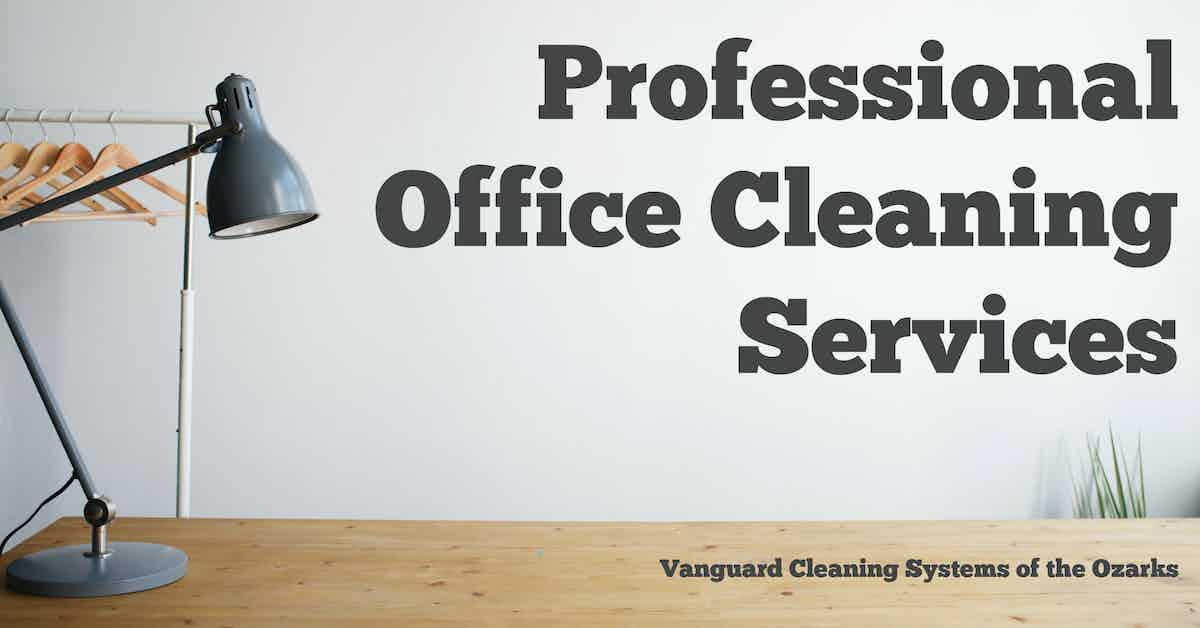 The Benefits of Maintaining a Clean Office
A clean office contributes to workforce wellness and is crucial to business growth and success.
Daily enhanced cleaning and targeted disinfection services have been shown to:
Remove clutter and create more effective workspaces.
Enhance material resource controls.
Identify and often address potential workplace hazards.
Reduce the risk and cost of workplace injuries.
Increase workforce productivity.
Improve employee morale and reduce workplace stress, resulting in higher retention rates and recruiting success.
Create a strong first impression and project a proud corporate culture.
Remove harmful germs, bacteria, and other hazardous materials, and;
Protect investments in the physical environment.
Conversely, poorly maintained offices typically result in the rampant transmission of illness, costing U.S. businesses billions per year in healthcare costs and lost productivity.
Integrated Benefits Institute (IBI) released an analysis Tuesday morning that found employers spent $575 billion on employees' poor health in 2019.

According to the study, for every dollar of the almost $950 billion spent on healthcare benefits, "another $0.61 of productivity is lost to illness and injury."

Days with illness-related absences which led to "lost productivity" totaled almost 1.5 billion days annually for all employees.
The Vanguard Cleaning Systems' Approach to Office Cleaning Services
Our independently owned franchise janitorial service providers offer a full range of scalable office cleaning services ideally suited for:
Office reception areas
Employee workspaces
Restrooms
Break rooms
Kitchenettes
Additionally, we provide:
Dedicated account managers to address your questions or concerns and help manage your cleaning team and requirements.
Regular service agreements and site evaluations to assess emerging needs.
Cleaning schedules tailored to your business's unique operations schedule, and;
Access to the latest in cleaning technologies, such as microfiber cloths, commercial-grade, HEPA-filtered vacuums, and scientifically-backed cleaning processes designed to increase efficiency and eliminate cross-contamination.
Our franchise teams also provide specialized cleaning and disinfection services, including:
High Touch Point Preventative Sanitizing
Electrostatic Disinfection Services
Ultraviolet Germicidal Irradiation ("UVGI") Services
Carpet Cleaning
Window Washing
References & Resources
Takeaway
Daily office cleaning services afford clear advantages to businesses that translate directly to highly desirable outcomes, including increased profits and decreased operational expenses.
Conversely, neglected workspaces suffer from:
High turnover rates.
Poor occupant performance.
Low employee morale.
Skyrocketing healthcare costs.
Diminished public perception and approval rates.
Significant workforce attendance challenges.
Major financial issues.
The worst consequence of implementing poorly managed and conceived cleaning services for a business is watching your competitors succeed while your organization struggles.
Outsourcing to an experienced office cleaning service provider with the labor and material resources needed to succeed in the modern business world and backed by years of proven success is a proven method for advancing your company to the next level.
Vanguard Cleaning Systems of the Ozarks' franchise cleaning teams service more than 7 million sq. ft. of office space each week while maintaining one of the highest industry ratings and the lowest customer churn statistics in the country.
Need more capability from your vendor partners--Let's talk.
In Oklahoma, dial 918-960-4450
In Arkansas, dial 479-717-2410
In Missouri, dial 417-812-9777