How often the various components of a building are cleaned and disinfected directly impacts occupant health and performance, operational budgets, and facility safety.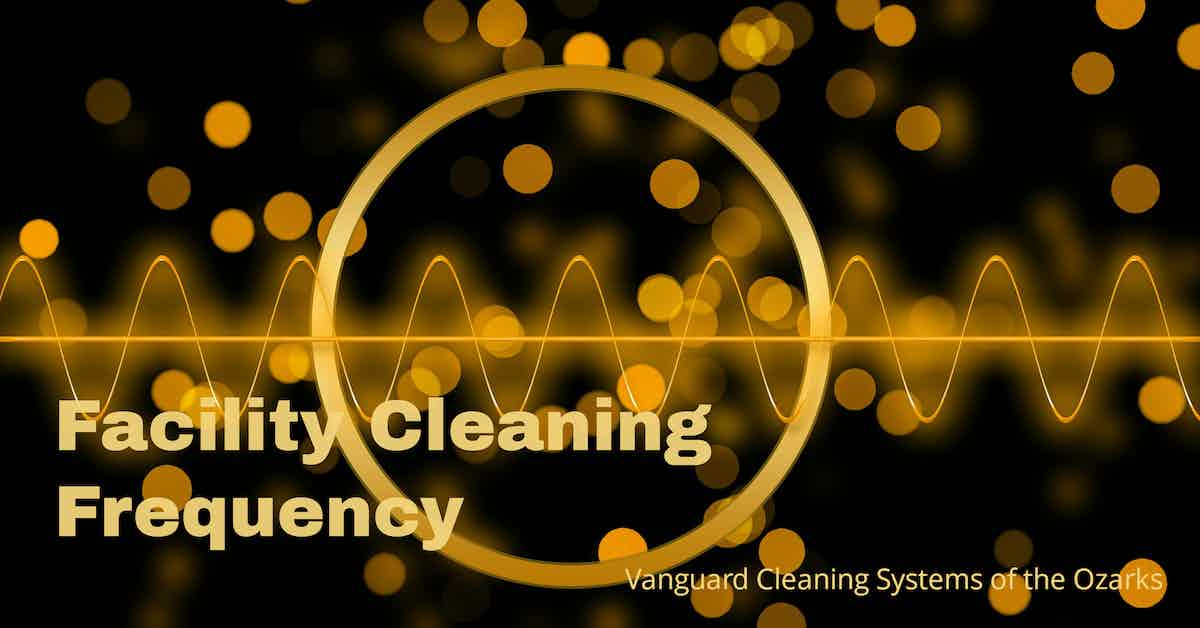 Cleaning and Disinfection Frequency Variables in Non-Healthcare Facilities
Cleaning and disinfection frequencies are a double-edged sword.
Too often leads to waste and an increased risk of toxic chemical exposure.
Not often enough compromises occupant health and safety resulting in increased costs and reduced productivity.
Several factors or facility characteristics commonly impact cleaning frequency requirements, including:
The risk level of the average occupant, e.g., age and comorbidities.
The type and volume of traffic coming in and out of the facility, e.g., high school locker room vs. a small business.
How the facility is used and how often, e.g., a 24-hour gym vs. a church or community center.
The existence of any local outbreaks--increasing cleaning and disinfection frequencies during localized influenza outbreaks can greatly reduce its spread.
Weather--rain, snow, and dust significantly impact cleaning frequency recommendations.
Natural risk factors inherent to particular industries, e.g., the increased likelihood of germ exposure in childcare settings, and;
The level and type of risk associated with individual facility areas, e.g., restrooms, desks, and entryways vs. executive conference rooms.
Additionally, an increase in occupant expectations for more visible cleaning efforts will likely continue to drive facility management decisions for years to come.
Per CNBC, post-COVID, professional office workers have expressed a desire for increased facility cleaning and disinfection.
According to the survey, which included 1,600 U.S. workers, when asked to rank their greatest impediment to returning to the office, respondents point to Covid infection rates first (35.2%) and vaccination rates second (17.4%).

While cleaning practices weren't a major priority for employees pre-Covid, 66% of U.S. workers find it extremely important now.

For 62% of employees, simply seeing sanitation professionals regularly at their workplace would make them feel safer.

66% of employees want better office cleaning practices before returning to work
Generally Recommended Cleaning and Disinfection Frequencies for Schools and Offices
Schools and office buildings will benefit from the daily cleaning of all used areas of a facility, disinfecting hotspots several times per day, and disinfecting high-risk areas, like bathrooms and kitchens, at the end of each day.
Floor care frequencies will vary by season and traffic volume. Still, general guidelines recommend deep cleaning at least once per year--either stripping and rewaxing or deep extraction, depending on the floor type.
Regardless, floors should be swept, mopped, and vacuumed at the end of every day and can benefit from increased maintenance frequencies along areas with a high volume of foot traffic.
Communal technologies--phones, touchscreens, computers, and self-checkout systems--should be wiped down several times per day in a non-outbreak scenario and after each use during community-wide outbreaks.
Individual workspaces and equipment should be wiped down at the end of each day, but shared or open work areas should be serviced after each use.
In either instance, the workspace should be spot-checked and serviced at the end of each day.
During a community-wide outbreak and depending on the nature of the pathogen, the U.S. Centers for Disease Control and Prevention recommends increasing cleaning and disinfection frequencies in non-healthcare settings.
References & Resources
Takeaway
Facility cleaning frequencies significantly impact occupant health, performance, and attendance.
Too often is just as bad, and sometimes worse, than not often enough.
Services flexibility and scalability are mandatory for achieving optimal levels of facility hygiene throughout the year without generating material or financial waste.
Need more flexibility from your vendor partners--Let's talk.
In Oklahoma, dial 918-960-4450
In Arkansas, dial 479-717-2410
In Missouri, dial 417-812-9777