Recent data suggests that while several areas of in-house managed cleaning services have improved since the start of the pandemic, several critical areas are either lagging behind or potentially misdirected and would benefit from outsourced expertise.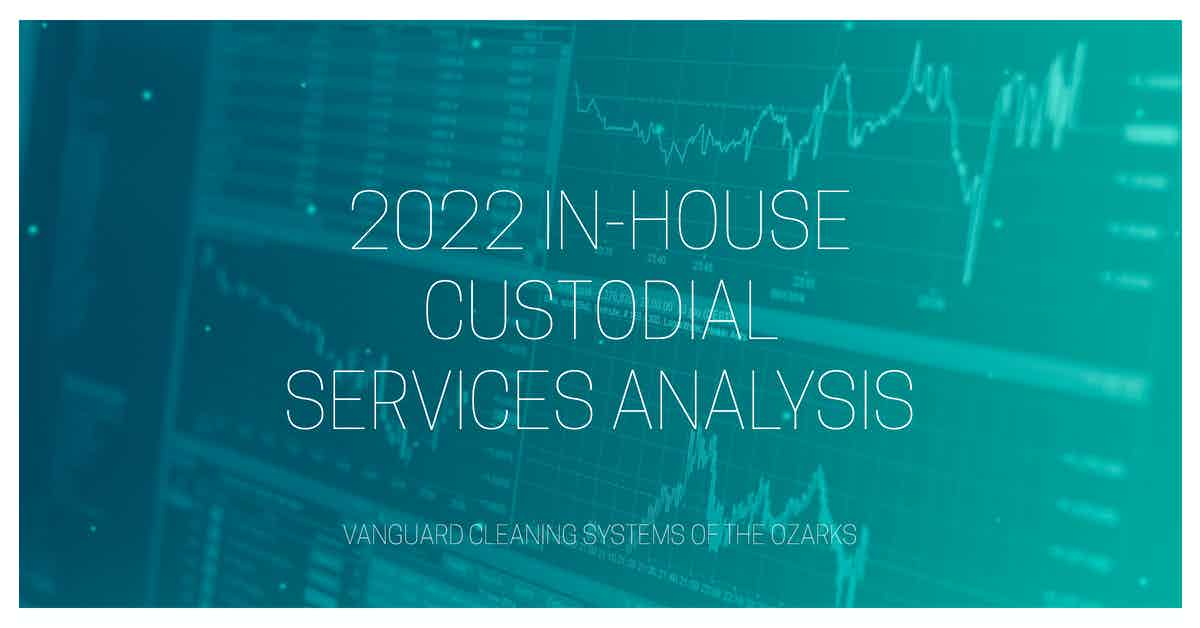 The Current State of In-House Managed Cleaning Services
A recent survey conducted by CMM assessed several critical benchmarks for in-house cleaning and facility maintenance services, including:
Post-pandemic occupation levels.
Facility and custodial staffing levels.
Budgets.
Disinfection purchasing frequencies, and;
Top facility management concerns.
Current Facility Occupation Levels
Occupation levels have a direct impact on cleaning and maintenance requirements.
More people means more germs and bacteria, which may imply a need for increased cleaning and disinfection frequencies.
Several lessons learned during the pandemic included:
An increase in cleaning frequencies with commercial-grade soap-based detergents only needed to be performed if a community-wide spread of illness was reported or an increase in illness associated with facility occupancy was detected.
Increasing targeted fomite disinfection frequencies as occupancy and use increased was advisable, but facility-wide commercial disinfection was uncalled for and potentially dangerous, and;
Floors are neglected far too often and pose a severe health and safety threat to facility occupants and the general public, especially as foot traffic through a facility increases.
According to the survey:
44% of respondents reported 100% occupancy.
37% said their facilities were between 70% and 99% occupied.
28% reported a reduction in occupancy due to the "Great Resignation."
Staffing Levels
Pre-pandemic janitorial turnover rates ranged as high as 200 to 400% annually, making current in-house staffing rates challenging to assess correctly.
The issue with high turnover rates is that new hires take time to train and require ongoing supervision, so outcomes are often negatively impacted.
The issue of adverse cleaning outcomes is compounded when facilities are understaffed.
Quality of work decreases.
Areas of a facility often are neglected.
Untrained office workers must double as cleaning staff to pick up the slack.
Indoor air quality suffers, resulting in sick building syndrome, poor office worker morale and mood, increased absences, and decreased productivity and profits.
The likelihood of an outbreak increases, and;
Skilled office workers quit and go to work for competitors.
According to the survey:
70% of respondents stated their staffing stayed the same or increased in 2022--up from 54% in 2021.
17% said they reduced or eliminated staff, and;
13% reduced or furloughed staff with plans to bring them back.
Budgets
Departmental operational budgets impact a business's ability to:
Hire additional staff.
Increase training.
Upgrade equipment and products.
Perform needed maintenance on current equipment and;
Implement needed monitoring and reporting systems.
According to the survey:
48% of respondents reported either a flat or decreased budget--down from 71% in 2021, and;
41% stated their 2022 budget increased--up from 20% in 2021.
Disinfection Purchases
One of the most vital lessons from the recent pandemic was that the improper application of commercial disinfectants could be as deadly as a viral outbreak and likely poses longer-term dangers to the natural environment and human health.
Before the pandemic and then throughout the early stages, corrosive and toxic disinfectants--typically bleach or quat-based--were broadly applied to a wide range of surfaces, often disregarding manufacturer recommendations, resulting in illness, poisoning, death, and, as yet, unreported environmental damage.
Disinfectants should be limited primarily to use on high-contact surfaces or in high-risk facility areas, such as restrooms, locker rooms, and gyms.
The preferred method for removing germs, including COVID-19, from facility surfaces is routine cleaning with soap-based commercial detergents and microfiber.
However, broad-spectrum applications, such as misters or electrostatic disinfection appliances, are suitable for scheduled facility-wide disinfection services in large or complex building areas, such as classrooms, locker rooms, and gyms as long as safety precautions are in place and observed.
According to the survey:
38% of respondents said their disinfection product purchases increased as much as 20%--up from 34% the previous year.
55% expect purchasing to remain the same.
14% expect purchasing to increase, and;
Electrostatic sprayers are still the top choice for new technologies being adopted by facilities managers over the next 12 months.
Top Concerns
The top concern for facilities maintenance and custodial services should always be occupant health.
Every product that is purchased and every method employed should be done so with the aim of ensuring and improving occupant safety and wellness first.
Downstream from high levels of reported occupant health are numerous organizational benefits that include:
Increased attractiveness to prospective workers and emerging workforce demographics.
High workforce retention levels.
Decreased healthcare costs.
Improved occupant cognitive functions and output quality, and;
Increased profits.
According to the survey, only 80% of respondents cited occupant health and safety as important, while:
Improving facility image,
Improving workplace productivity and efficiency,
Staff training and education, and;
Security;
Rounded out the remaining categories of the top 5 concerns.
Source:
Takeaway
Clearly, based on the results of this survey, there is significant room for improvements to current cleaning, infection prevention, and infection control practices.
Costs and skilled service provider turnover will continue to negatively impact cleaning outcomes.
Outsourcing is a proven method for onboarding skilled service providers equipped with the latest in training, methods, and technologies for a fraction of the price of maintaining a comparable service, in-house.
Contact us today and discover why Vanguard Cleaning Systems® is the Standard of Clean® for businesses throughout Northwest Arkansas, Missouri, and Oklahoma.
In Oklahoma, dial 918-960-4450
In Arkansas, dial 479-717-2410
In Missouri, dial 417-812-9777