Clostridioides Difficile (C. diff) is a bacterium that has historically plagued the healthcare industry, resulting in more than 500 thousand infections, and 15 thousand deaths, at the cost of more than $1.5B annually.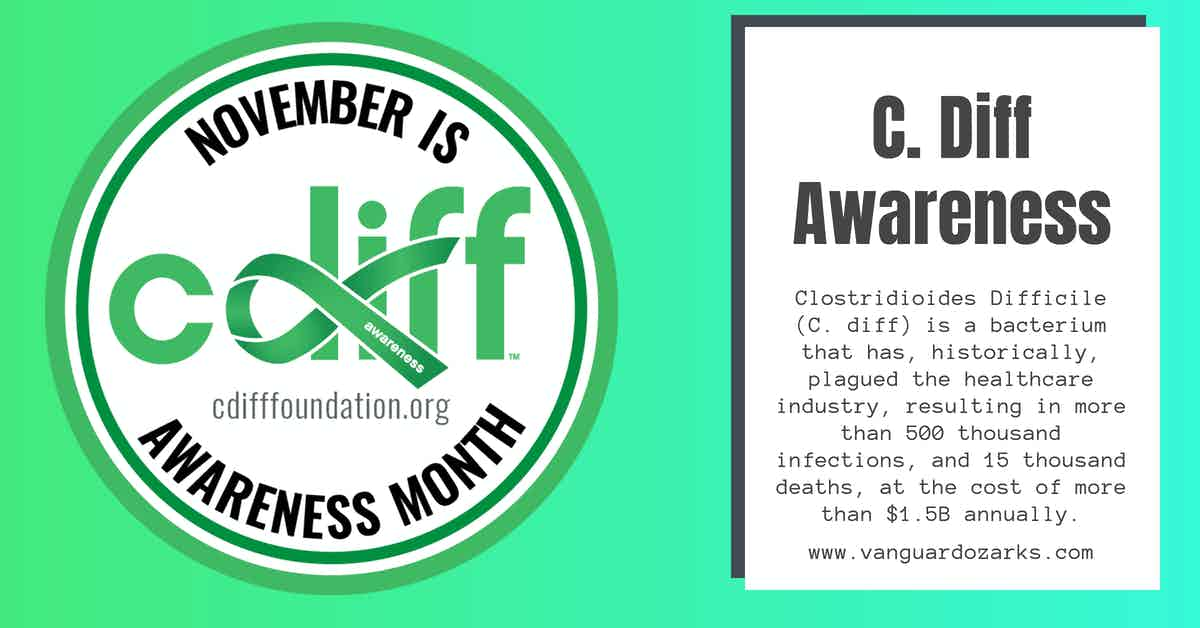 C. Diff History, Causes, Effects, and Transmission
C. diff was first isolated and cultured in 1935 by Ivan Hall and Elizabeth O'Toole.
Before the isolation of the bacteria, the illness was generically referred to as antibiotic-associated diarrhea due to its close ties to recent or ongoing antibiotic use.
Infections in patients present as:
Frequent, foul-smelling watery stools that occur up to 10 to 15 times per day in severe cases.
Fever.
Abdominal pain and cramping.
Nausea.
Loss of appetite, and;
In severe cases, blood or pus in diarrhea.
C. diff can infect anyone, but specific demographics are far more susceptible, especially:
Elderly patients--most commonly those in assisted living facilities.
Patients with underlying health conditions, and;
Patients who are currently undergoing or have recently undergone a round of antibiotic treatments in the past 30 days.
Additionally, patients who have previously been infected with C. diff are at an elevated risk for reinfection.
According to Darrell Pardi, M.D. of the Mayo Clinic;
[...] up to 20 percent of people initially treated for C. diff may experience a recurrence either because the initial infection never went away or because they are reinfected with a different strain of the bacteria.

This risk increases up to 60 percent with more than 2 episodes.

November is C. diff Awareness Month. Mayo Clinic experts available for interviews
How is C. diff Spread?
C. diff spreads quickly, most commonly via touch--either directly with a contaminated surface or contact with an infected person's hand.
Compounding the issue of easy transmission, the bacteria spores have a high resiliency rate, with many studies demonstrating viable samples on surfaces for up to five months.
Healthcare provider intervention methods, including improved;
Antibiotic use,
Infection control measures,
Occupant hand hygiene compliance, and;
Facility cleaning and disinfection measures;
Have reduced the reported rate of healthcare-associated C. diff infections.
However, according to the U.S. Centers for Disease Control and Prevention (CDC), the reported rate and instances of community-associated C. diff infections have not declined and may have increased during the pandemic.
Pandemic Impact on C. diff
The pandemic appears to have impacted the hospital-associated infection (HAI) rate of C. diff, which was on the decline before 2020, but then seemed to level off while the rate of other HAI's increased.
Several reasons are commonly speculated, including:
Infrequent testing.
A reduction in outpatient antibiotic prescriptions.
Improved handwashing.
A marked increase in environmental sanitation.
Patient isolation, and;
Increased use of personal protective equipment.
Combatting C. Diff
C. diff infections can be prevented in healthcare environments and the local community through common-sense methods that include:
Seeking medical attention when symptoms are present.
Isolating contagious persons.
Adhering to recommended hand hygiene practices.
Ensuring the infected person bathes appropriately at least once per day.
Implementing daily environmental cleaning and disinfection procedures that include the use of products registered on the U.S. Environmental Protection Agency's List K for all potentially contaminated rooms and surfaces.
Expand the use of no-touch environmental disinfection technologies, such as electrostatic disinfection, and;
Monitor local sources for alerts regarding community CDI spread and implement increased proactive environmental cleaning and disinfection procedures.
Source:
References & Resources
Takeaway
C. diff education will increase awareness and, ideally, result in a significant decline of preventable illnesses and deaths.
It is critical to understand that C. diff spread in the community is a serious and increasing concern, especially where access to healthcare services remains disrupted due to challenges arising from the pandemic.
Proactive enhanced environmental cleaning and disinfection measures combined with recommended handwashing practices significantly reduce the presence and transmission of C. diff and other common infectious illnesses.
Proper training and protective equipment are required to safely clean a facility where C. diff contamination is possible or suspected, especially to avoid surface cross-contamination.
Outsourcing to an experienced provider is a proven method for onboarding critical infection prevention and control services as part of a greater facility cleaning subscription service at a fraction of the cost of maintaining a similar service in-house.
Contact us today and discover why Vanguard Cleaning Systems® is the Standard of Clean® for businesses throughout Northwest Arkansas, Missouri, and Oklahoma.
In Oklahoma, dial 918-960-4450
In Arkansas, dial 479-717-2410
In Missouri, dial 417-812-9777