Achieving your organization's carbon-neutral goals over the coming years is possible through strategic partnerships with committed service providers, and Vanguard Cleaning Systems of the Ozarks is here to help!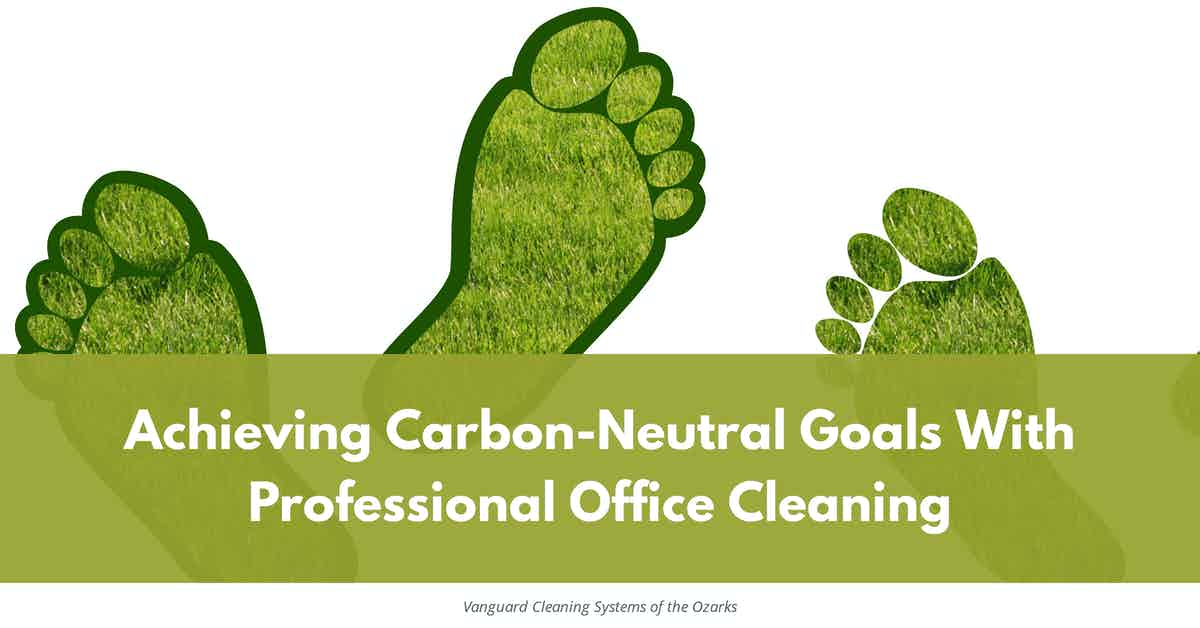 Goal: Achieving Net-Zero Emissions With Environmentally Preferable Cleaning Services
Countries and organizations across the globe have committed themselves to the 1.5°C Challenge--a strategic goal of limiting global temperature rise to 1.5°C over pre-industrialization temperatures.
Through the 2015 Paris Agreement, world governments committed to curbing global temperature rise to well-below 2°C above pre-industrial levels and pursuing efforts to limit warming to 1.5°C.

In 2018, the Intergovernmental Panel on Climate Change warned that global warming must not exceed 1.5°C to avoid the catastrophic impacts of climate change.

To achieve this, GHG emissions must halve by 2030 – and drop to net-zero by 2050.

We have limited time for action and the private sector has a crucial role to play – every sector in every market must transform.

Companies with science-based targets are already cutting emissions at scale; all businesses must now join them.
Your organization can join world leaders by finding ways to eliminate the emission of greenhouse gasses, reducing the consumption of natural resources, and foregoing the use of products that are harmful to humans, animals, and the environment.
Why 1.5°C?
1.5°C may seem somewhat arbitrary, but it is far from that.
Just a 2°C change could have dire consequences for the U.S. and global economies.
According to the Brookings Institute;
At 2°C of warming by 2080–99, Hsiang et al. (2017) project that the United States would suffer annual losses equivalent to about 0.5 percent of GDP in the years 2080–99 (the solid line in figure 1).

By contrast, if the global temperature increase were as large as 4°C, annual losses would be around 2.0 percent of GDP.

Importantly, these effects become disproportionately larger as temperature rise increases: For the United States, rising mortality, as well as changes in labor supply, energy demand, and agricultural production, are all especially important factors in driving this nonlinearity.

Ten facts about the economics of climate change and climate policy
How Your Organization Can Reduce Greenhouse Gas Emissions Through Sustainable Cleaning Practices
Achieving global greenhouse gas emission and temperature targets is extremely ambitious and will require dedication and participation from stakeholders at every level of an organization.
Ways that your school or business can begin reducing greenhouse gas emissions and start the march toward a net-zero carbon footprint include:
Implementing a reduce, reuse, and recycle program that eliminates waste, especially for paper products.
Purchasing and implementing environmentally preferable cleaning and disinfection products that are shipped and stored in concentrated form to reduce shipping and manufacturing-related carbon emissions.
Partnering with vendors that demonstrate a proven commitment to net-zero emissions.
Using advanced cleaning technologies that precisely measure cleaning and disinfectant products, eliminate water waste, use cold water, and maximize efficient electricity use through floorplan layout mapping.
Implementing daytime cleaning or porter services to reduce nighttime use of electricity for custodial teams, and;
Using biophilic design concepts or placing live plants inside of your buildings to improve indoor air quality while increasing occupant productivity and mental health.
Takeaway
Achieving your organization's carbon-neutral goals is a viable but challenging goal--requiring a cooperative effort from up and downstream vendors, customers, and stakeholders.
Vanguard Cleaning Systems of the Ozarks is dedicated to helping your organization reach and surpass its greenhouse gas emission targets.
Need environmentally conscious vendor partners--Let's talk.
In Oklahoma, dial 918-960-4450
In Arkansas, dial 479-717-2410
In Missouri, dial 417-812-9777