Your business gets one chance to make a first impression, and often the cleanliness of your carpets is what sends that message to prospective customers as they enter the building.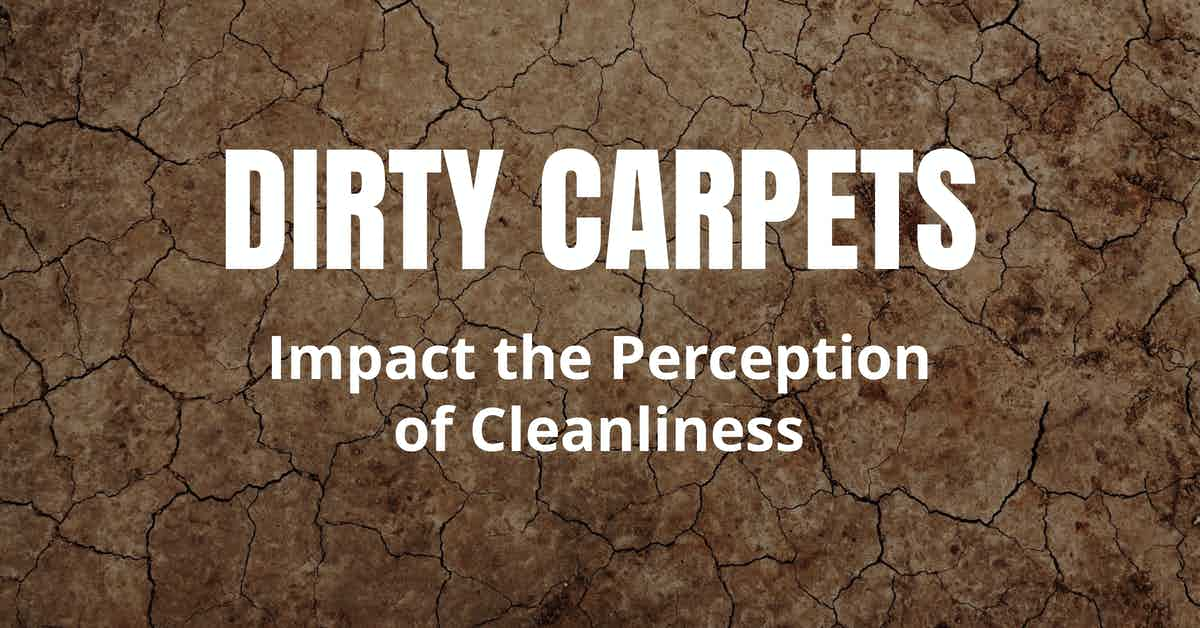 Carpet Care and the Perception of Cleanliness
It's no mystery--businesses are struggling in many sectors across the U.S.
Too few customers are walking in through the door, and those that do are incredibly wary of any sign of low-quality cleaning and poor facility sanitation.
A poor first impression has always plagued businesses, schools, and other facilities, even before the outbreak began, and the carpet or floor in the entryway of the facility is typically the first thing that guests will judge you and your business by.
A recent Harris Poll of 2,059 U.S. adults, conducted on behalf of Whittaker, demonstrates just how important clean carpets are to customers and why that should matter to businesses.
According to Floor Trends Magazine;
Carpet is often the first thing visitors see upon entering a facility.

Clean floors give facility managers the opportunity to make a positive first impression on customers.

A recent Harris Poll study revealed that 93% of individuals reported dirty carpet would negatively impact their perception of that organization.

The consequences of dirty carpet don't end at customers' impressions.

Poor perception easily turns to action, with half of Americans admitting they would spend less time in a facility with dirty carpet.
Of the results, some of the most meaningful and relevant results pertained to long-term care facilities, which, according to AARP, were among the hardest hit in the recent pandemic.
More than 43,000 long-term care residents and staff have died from COVID-19, representing over a third of the nation's known coronavirus deaths, according to a Kaiser Family Foundation tally.

While dire, this figure is an undercount, experts warn, because not all states are publicly reporting data yet.

In many states more than half of coronavirus deaths are connected to long-term care facilities.

How to Track COVID-19 Nursing Home Cases and Deaths in Your State
According to polling data:
54% question the quality of care a long-term care facility offers after seeing dirty carpet.
50+% said they would complain to facility managers.
48% stated they would question the facility's commitment to the health and safety of staff and residents.
Just under 50% said they assume the facility is not cleaned correctly.
44% said they would look for another facility for their family member to reside in.
40% claimed they would tell friends, family, or other residents about the lack of cleanliness.
Approximately 33% would complain to the local Department of Public Health, and;
Around 20% stated they would leave a negative review online.
Enhanced Floor Care is Coronavirus Prevention
A distinct quality of the SARS-CoV-2 virus--one that has contributed to its rapid spread--is the numerous methods with which it can travel and remain infectious.
One of those methods--atypical to common respiratory illnesses--is on floors and the soles of facility occupant shoes.
According to the U.S. Centers for Disease Control and Prevention (CDC), a study conducted at two Wuhan hospitals found that;
The rate of positivity was relatively high for floor swab samples, perhaps because of gravity and air flow causing most virus droplets to float to the ground.

In addition, as medical staff walk around the ward, the virus can be tracked all over the floor, as indicated by the 100% rate of positivity from the floor in the pharmacy, where there were no patients.

Furthermore, half of the samples from the soles of the ICU medical staff shoes tested positive.

Therefore, the soles of medical staff shoes might function as carriers.

The 3 weak positive results from the floor of dressing room 4 might also arise from these carriers.

We highly recommend that persons disinfect shoe soles before walking out of wards containing COVID-19 patients.

Aerosol and Surface Distribution of Severe Acute Respiratory Syndrome Coronavirus 2 in Hospital Wards, Wuhan, China, 2020
Enhanced Floor Care Tips
Maintaining high standards of floor or carpet cleanliness is vital to occupant health and safety, as well as a business's financial wellbeing.
Conversely, improper floor care conducted by untrained or unqualified staff can result in serious health issues, property damage, and may lead to slip and fall accidents, as well as the resulting litigation.
So, the first tip is to hire someone who knows what they are doing, has enough trained staff to get the job done efficiently and effectively, and possesses the equipment and chemicals necessary to get the job done right the first time.
Depending on the type of floor you have, the deep cleaning process may involve deep carpet cleaning, stripping, waxing, or scrubbing, or some combination thereof.
Additionally, your floors should be cleaned daily--either swept, mopped, and scrubbed, or vacuumed with a high-performance commercial-grade HEPA filtered vacuum.
Additionally, high-traffic areas should be disinfected at least once per day.
Finally, clean up any spills or stains immediately before they set in or lead to additional health and safety issues.
References & Resources
Takeaway
High-performance floor care is no longer simply a matter of providing a highly polished image to promote a quality first impression; it has become a matter of life and death, especially for highly vulnerable demographics with diminished or compromised immune systems.
Conventional methods are insufficient for meeting the level of high-quality care occupants and guests expect from business owners and facility managers.
Outsourcing to a highly trained and dedicated service provider is a proven method for ensuring the highest standards of cleanliness and safety.
Contact us today and discover why Vanguard Cleaning Systems® is the Standard of Clean® for businesses throughout Northwest Arkansas, Missouri, and Oklahoma.
In Oklahoma, dial 918-960-4450
In Arkansas, dial 479-717-2410
In Missouri, dial 417-812-9777