Many teachers, students, parents, and education administrators have voiced major concerns regarding a full return to the classroom and business-as-usual this coming school year due, in part, to fears surrounding the transmission of the SARS-CoV-2 virus from a lack of facility cleanliness and hygiene.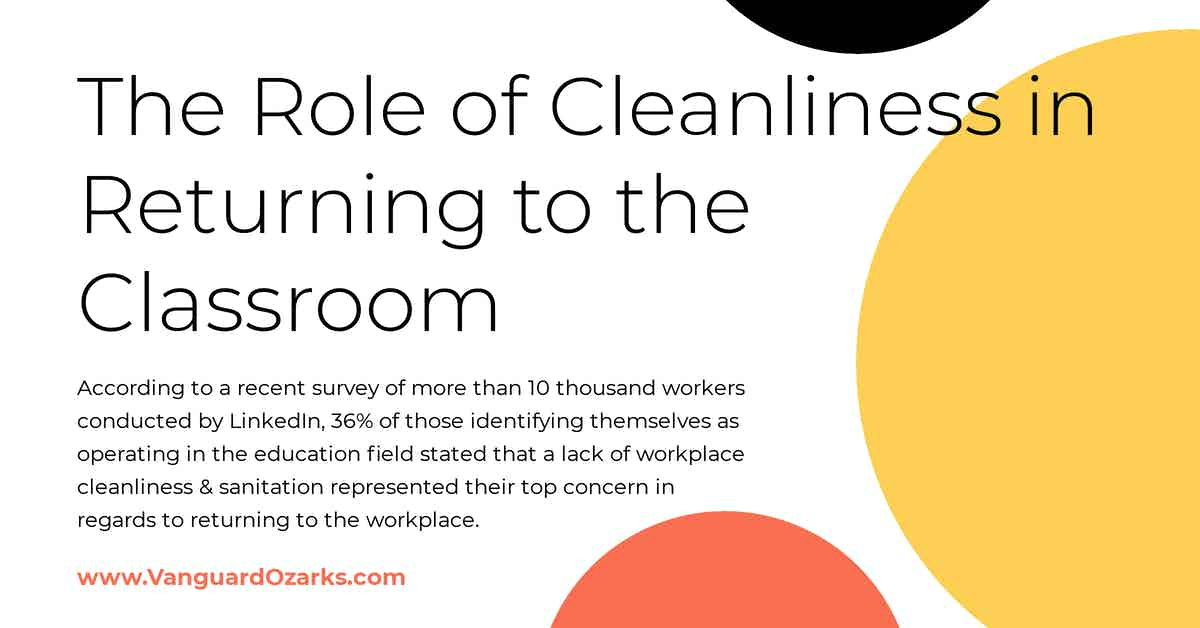 Countering COVID-19 Concerns With Classroom Cleanliness
It's no secret--teachers faced with mandatory returns to the classroom are concerned with their health and safety.
According to a recent survey of more than 10 thousand workers conducted by LinkedIn, 36% of those identifying themselves as operating in the education field stated that a lack of workplace cleanliness & sanitation represented their top concern in regards to returning to the workplace.
According to LinkedIn News
In the most stressed industries, pressure is mounting to delay the resumption of usual work.

In Florida, teacher's unions have sued to block Gov. Ron DeSantis's school-reopening order.

In Colorado, teachers have said they mightn't return to work unless their criteria for reopenings are met.

Even in Utah, as reported by the Deseret News, a teachers' group has publicly warned that school reopening standards are "fundamentally inadequate to address the hazards presented by COVID-19."

These three industries worry most about returning to the workplace
Fortunately, measures used in the prevention of influenza outbreaks in schools and universities have proven effective in the prevention and eradication of SARS-CoV-2.
Classroom Cleaning
Before the onset of the current health emergency, the annual cold and flu season wreaked havoc on classrooms nationwide.
According to the CDC, nearly 22 million school days are lost each year to the common cold – and 38 million school days are lost each year to influenza.

And it's not just students who are out sick – while students average 4.5 absences per school year, teachers average 5.3 days!

An effective cleaning program is a great investment for each school, college or university campus – and while a clean campus can help pay for itself via short term savings in reduced absenteeism, a clean and healthy learning environment can also reap long term benefits for the entire community.
SARS-CoV-2 has proven especially vulnerable to ongoing cleaning-for-health measures using basic cleaning tools and supplies, including consumer-grade soap-based cleaning detergents and watered down household bleach.
This bodes well for school districts and universities confronting the challenge of a full return of students, staff, and teachers where the intent is to provide increased and ongoing enhanced cleaning and infection prevention methods, including:
Clean infrequently touched and outdoor surfaces with regular soap and water once per week, depending on use.
Regularly disinfect touchpoints, such as desks, computer equipment, doorknobs, light switches, phones, tablets, and water faucets.
Clean floors daily with an auto-scrubber.
Use no-touch technologies, such as scrubber-vacs in bathrooms and kitchens and electrostatic disinfection appliances throughout regularly occupied classrooms and other school facilities.
Implement smart technologies, such as combination microfiber/squeegee systems to rapidly deep clean and sanitize flat surfaces, especially student desks and classroom tables every day.
Maintain high standards of cleanliness and hygiene in bathrooms and handwashing stations to encourage regular handwashing.
Additional, non-cleaning measures include:
Providing clear and ongoing communication, including instructions, to staff, students, and parents regarding enhanced cleaning procedures, emergency response measures, and preparedness, outbreak response procedures, and;
Ongoing measures to validate occupant and visitor health, such as testing for temperatures prior to entry.
References & Resources
Takeaway
After a long hiatus from the classroom, combined with a barrage of conflicting and disturbing information coming from the news and many other sources, it is little wonder that teachers, students, parents, and educational support staff are concerned with returning to a workplace historically plagued by illness.
However, the implementation of enhanced cleaning and infection prevention procedures have proven highly effective at preventing outbreaks of the common cold and influenza throughout entire districts in the past, and these methods are highly transferable regarding SARS-CoV-2 prevention.
There are two caveats:
The equipment needed to provide the highest standards of cleanliness and safety are expensive to purchase and maintain, and;
The equipment must be operated by trained and experienced staff to ensure occupant and operator safety.
For those reasons, it is highly recommended that school administrators consider outsourcing enhanced cleaning and infection prevention measures to an experienced service provider dedicated to occupant health and safety.
Contact us today and discover why Vanguard Cleaning Systems® is the Standard of Clean® for businesses throughout Northwest Arkansas, Missouri, and Oklahoma.
In Oklahoma, dial 918-960-4450
In Arkansas, dial 479-717-2410
In Missouri, dial 417-812-9777