Recent events have highlighted the importance of facility cleanliness and hygiene at a time when spending has taken a downturn, underscoring the importance of high-quality, efficient cleaning processes.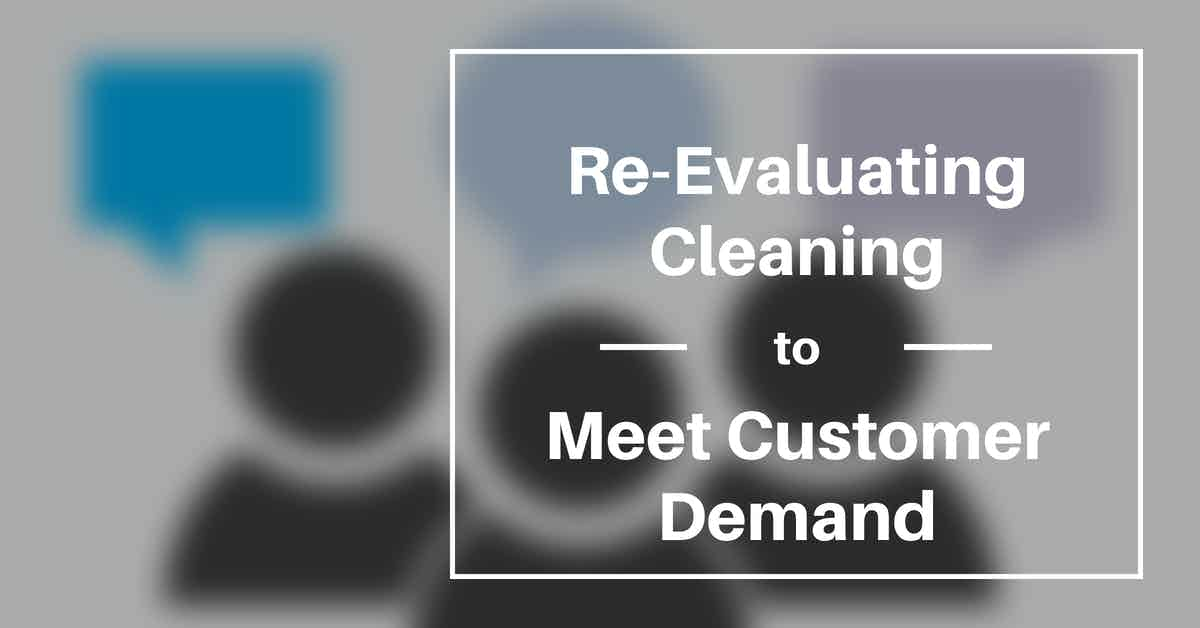 Meeting Customer Cleaning Demands in the New Economy
Consumer demand for increased and improved cleaning services has never been higher.
According to Market Watch;
Job openings for cleaners are shooting through the roof as the U.S. mobilizes to contain the coronavirus, but hiring is likely to plunge in industries suffering most from the interruptions in daily life.

The online jobs marketplace ZipRecruiter says help-wanted ads for cleaners are on track to surge 75% in March compared to a year earlier.

By contrast, they were just 24% higher in January.

Many companies, workplaces, and transportation systems are trying to assure customers they are safe by sanitizing and deep cleaning their premises.

That's leading to a steep increase in demand for cleaning services.

Coronavirus causing a 75% spike in demand for new hires in this sector
Unfortunately, that comes at a time when many states, schools, and businesses are struggling with complicated or confusing reopening orders, budget constraints, and the availability of qualified personnel.
This has led to an unfortunate conundrum for business owners and facility executives who service their cleaning needs in-house--either cut back on certain cleaning services, such as sweeping or mopping, or invest what money is available into more efficient equipment, processes, and services.
According to the online industry magazine, CleanLink;
You can implement cleaning procedures and products/equipment that improves productivity.

It's a "do more with less" philosophy, but I like to think of it as "work smarter, not harder."

Technology — robotics, Internet of Things, and electrostatic equipment, for example — can result in efficiencies.

The challenge will be the initial cost and availability as the supply chain struggles to keep up.

Before the pandemic, sweeping and/or mopping floors, spot cleaning glass windows, and entrance areas, and restocking restroom dispensers were all being done more frequently than cleaning and disinfecting high-touch surfaces.

Cleaning for appearance clearly outweighed cleaning for health.

Trimming frequencies in these areas can leave room for added disinfection.
Unfortunately, cutting back on various cleaning activities to make room in the budget for increased touchpoint disinfection isn't likely to rest very well with consumers and their heightened awareness of facility health and hygiene.
There is, of course, a third alternative that allows you to meet consumer demands for increased enhanced cleaning services without investing huge sums of cash into expensive equipment, training, and custodial staff retention--outsourcing.
Outsourcing Cleaning Services to Meet Customer Demand
Prior to the outbreak, outsourced janitorial services, focused on cleaning for occupant health in both schools and businesses, were on the rise due to their ability to effectively address several industry challenges, including:
Cost controls - Flat rate, predictable services.
Employee retention, training, and acquisition - One of the single largest expenses in the custodial industry.
Sustainable product shipping, storage, procurement, and testing - Many commercial cleaning products require environmental controls to remain safe and effective, increasing total overall costs.
Equipment acquisition and maintenance - Modern cleaning equipment and technologies allow for reduced overhead but can be expensive to purchase and maintain, and;
Project and process creation, management, communication, and control - Well designed cleaning processes require space zoning, strict cross-contamination controls, detailed checklists, and ongoing training to ensure the highest standards of cleanliness and safety are met.
Takeaway
At a time of extreme growth in the cleaning industry due to rising consumer demand, many organizations are struggling with budget constraints that have forced them to make potentially dangerous concessions, such as cutting back on various cleaning processes and frequencies in favor of increased disinfection services.
While this may appear to be the solution for addressing consumer fears regarding the spread of deadly pathogens, it is counterintuitive--effective disinfection requires thorough cleaning before product application.
These types of decisions can potentially lead to dangerous public health issues and underscore the important role high-quality, well trained custodial providers bring to an organization.
Outsourcing allows these same organizations concerned with meeting consumer demand without going over budget in a down economy to provide the highest standards of cleanliness and hygiene without cutting corners by eliminating critical cleaning processes.
Contact us today and discover why Vanguard Cleaning Systems® is the Standard of Clean® for businesses throughout Northwest Arkansas, Missouri, and Oklahoma.
In Oklahoma, dial 918-960-4450
In Arkansas, dial 479-717-2410
In Missouri, dial 417-812-9777