Often the best method for demonstrating the positive and negative consequences of our actions is through hands-on experimentation and visual examples--such is the case with the increasingly popular hand hygiene experiment.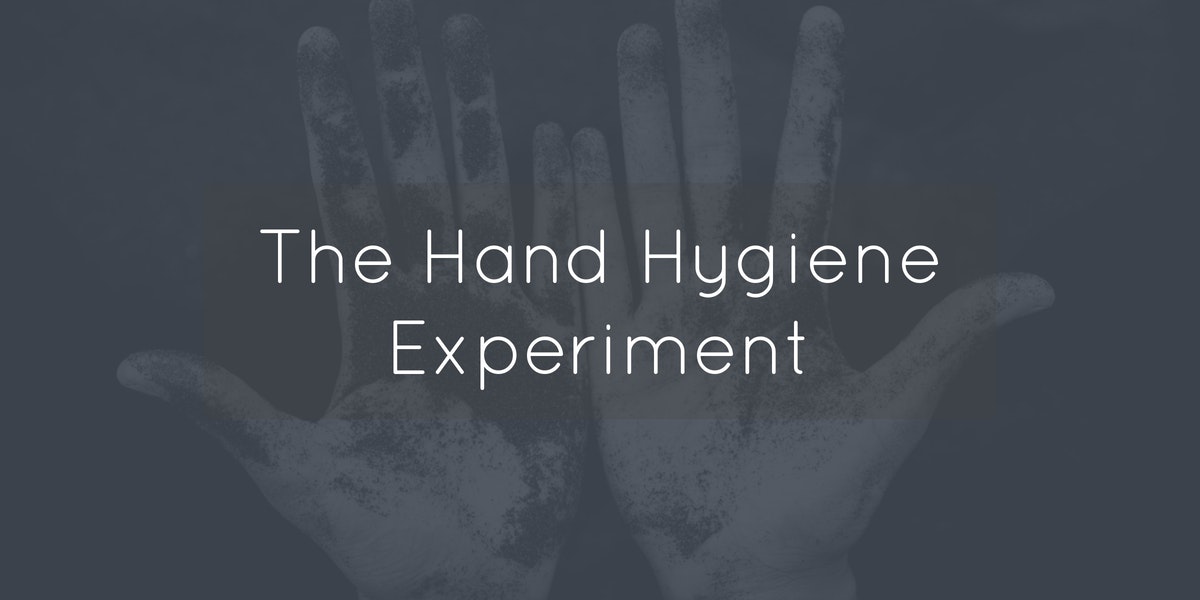 Teaching the Importance of Hand Hygiene Through Experimentation
Infectious disease outbreaks are becoming increasingly common in the United States, resulting in school closures and a massive waste of financial resources.
Additionally, influenza outbreaks are becoming increasingly erratic--spiking at unexpected times, mutating into unexpected strains, and spreading like wildfire.
This year has seen several outbreaks of norovirus culminate in the closing of school districts across the U.S., adenovirus outbreaks shut down pediatric facilities after the deaths of several children, and outbreaks of influenza B strains much earlier than expected, resulting in rampant flu activity across the continental U.S.
The 2019-2020 flu season is continuing its fast start, as the number of states either reporting regional or widespread flu activity increased by eight in just one week.

The Centers For Disease Control And Prevention (CDC) releases a weekly update on how the flu is impacting the United States.

Its most recent update gathered reports of flu activity from each state through Dec. 7 and showed that 38 states have either widespread or regional flu activity — the two heaviest forms of flu activity designations the CDC provides.

Strong flu activity is rampant among the lower 48 states, with each region sporting a state with widespread activity. With the exception of Florida, the entire southeast is showing widespread flu activity, while the west coast, east coast and southern United States are also very active.
According to the U.S. Centers for Disease Control and Prevention (CDC), the transmission of infectious disease can be prevented through a combination of:
Vaccination.
Hand hygiene.
Regular cleaning and disinfection, and;
The isolation of an infected person.
Paradoxically, hand hygiene is simultaneously the single most efficient, and least adhered to method for preventing the spread of germs and bacteria.
This is likely due, in part, to an absence of immediate visual feedback.
Hand Hygiene Visual Feedback Experiments
Glitter (representing dirt, germs, or bacteria) on hand experiments are common methods for demonstrating to young children the importance of scrubbing their hands with soap and water--the longer and better they scrub, the more 'germs' are removed.
Students in Bowling Green, Kentucky recently participated in a similar challenge to celebrate National Handwashing Awareness Week.
The challenge tasked the second-grade students with applying glow-in-the-dark lotion to their hands, then putting those hands under a blacklight. The idea was that the lotion would symbolize germs.

Students walked from the black light to the sink where they washed their hands. Students whose hands displayed no more lotion after they were washed won the challenge.
Recently, an experiment detailed on the C.S. Mott Children's Hospital website was conducted by a Discovery Elementary teacher in Idaho Springs, which consisted of children touching a slice of bread and then placing it in a plastic bag to observe mold growth.
In this particular experiment, five slices of bread were used, including:
An untouched slice.
A slice that was touched by hands washed with soap and water.
A slice that was touched by hands cleaned solely with hand sanitizer.
A slice touched with dirty hands, and;
A slice that was touched with unwashed hands after wiping them across a laptop computer.
The results, which can be viewed on the link below, are simultaneously revealing and disturbing.
For More Information:
References & Resources
Takeaway
Handwashing saves lives.
According to the CDC;
Researchers in London estimate that if everyone routinely washed their hands, a million deaths a year could be prevented.
However, facilities managers and business owners must do their part by ensuring that occupant exposure to dirt, germs, fungi, and bacteria are reduced or eliminated to a safe level.
That is where high-performance cleaning with a focus on health comes into play.
Studies have repeatedly shown that conventional cleaning methods are insufficient for maintaining a truly healthy workplace or classroom, and often lead to hazardous air quality issues and surface contamination challenges.
Outsourcing your facilities' infection prevention and control requirements, in addition to its daily cleaning and maintenance requirements, is a demonstrably cost-effective method for ensuring the health, safety, and performance of all building occupants, while increasing the effectiveness of hand hygiene regimens.
Contact us today and discover why Vanguard Cleaning Systems® is the Standard of Clean® for businesses throughout Northwest Arkansas, Missouri, and Oklahoma.
In Oklahoma, dial 918-960-4450
In Arkansas, dial 479-717-2410
In Missouri, dial 417-812-9777