Due to the function of restrooms in schools, businesses, and the public in general, bathrooms have become a focal point of high-performance cleaning services that ensure the health and safety of occupants, as well as the public at large.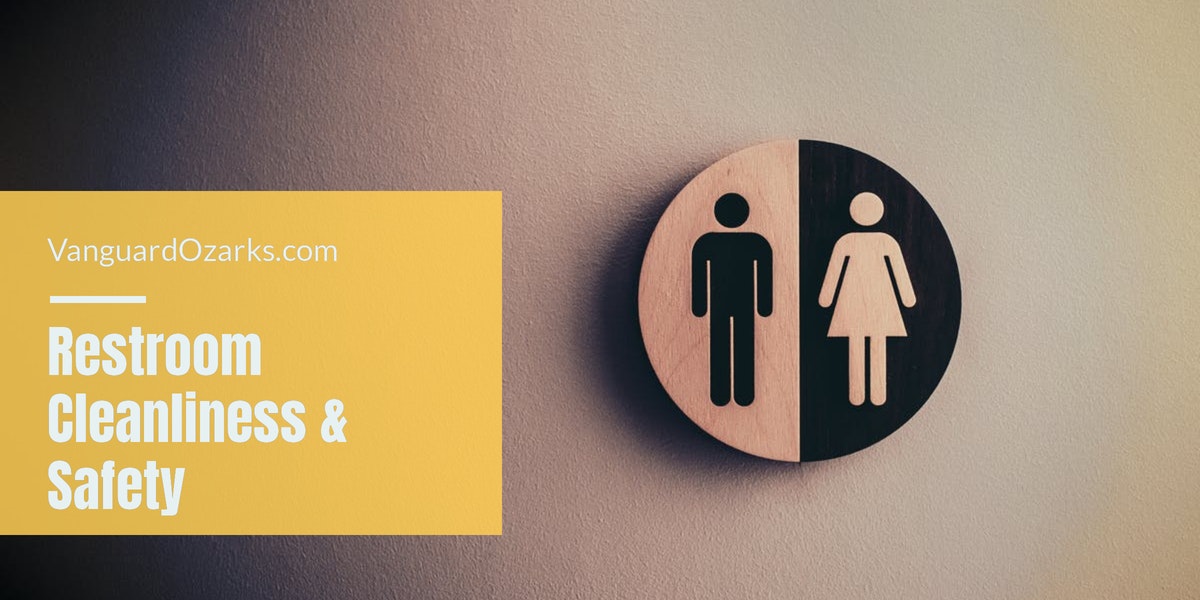 High-Performance Cleaning Ensures Restroom Cleanliness and Safety
A sanitary, hygienic bathroom is big business, and not just for the cleaning company.
According to a 2013 article published by USA Today, a dirty restroom could cost your business big time.
The most personal — and most telling — moment that a customer experiences in a restaurant isn't typically at the table.

It's in the restroom.

Walk into a clean restaurant restroom, and all's good. Walk into a dirty one, and there's hell to pay.

Some 50% of restaurant patrons who have a negative experience with a bathroom — from dirty toilets to grimy soap dispensers to bad odors — will blab about it to friends and family, according to a recent survey by Harris Interactive for SCA Tissue North America.

Even more seriously, it's gonna cost business.

Nearly 3 in 10 consumers surveyed said there are no second chances with dirty restrooms — and they would never return to the restaurant again.
Their aversion is not without merit.
Bad smells and obvious signs of filth indicate a poorly cleaned restroom, which means germs--lots of them, including:
E.coli.
Norovirus.
Shigella.
Streptococcus.
Staphylococcus, and;
Influenza
You may be asking yourself, how wide-spread and problematic are these germs?
Take e.coli, for instance.
The ERS put the cost of E. coli O157 cases at $478.4 million, using the CDC's estimate of 73,480 cases per year from all sources, with 61 deaths.

The average cost per case is estimated at $6,510.
Then there's influenza.
According to a Walgreens study from September 2011, influenza was responsible for 100 million lost workdays during the 2010-2011 flu season.

That's $7 billion in lost wages; two-thirds of the missed workdays were employer-paid sick time.

The flu sliced more than $10 billion off company productivity.
And finally, the disturbingly preventable tragedy that is norovirus.
Each year worldwide, norovirus results in nearly 700 million disease cases, over 200,000 deaths, and over $60 billion in associated costs.
Restroom Cleaning Checklist
By this point, it should be apparent that the better your restroom is cleaned, the more prepared your organization is to serve students, employees, and the public.
The first step is to devise a cleaning strategy that matches use--the higher the traffic, the more often the facility will need to be checked and cleaned.
A minimum cleaning strategy should include one thorough top-to-bottom cleaning and disinfection run per day, with regular checkups made by assigned staff to check for issues with equipment or messes left on the floor and counters, or for full trashcans.
Before beginning, ensure everyone is wearing the appropriate safety equipment, especially rubber gloves.
Empty the trashcans and clean them out as necessary.
Flush all the toilets and urinals to remove any contaminants and test for functionality.
Always clean from top to bottom, starting in the corner furthest from the exit, and work your way out.
Remove dirt and soil before proceeding with disinfection.
Use microfiber to wipe down all high-touch surfaces, especially faucet handles and countertops, as well as soap and paper towel dispensers.
Toilets without seats and air-blown hand dryers can send plumes of germs several feet into the air or across the room, so make sure to get behind the toilets and wipe down all no-touch equipment as well.
Ditch the mops and purchase a vacuum scrubber for the floor, especially in high-traffic facilities, and;
Use an electrostatic disinfection appliance to ensure full coverage of every surface.
References & Resources
Takeaway
Maintaining a hygienic restroom is critical to the success of any school or business.
Taking shortcuts or using subpar equipment or cleaning products is a fast track to disaster and, depending on the type of industry, can result in embarrassing public scrutiny, or even costly litigation.
Maintaining a well-equipped, highly trained, and motivated custodial team in-house is expensive and time-consuming.
Outsourcing is a proven method for controlling cost and quality and ensuring the health and safety of your facility and its occupants.
Contact us today and discover why Vanguard Cleaning Systems® is the Standard of Clean® for businesses throughout Northwest Arkansas, Missouri, and Oklahoma.
In Oklahoma, dial 918-960-4450
In Arkansas, dial 479-717-2410
In Missouri, dial 417-812-9777