As the golden hues of autumn descend, proactive facility maintenance can make the transition smoother, enhancing safety and functionality.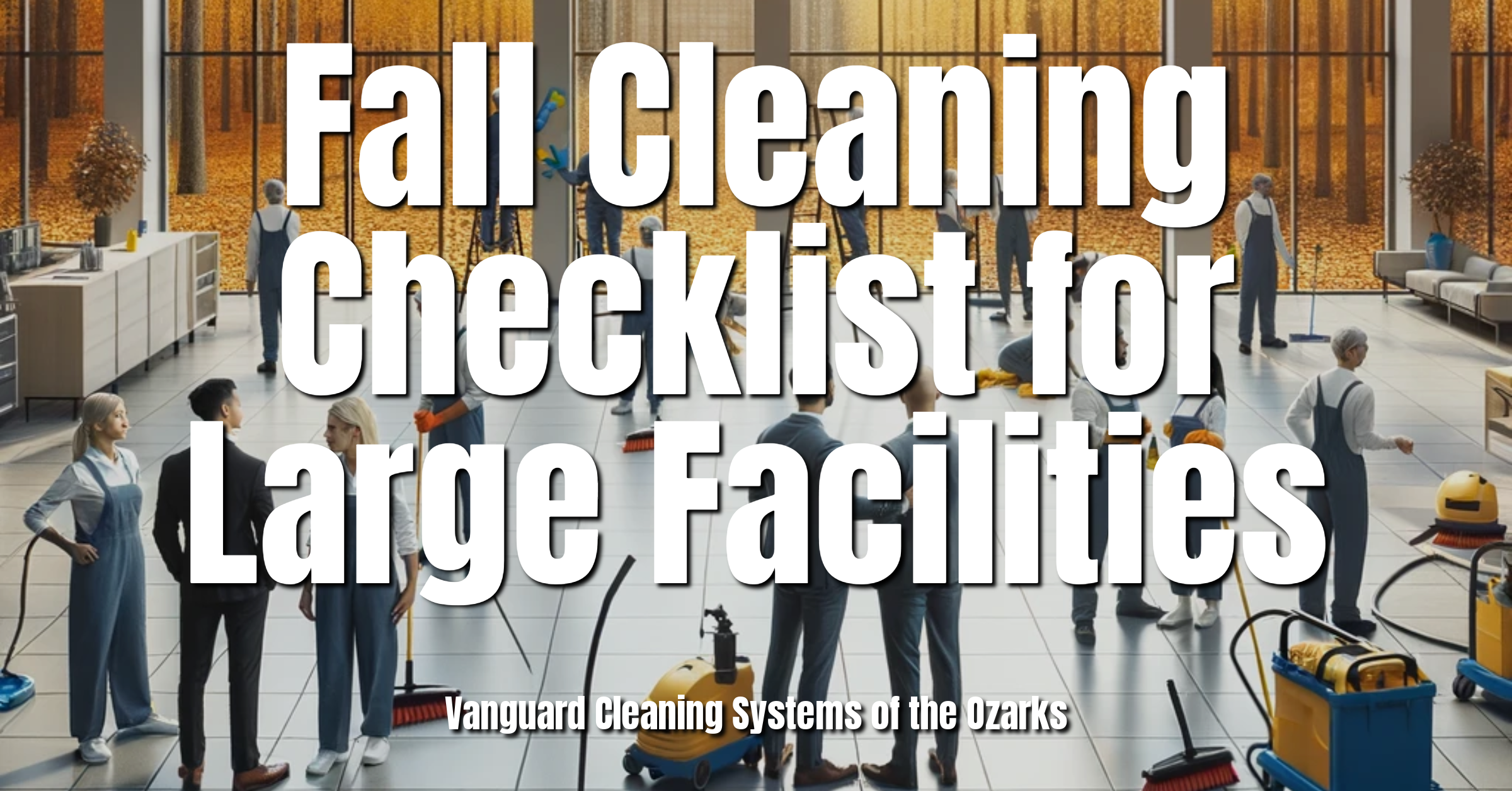 Strategies for Effective Fall Facility Upkeep
With the onset of fall, many challenges emerge for facilities, such as the accumulation of wet leaves, early snow, and increasing rainfall.
These challenges can lead to a range of issues, from slip and fall accidents to longer-term damage, if not addressed promptly.
An effective fall cleaning and maintenance routine can play a crucial role in preventing these problems and ensuring a safe and welcoming environment.
Furthermore, choosing the right janitorial services becomes instrumental in ensuring effective upkeep.
The Importance of Seasonal Cleaning for Large Facilities
Seasonal cleaning, particularly in the fall, is paramount for several reasons.
As CleanLink highlights, stormy weather can bring about a host of cleaning challenges, especially concerning floor safety.[1]
Wet, slippery floors can result in hazardous conditions, leading to potential slip-and-fall accidents.
Such accidents are detrimental to occupant well-being and can prove costly for businesses in terms of liabilities.[5]
Moreover, as temperatures drop, facilities face the task of prepping for cooler weather.
This involves safeguarding the building structure and ensuring indoor spaces remain comfortable and hazard-free.
Adequately maintained floors, for example, prevent cold drafts and slips, making them essential for occupant comfort and safety.[2]
Fall Cleaning Checklist
Floors: Prioritize keeping floors dry to prevent slips, especially during storm season (CleanLink, 2019). This may involve regular mopping and the use of high-quality floor mats. Ensure mats are cleaned per LEED guidelines to maintain their effectiveness.[3]
HVAC Maintenance: Ensure the HVAC system is inspected, cleaned, and prepared for the heating season. This ensures a comfortable indoor climate and optimal air quality.
Window Seals and Caulking: Inspect windows for any gaps or drafts. Proper sealing can prevent cold air intrusion, saving money on energy costs.
Roof and Gutter Inspection: Clear gutters of debris and inspect the roof for potential leaks or weak spots, mitigating water damage risks.
Landscaping: Trim trees and shrubs, especially those near windows or rooflines, to prevent damage during storms.
Emergency Preparedness: Ensure the facility is prepared for potential fall storms or other emergencies. This includes having an emergency response plan and necessary supplies on hand.[4]
Review Slip and Fall Prevention Measures: This includes ensuring well-lit entryways, clear signage for wet areas, and employing floor treatments that enhance grip.[5]
Pest Control: As the temperature drops, pests may seek warmth indoors. Ensure a thorough inspection and treatment to prevent infestations.
Driveway and Pathway Repair: Address any cracks or unevenness to prevent tripping hazards and further deterioration during winter.
Fire Safety Inspection: Check all smoke detectors, fire extinguishers, and sprinkler systems to ensure they are in optimal working condition.
Insulation Check: Review the building's insulation, particularly in attics and basements, to ensure energy efficiency during the colder months.
Water Pipe Inspection: Check for any leaks or weak spots in pipes to prevent freezing and bursting as temperatures continue to drop.
Outdoor Lighting Assessment: With days getting shorter, ensure that outdoor areas are well-lit to prevent accidents and enhance security.
Deep Cleaning of Common Areas: Lobbies, restrooms, and break rooms can be a hotspot for germs. Deep cleaning of these areas can enhance occupant health and well-being.
Backup Power System Check: Inspect and test generators and other backup power systems to ensure they're ready in case of outages.
Storm Drain Clearing: Ensure storm drains and catch basins are clear of debris to handle increased rainfall and prevent flooding.
Safety Equipment Review: Ensure that all safety equipment, such as first aid kits and emergency evacuation signs, are up-to-date and easily accessible.
Leveraging Local Janitorial Services
Engaging local janitorial services can significantly enhance the outcomes of fall cleaning and maintenance.
Local providers are likely to have a keen understanding of the region-specific challenges posed by the fall season.
Their proximity allows for quicker response times, ensuring any emergent issues are addressed promptly, thus safeguarding both the facility and its occupants.
References
Takeaway
While beautiful, the fall season brings unique maintenance challenges for large facilities.
A proactive approach to cleaning and maintenance can go a long way in ensuring occupants' safety and comfort while preventing costly repairs and liabilities.
By leveraging the expertise of local janitorial services, facilities can effectively navigate these challenges, optimizing outcomes for all stakeholders.
Vanguard Cleaning Systems® of the Ozarks' franchise-owned custodial service provider business cleans more than 8M sq. ft. weekly, maintaining an industry topping 95+% of its customer base, year-over-year, and boasting more than 60 5-star Google reviews.
Need more capability from your vendor partners? --Let's talk.
In Oklahoma, dial 918-960-4450
In Arkansas, dial 479-717-2410
In Missouri, dial 417-812-9777