Gain insights into the changing dynamics of facility cleaning management with a focus on the 2023 Facility Cleaning Management Survey, examining shifting priorities, workforce considerations, and emerging industry trends.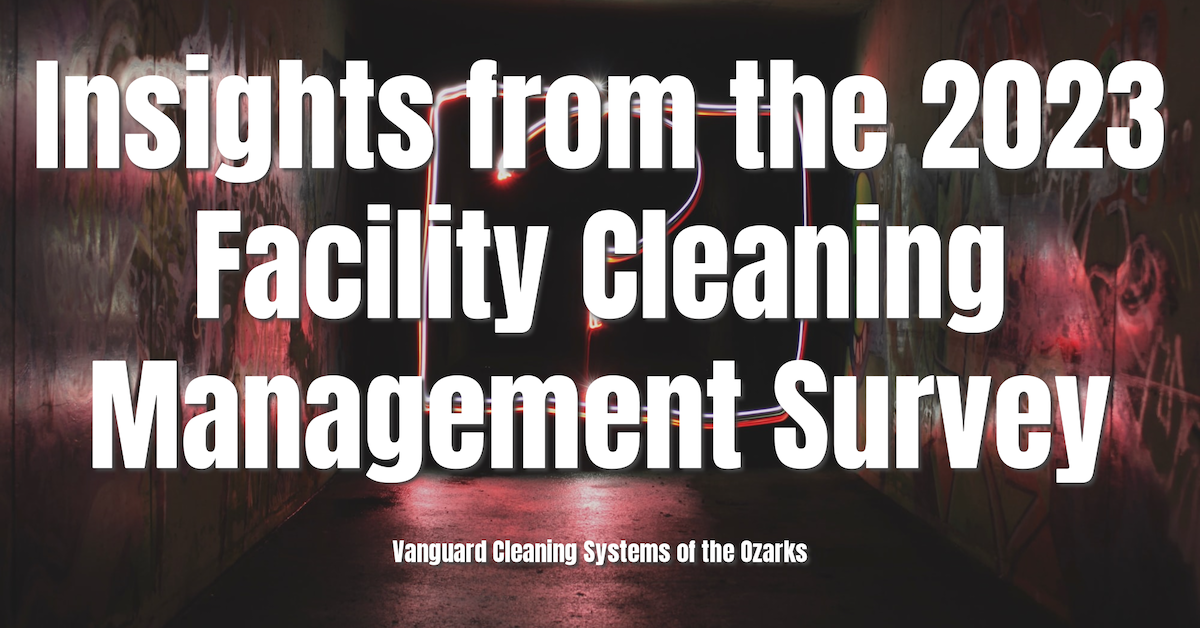 Navigating Evolving Priorities: Key Insights from the 2023 Facility Cleaning Management Survey
In the ever-changing landscape of facility cleaning management, staying ahead of shifting trends and challenges is paramount.
The "2023 Facility Cleaning Decisions Management Survey" [1] illuminates the dynamic priorities faced by facility cleaning managers.
From hiring top-tier staff to adapting to changing occupant preferences, this survey delves into the critical concerns shaping the industry.
Adapting to Staffing Realities
As the competition for quality staff intensifies, 55% of facility cleaning managers underscored the importance of hiring and maintaining a proficient team.
Moreover, a significant 50% indicated a focus on increasing their workforce.
These findings underline the prevailing talent market dynamics, where employees wield greater leverage in filling long-standing vacancies.
Empowering Management Growth
An intriguing shift in priorities is evident as 43% of managers plan to invest in their personal management training, a substantial rise from 29% in 2022. [2]
Recognizing the correlation between effective management and employee satisfaction, this trend reflects a strategic approach to addressing hiring challenges.
Navigating Changing Sustainability Emphasis
Once a dominant concern, sustainability initiatives took a backseat in 2023, with a mere 17% of facility cleaning managers highlighting them.
This decline from 33% in 2022 underscores a shift in occupant focus and priorities.
As the industry adapts to evolving expectations, sustainability initiatives are undergoing a reevaluation.
Redefined Cleaning and Hygiene Priorities
The survey unveils intriguing transformations in cleaning and hygiene priorities.
Preventing cross-contamination dropped sharply to 23% from 49%, while improving hygiene/health diminished to 42% from 56% in 2022.
Despite the conclusion of the Federal COVID-19 Public Health Emergency, these shifts highlight an industry-wide commitment to healthy facilities amidst changing circumstances.
Elevating Facility Aesthetics
The resurgence of emphasis on "improving facility appearance" is a notable trend, with 50% of managers prioritizing it in 2023 compared to just 34% in 2022.
This shift echoes occupants' desires for visible cleanliness and hygiene practices as they re-engage with commercial spaces.
A Focus on Indoor Air Quality
The awareness of virus transmission through the air catalyzed a 10% increase, bringing indoor air quality to 28% as a priority for facility cleaning managers.
This underscores a heightened recognition of occupant concerns and a proactive approach to health-conscious environments.
Evolving Information Sources
Facility cleaning managers are diversifying their information sources.
While distributor partnerships remained vital across categories, there's a decline in reliance—most notably, a drop from 70% to 51% for price comparisons or discounts.
Notably, the internet is emerging as a key source for industry updates and certifications, reaching 32%. This trend signals a shift towards digital resources in an evolving landscape.
How Outsourcing Facility Cleaning and Maintenance Can Help
Outsourcing facility cleaning and maintenance services could potentially address some of the challenges highlighted in the management survey.
For example:
Hiring and Retention Efforts: Outsourcing allows companies to tap into specialized cleaning and maintenance expertise without hiring and maintaining an entire in-house staff. This can alleviate the pressure of recruiting and retaining quality staff, especially in a competitive job market.
Workforce Considerations: Outsourcing provides access to a trained and skilled workforce, reducing the burden of managing and training cleaning staff. This can help facility managers focus on other management priorities.
Management Training: Outsourcing partners often bring their own management expertise, providing training and best practices to on-site staff. This can enhance management skills and address the need for continuous improvement.
Sustainability Initiatives: Reputable outsourcing companies may have established sustainable practices and eco-friendly cleaning solutions, aligning with facility managers' sustainability goals and reducing the need for separate initiatives.
Hygiene and Health Improvements: Professional outsourcing companies are well-versed in maintaining high hygiene standards and can implement rigorous protocols to ensure a clean and safe environment.
Indoor Air Quality: Outsourcing partners can offer specialized services such as air duct cleaning and monitoring, contributing to improved indoor air quality in facilities.
Facility Appearance: Outsourcing providers often prioritize visual cleanliness, which can improve facility appearance as demanded by occupants.
Information Sources: Reputable outsourcing companies stay updated on industry trends and best practices, providing valuable insights that can supplement facility managers' decision-making.
However, it's important to note that while outsourcing can offer various benefits, it also comes with its own set of considerations, such as contract management, quality control, and cost-effectiveness.
The decision to outsource should be based on a thorough analysis of the specific challenges and needs of the facility, as well as the capabilities and reputation of potential outsourcing partners.
References
Study Outlines Top Management Trends for Facility Cleaning Executives. (n.d.). CleanLink. Retrieved August 15, 2023, from https://www.cleanlink.com/hs/article/Study-Outlines-Top-Management-Trends-for-Facility-Cleaning-Executives---29952
Cleaning Management Survey Highlights Industry Trends. (n.d.). CleanLink. Retrieved August 15, 2023, from https://www.cleanlink.com/hs/article/Cleaning-Management-Survey-Highlights-Industry-Trends--28743
Takeaway
The "2023 Facility Cleaning Decisions Management Survey" sheds light on the evolving landscape of facility cleaning management, revealing a tapestry of challenges and opportunities.
As the industry adapts to shifting priorities and occupant expectations, outsourcing facility cleaning and maintenance services emerges as a strategic avenue to navigate these complexities.
By harnessing the expertise of specialized partners, facility managers can address key concerns such as staffing, sustainability, and hygiene and unlock the potential for streamlined operations and enhanced occupant satisfaction.
Outsourcing is a proven method for onboarding skilled service providers equipped with the latest training, processes, and technologies for a fraction of the price of maintaining a comparable service in-house.
Contact us today and discover why Vanguard Cleaning Systems® is the Standard of Clean® for businesses throughout Northwest Arkansas, Missouri, and Oklahoma.
In Oklahoma, dial 918-960-4450
In Arkansas, dial 479-717-2410
In Missouri, dial 417-812-9777