Facilities maintenance is critical for maintaining the health and safety of public buildings and the occupants they serve, but conventional operations have taken a heavy toll on the natural environment and occupant wellness and must be upgraded to meet future demand.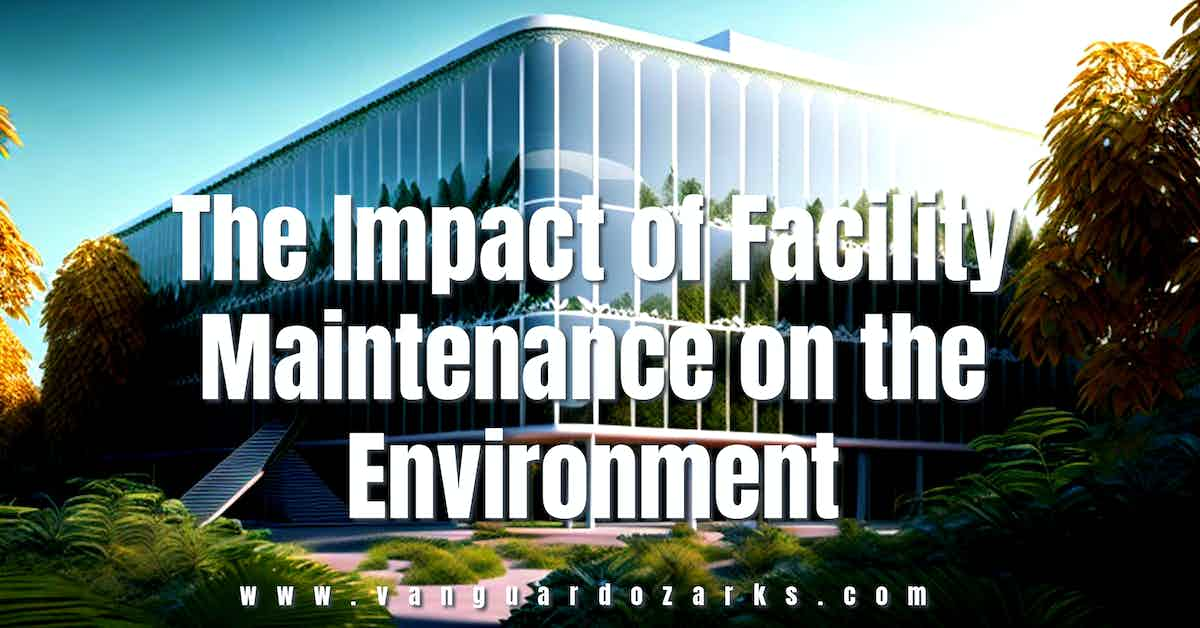 The Environmental Impact of Facilities Maintenance Operations
Facility maintenance is an essential component of building management.
Maintenance activities ensure a facility is safe, functional, and aesthetically pleasing for its occupants.
However, conventional facility maintenance practices have a significant impact on the environment.
The built environment generates 40% of annual global CO2 emissions.

Of those total emissions, building operations are responsible for 27% annually, while building and infrastructure materials and construction (typically referred to as embodied carbon) are responsible for an additional 13% annually.

In 2040 approximately 2/3 of the global building stock will be buildings that exist today.

Without widespread existing building decarbonization across the globe, these buildings will still be emitting CO2 emissions in 2040, and we will not achieve the Paris Agreement's 1.5°C target.
The Impact of Cleaning Products
Commercial cleaning products are one of the most significant environmental impactors of facility maintenance.
Traditional cleaning products often contain chemicals that can harm human health and the environment.
According to the Environmental Working Group (EWG);
Many cleaning products, including spray cleaners and disinfecting wipes, contain asthmagens—chemicals that can either worsen asthma or cause asthma in someone who never previously had it.

Studies show that using traditional cleaning sprays as rarely as once a week can increase your risk of developing adult-onset asthma.
Further;
Many cleaning chemicals are not only harmful to human health, but also put animals and the environment at risk.

This includes triclosan, an ingredient approved for use in floor waxes and sealers, as well as many cleaning supplies, like sponges and reusable household wipes.
Sustainable Solutions
Addressing the environmental impact of necessary housekeeping and facilities maintenance will require:
Upgrading cleaning products to environmentally-friendly, VOC-free solutions in non-healthcare environments.
Replacing cotton and cloth-based cleaning tools with microfiber.
Upgrading vacuums to commercial-grade, HEPA-filtered systems to improve indoor air quality.
Disinfecting high-contact surfaces with an EPA-registered Safer Choice disinfectant at least three times daily to reduce germ load.
Increasing natural airflow through the facility as much as is practical to disperse harmful airborne particles and improve air quality.
Implementing automated dilution systems to reduce water waste.
Creating cleaning zones, checklists, and teams to maximize efficiency and combat cross-contamination.
Approaching Zero Waste
In addition to promoting sustainable cleaning practices, waste management is another critical aspect of sustainable facility maintenance that can positively impact building carbon footprints, particularly waste diversion--the act of reducing and diverting waste from landfills.
Waste diversion methods include composting organic waste, recycling materials, and reducing the use of disposable products.
According to Waste Management Magazine;
Changing consumer preferences, supply chain requirements, and emerging regulations are driving companies to reevaluate current business practices and implement more efficient strategies.

With growing attention on responsible material management, many businesses are facing increasing pressure to reduce waste generated from operations and to divert waste from landfills.

In an increasingly resource-constrained market, companies are also challenged with rising disposal and material costs.

Recognizing that waste equates to lost resources and profits, forward-thinking organizations understand that reducing all forms of waste is crucial to an effective and sustainable business strategy.

Strategies: Waste Reduction and Diversion: A Crucial Business Strategy
Takeaway
Facility maintenance has a significant impact on the environment.
Facility managers must prioritize sustainability in their maintenance operations to minimize their environmental footprint and contribute to a healthier planet.
Incorporating sustainable practices such as using eco-friendly cleaning products, waste diversion, and renewable energy sources can reduce the environmental impact of facility maintenance.
Certifications and programs such as ecolabels, LEED, and Fitwel provide guidelines for sustainable building management.
Unfortunately, onboarding and managing the requisite labor and material resources in the current market may prove cost-prohibitive and undesirable for many organizations.
Vanguard Cleaning Systems of the Ozarks' franchise-owned custodial service provider business cleans more than 8M sq. ft. weekly, maintaining an industry topping 95+% of its customer base, year-over-year, and boasting more than 60 5-star Google reviews.
Contact us today and discover why Vanguard Cleaning Systems® is the Standard of Clean® for businesses throughout Northwest Arkansas, Missouri, and Oklahoma.
In Oklahoma, dial 918-960-4450
In Arkansas, dial 479-717-2410
In Missouri, dial 417-812-9777