Staffing shortages and related challenges continue to plague in-house custodial departments across the country as facilities managers struggle to attract and retain skilled laborers in an increasingly competitive market.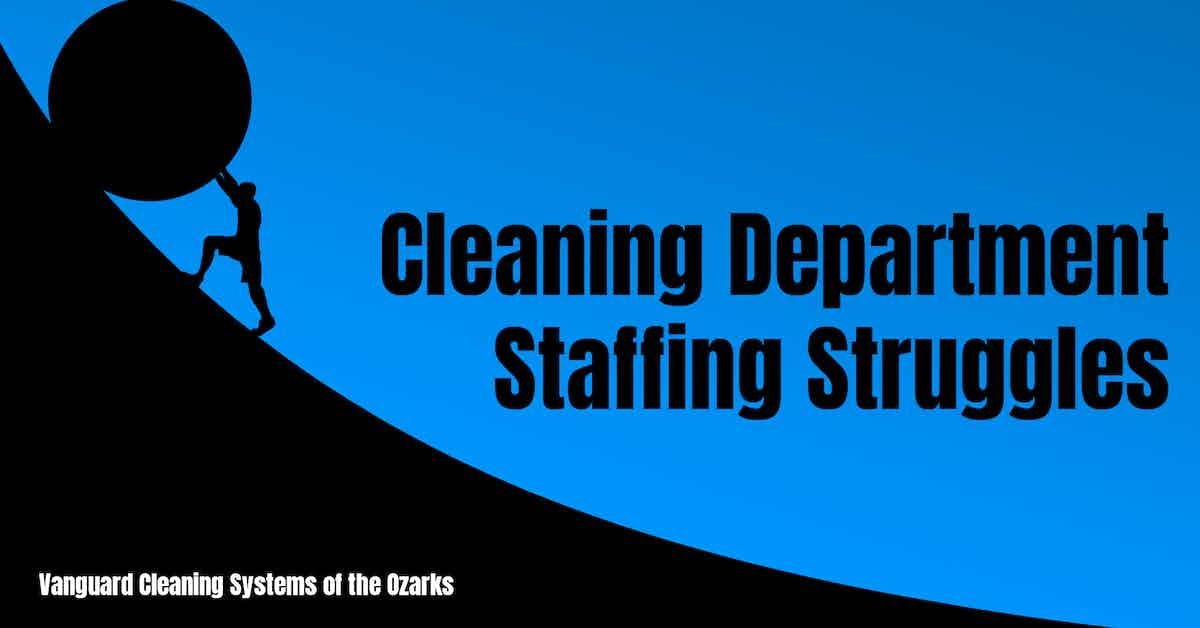 Employee Issues Impacting In-House Cleaning Departments
A recent Facility Cleaning Decisions Management Survey asked facilities managers for schools and universities, commercial, hospitality, government, and healthcare buildings about recent staffing challenges, how they currently address those challenges, and how they envision their department progressing in the future.
According to the study results, hiring an adequate number of cleaning staff was the most significant issue reported, with 58% of respondents listing it as their top challenge.
Other top challenges included:
Staff retention - 37%
Cleaning staff absenteeism - 36%
Lack of training - 23%
An unwillingness by employees to implement training practices - 22%
Employees showing up late - 18%
Language barriers - 6%
Cleaning staff with physical limitations - 5%
A multi-generational workforce - 4%
Top Employee Challenges Facing Facilities Managers
Custodial staff retention was historically problematic before the COVID-drive lockdowns--with turnover rates approaching 400% annually in some industries.
Post-pandemic and amidst the ongoing wave of labor shortages and migrations to proverbial greener pastures viewed as safer and with more substantial earnings potential, the challenge of acquiring and retaining quality custodial workers has only increased.
According to the Decision Management Survey, one of the most significant barriers between facilities managers and the long-term highly skilled custodial staff they're after may be self-inflicted.
When asked about departmental or company-wide support for employee certification and accreditation and whether or not custodial workers were offered advancement opportunities within the company;
61% of respondents replied in the affirmative, but;
39% responded that they did not support or provide such incentives.
The availability of professional development within an organization is a significant indicator of a business's ability to attract and retain high-quality staff long-term.
When that incentive is not available and accessible, the data shows a decline in workforce retention.
According to the EdAssist study, 72 percent of survey respondents do not believe their schooling effectively prepared them for the workplace. This doesn't have to be the case.

Professional development opportunities provide today's employees with an opportunity to maintain and obtain the skills required for their current jobs – as well as steps up in their career path.

Employees who do not see a clear path are at risk of leaving.

Yet SHRM data indicates that just one-third of employees are satisfied with their organization's commitment to professional development. In fact, 21 percent cite a lack of career advancement opportunities as a reason to leave their current position.

Business leaders explain how professional development benefits help with employee retention
How Outsourcing Addresses Modern Facility Cleaning Challenges
Ensuring buildings meet the increasing demand for safer, healthier, more sustainable facilities is of paramount concern.
According to survey respondents, to achieve and maintain this goal, they will require:
More staff - 83%
More qualified employees - 63%
More money - 46%
More and better staff training - 46%
Better tools and equipment - 37%, and;
Increased cleaning frequencies - 23%
Outsourcing to Vanguard Cleaning Systems of the Ozarks' franchise-owned custodial service providers can cost-effectively address all of these challenges.
Each franchisee has access to:
The latest in top-level 3rd party training and certification opportunities.
Technologically advanced cleaning tools, products, and equipment.
Additionally:
Staffing requirements, including scheduling, can be quickly scaled to meet shifting requirements.
Costs are easily controlled via month-to-month service agreements.
References & Resources
Takeaway
Vanguard Cleaning Systems of the Ozarks' franchise-owned janitorial service providers clean more than 7M sq. ft. of commercial and government facility floor space each week, with customer retention and satisfaction ratings well-exceeding more than 90%.
Outsourcing is a proven cost-effective measure for augmenting in-house skills, staffing requirements, and equipment availability without the overhead of onboarding and managing a similar workforce configuration internally.
Need more capability from your vendor partners--Let's talk.
In Oklahoma, dial 918-960-4450
In Arkansas, dial 479-717-2410
In Missouri, dial 417-812-9777