The size of the janitorial company contracted to clean your facility strongly correlates with their ability to provide a full range of services, adapt to changing conditions, respond to emergencies, and meet your organization's health and wellness needs now and in the future.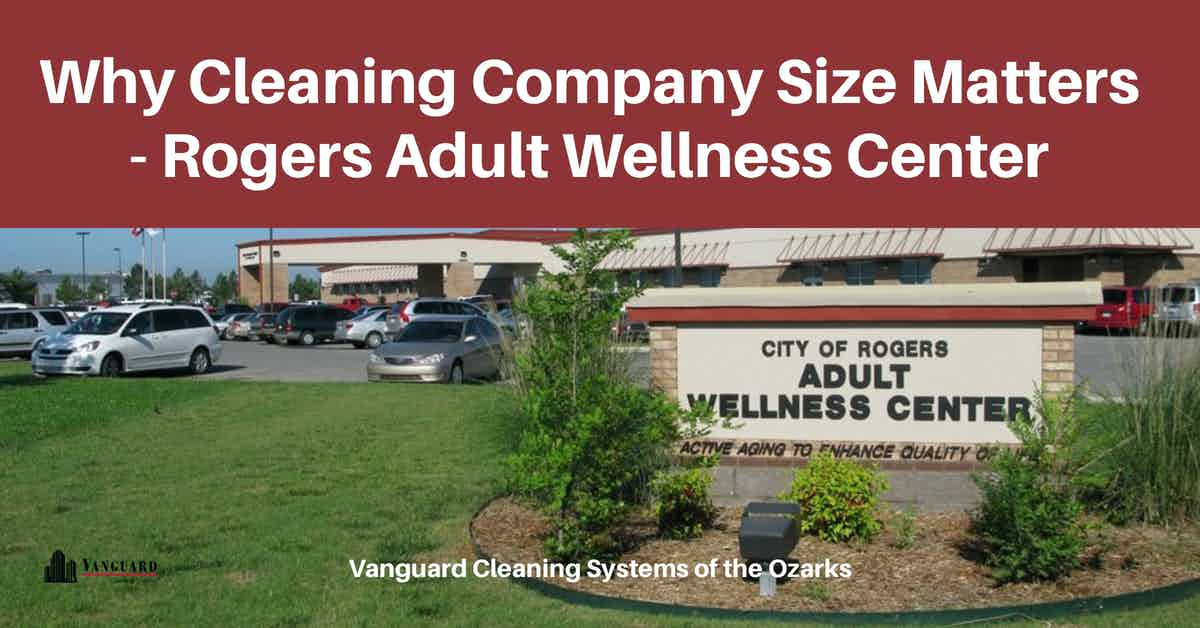 Cleaning Case Study - Rogers Adult Wellness Center
Rogers Adult Wellness Center is a 55,000 square-foot facility that provides services to adults 50 years of age and older, including:
A state-of-the-art fitness center with cardiovascular and strength training equipment.
Full-size gymnasium.
Wellness studio.
Billiards room.
Social wellness lounge.
Warm water therapy pool.
Activity pool.
Wellness garden.
Arts and crafts studio.
Demonstration kitchen.
Library with a computer lab, and;
Multiple meeting, social, and educational rooms.
Providing high-quality cleaning outcomes for a facility of this size that offers such a wide range of hands-on services intended for consumption by a demographic conventionally considered vulnerable to common illnesses and susceptible to many chemicals found in commercial cleaning and disinfectant products requires extraordinary focus, attention to detail, expertise, professionalism, and a commitment to the highest standards of cleanliness and occupant safety.
Challenge - Achieving High-Quality Cleaning Outcomes in a Large Diverse Facility
Maintaining the highest standards of cleanliness, health, and safety in a 55K sq. ft. facility requires a significant number of highly trained and well-equipped custodial providers working as a team.
In addition to well-coordinated team cleaning methods and accurate workloading, proper care must be taken with the use and application of various cleaning and disinfection products to avoid interfering with the health and wellness of facility occupants through VOC exposure--a significant health risk to those aged 50 and over.
According to an article published to ERS Journals;
In this study, we found a significant association between urinary levels of hippuric acid and methylhippuric acid and decreased lung function.

These are metabolites of toluene and xylene, respectively, which are widely used in our daily necessities, such as paints, varnishes, rubber and disinfectants.

We also found a significant association between markers of oxidative stress and parameters of lung function.

This is in line with the current understanding of the relationship of oxidative stress to a reduction in pulmonary function and increased cardiopulmonary mortality.

In addition, it supports the hypothesis that VOCs might influence lung function by exacerbating oxidative stress.

Exposure to volatile organic compounds and loss of pulmonary function in the elderly
Regarding the Relationship Between Vanguard Cleaning System of the Ozarks and Rogers Adult Wellness Center
The organization has been a customer of Vanguard Cleaning Systems of the Ozarks since September of 2010.
The relationship is described by Phillip Clark, owner of the Ozarks-based regional master franchise, as;
An excellent client relationship built on mutual trust and respect.

We are a strategic vendor partner in helping the AWC staff deliver a consistently clean and healthy environment to all AWC patrons.

Leslie and [the] team regularly ask our advice & counsel on all things janitorial to protect the city's investment and ensure they maintain a desirable facility.

We have helped maintain all parts of the facility from pool decks to locker rooms, to the indoor track, and various commons areas and community rooms.
Takeaway
The goal of achieving and maintaining a high standard of cleanliness and safety across the 55K sq. ft. of facility space occupied by Rogers Adult Wellness Center was accomplished through a combination of:
The ability to leverage the necessary number of labor resources required to achieve the desired goal promptly.
Possession of both the tools and the experience required to thoroughly and safely sanitize the wide-ranging wellness service areas in the facility, and;
Superior levels of communication between stakeholders at every level of both organizations to ensure that all occupant needs and management expectations were met or exceeded.
Need more capability from your janitor?--Let's talk.
In Oklahoma, dial 918-960-4450
In Arkansas, dial 479-717-2410
In Missouri, dial 417-812-9777