Strong client relationships are necessary for establishing credibility and building trust through consistency and transparency--cornerstones of the Vanguard Cleaning Systems of the Ozarks' business model.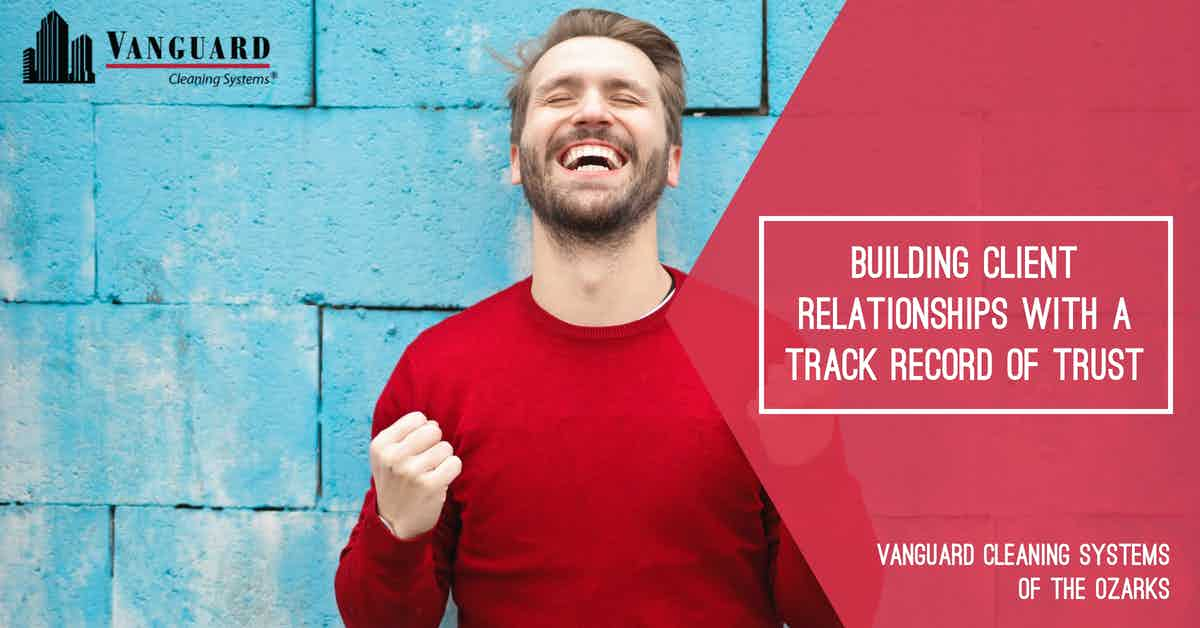 Qualities to Identify When Building Vendor Relationships
Strong vendor relationships increase service quality, outcomes, efficiency, and financial bottom lines.
Qualities to look for in an outsourced custodial vendor include:
Going that extra mile through a dedication to service quality, and;
A team that adds value to your organization by increasing overall facility hygiene and protecting occupant health.
Each team member should:
Possess strong people skills to easily and clearly communicate with stakeholders at every level of your organization in a professional, constructive, and beneficial manner.
Be conscientious of the importance of the service provided, the potential dangers involved to facility occupants, and the need to consistently produce high-level outcomes.
Be considerate of client business operations and always tactful in behavior and demeanor as guest and representative of the organization, especially when performing occupant-facing duties, and;
Be on time and efficient in their actions, application of cleaning and disinfectant product, and use of facility natural resources.
How Vanguard Cleaning Systems of the Ozarks Builds Relationships Based on Trust
Vanguard Cleaning Systems of the Ozarks has built a distinguished reputation with its customers based on trust, accountability, and dedication to the success of the client's business.
We presently boast a 98% client satisfaction rating with more than 50 Five Star Reviews on Google and around the web.
Take a look!

We have accomplished this by providing our clients with:
Timely and cost-effective services proven to deliver highly desirable cleaning outcomes.
Dedicated cleaning teams consisting of privately held franchise business owners and their team members who are committed to the highest levels of performance and hungry for personal success, and;
The very latest in cleaning techniques, products, and technologies, scientifically proven to deliver unparalleled facility cleanliness and occupant safety.
Takeaway
Partnering with a custodial vendor you know you can trust frees up your team to focus on mission-critical tasks--saving your organization time and money while increasing your building's appeal to occupants and prospects.
Vanguard Cleaning Systems of the Ozarks is dedicated to building client relationships through a combination of transparency, consistency, and trust.
Need vendors with a proven track record?--Let's talk.
In Oklahoma, dial 918-960-4450
In Arkansas, dial 479-717-2410
In Missouri, dial 417-812-9777