Updating facility cleaning and infection prevention and control procedures is a necessary step for organizations who wish to prevent a future outbreak on the scope and scale of the recent COVID-19 pandemic.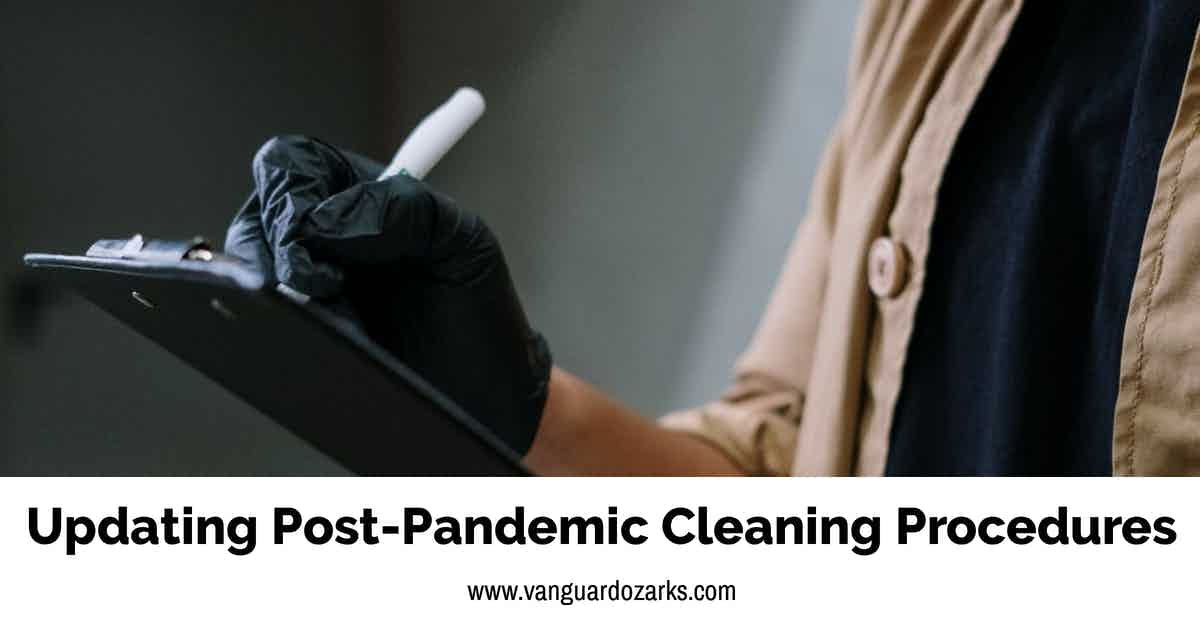 Adopting New Cleaning Processes to Meet the Expectations of the New Normal
With time, dedication, and focus, the average American workplace and the classroom's hustle and bustle will return--likely with a different focus and feel, however.
Current trends in the industry appear to be pointing toward more occupant input and a requirement for deeper insight into facility cleaning and hygiene practices.
But--students and employees want to be shown and told specifically what is being done to maintain the sanitation of the building they are occupying and how that is intended to protect them.
One way facility managers, business owners, and school supervisors have begun addressing occupant demands for more information and assurances have been through signage.
Something as simple as signage indicating that a room or area has recently been sanitized may suffice for certain areas or organizations.
In contrast, more detailed newsletters that spell out specifics may be required for others.
A significant trend that may fundamentally shift how cleaning in the workplace is done, how the process and chemicals affect occupants, and the conservation of increasingly expensive utilities and natural resources is the move away from nighttime cleaning to day porter services and full-service cleaning.
[...] evening cleaning has typically been the norm, but it could soon be a way of the past.

In many cases, scheduling will have to be evaluated and changed so that cleaning is done during the day.

By bringing cleaning to the forefront — unlike it was prior to the pandemic — customers benefit in a couple of ways.

For one, the sight of people cleaning rooms, hallways, and objects during the day is comforting, thus delivering some physiological benefits.

Secondly, it enhances the overall cleanliness of a facility because frequently-used objects are being cared for as people use them throughout the day.
Updating Cleaning Policies and Procedures
Shifting to daytime cleaning will require an assessment of the chemicals commonly employed--specifically commercial disinfectants--and how those chemicals interact with and impact facility occupants' health, wellness, and productivity.
Conventional disinfectant products contain toxic chemicals that off-gas into the local air supply and can lead to a host of short and long-term health issues.
A few factors that may force switching to daytime cleaning into consideration sooner rather than later are the rising costs of utilities and a national push to conserve natural resources.
Daytime cleaning and porter services function during normal working hours, meaning lights do not have to remain on during the evening and often can be left off completely for facilities whose design benefits from natural sunlight.
Additional factors that will likely come into play are the availability and retention of a skilled workforce.
The janitorial industry has long been plagued by high turnover rates leading to skill shortages and available laborforce gaps that typically result in poor cleaning outcomes--anathema to the goal of improving facility safety and hygiene.
Addressing this will require the addition and ongoing training of more personnel, or the adoption of more efficient cleaning technologies and well-documented cleaning processes that can be easily taught to new hires.
Prior successful methods have included:
Color-coded tools and microfiber.
Room-by-room cleaning checklists.
Enhanced tools, such as scrubber-vacs and electrostatic disinfection appliances, and;
Thrid-party industry training and certification.
Clean for Health and Safety First
The major priority of cleaning programs going into the future will be ensuring occupant health while protecting service provider safety.
There is no question that the use of chemicals (especially disinfectants) in custodial operations has increased.

This reality makes the proper use of PPE even more important.

[...] the increase in disinfectant use has him concerned that workers will develop chronic chemical sensitivities if the proper respiratory protection is not administered.

In some cases, he's already hearing grumblings of throat soreness and other respiratory issues, a reality that has facility cleaning managers implementing change.
Addressing this challenge long-term will require:
An assessment of chemicals used in the cleaning and disinfection process.
Documentation regarding the health and safety concerns for occupants and service providers exposed to the cleaning and disinfection products.
An evaluation of potentially safer alternative cleaning and disinfectant product solutions.
A full inventory of all protective equipment and an evaluation of PPE needs to be based on cleaning and disinfectant product choice.
Documented training procedures for cleaning and disinfectant product use, handling, disposal, and incident response.
A checklist for each room detailing the tools, method, chemicals, and PPE to be used for that specific area, and;
Follow-up training and analysis to overcome the inevitable decline in policy compliance.
Takeaway
Adapting to the inevitable new normal in education and business, as it pertains to facility sanitation expectation, will take considerable time and resources from stakeholders at every level.
For smaller, blue-collar organizations, the shift will likely be nearly impossible without external assistance.
Outsourcing your organization's cleaning and infection prevention and control services to an experienced provider is a proven method for onboarding vital services without significantly increasing costs or management overhead.
Contact us today and discover why Vanguard Cleaning Systems® is the Standard of Clean® for businesses throughout Northwest Arkansas, Missouri, and Oklahoma.
In Oklahoma, dial 918-960-4450
In Arkansas, dial 479-717-2410
In Missouri, dial 417-812-9777