The influenza season--if it can be called that--has been in full swing in the southern hemisphere, with many countries reporting as much as a 90% reduction in reported cases due, in large part, to cleaning and infection control measures undertaken to combat the spread of COVID-19.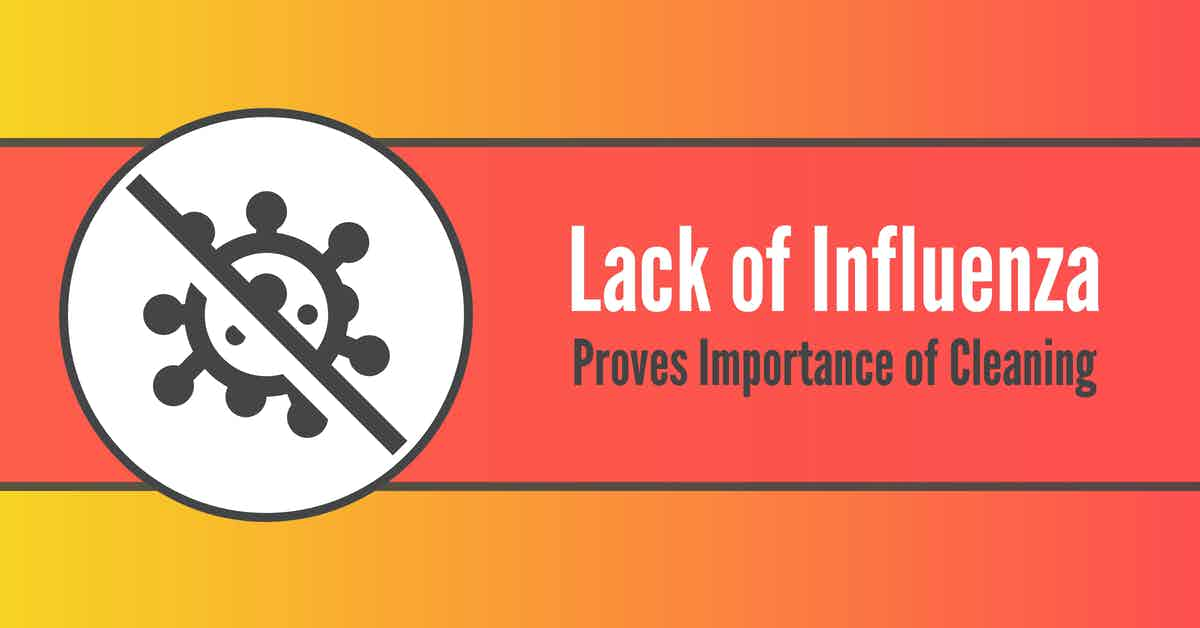 Latest Evidence Supports Enhanced Cleaning Claims in Fight Against Germs
Across the southern half of the planet, countries on the tail-end of winter have been combatting the SARS-CoV-2 outbreak amid their influenza season with enhanced cleaning protocols and the age-old wisdom of isolating people with symptoms from the healthy population, getting vaccinated, and regularly washing your hands with soap and water, resulting in significant reductions in influenza infections.
According to the WHO's Weekly Influenza Update for July 20*, seasonal influenza activity remains low in the Southern Hemisphere.

In fact, no region is reporting more than 10% test positivity for seasonal influenza, and several regions, including South and Southeast Asia and parts of South America and Africa, reported no influenza cases.

For comparison, most regions were reporting more than 10% test positivity at the same time in 2019, including several that reported test positivity greater than 30%.
The early influenza numbers coming out of several countries are staggering.
Chile recorded 1,134 seasonal respiratory infections this year compared with 20,949 this time last year.

Australia had 84 influenza cases in the last two weeks of June; they had 22,047 last June.

A New Zealand clinic reports they are seeing 90 percent fewer flu cases.

The number of flu cases in Argentina [has] fallen by 64 percent.

Lack Of Flu In Southern Hemisphere Proves Importance Of Cleaning
Additionally, the apparent dramatic reduction of influenza cases has reportedly resulted in billions of dollars in savings as a result of reduced student and worker absenteeism and presenteeism.
However, there appears to be some concern that this massive reduction will not translate over to the US.
Concerns Regarding US Influenza Season During COVID-19 Outbreak
Several healthcare officials have expressed trepidation regarding the outcomes of the influenza season in the southern hemisphere and how that may translate to the US influenza season.
According to Dr. Robert Redfield, director of the U.S. Centers for Disease Control and Prevention;
This could be one of the worst seasons we've had from a public health perspective with COVID and flu coming together.

But it also could be one of the best flu seasons we've had.

In Southern Hemisphere, COVID-19 lockdowns blocked flu. Will that work in the North?
While opinions differ on what specifically contributed to the significant decline in reported influenza cases, it has become increasingly obvious that adhering to conventional wisdom regarding health, safety, and hygiene protocols during outbreaks can go a long way toward protecting facility occupants.
Protecting US Schools and Businesses
While there is no consensus on whether this data is relevant to the US's cold and flu season, the information does support several measures commonly advocated for by public health agencies, including:
Getting vaccinated against the virus in the fall.
Paying attention to where you place your hands when in public and avoiding touching your face, nose, eyes, and ears as much as possible.
Regularly washing your hands with soap and water for at least 20 seconds.
Avoiding unnecessary contact with those showing signs of illness.
Isolating yourself from others when you are experiencing symptoms of illness.
Increasing the frequency of high-performance cleaning measures during outbreaks.
Identifying and regularly disinfecting high-touch germ hot spots with an EPA-registered product appropriate for your facility and its occupants.
Implementing no-touch cleaning and disinfection combined with zone cleaning and detailed checklists to reduce or eliminate surface cross-contamination.
References & Resources
Takeaway
The influenza infection rate numbers coming out of the countries in the southern hemisphere demonstrate that extreme measures can produce extreme results when consistently applied.
There may or may not be a correlation between the results observed in countries like New Zeland and those we can expect in the US, depending on several circumstances--specifically vaccination rates and continued hand hygiene compliance.
Regardless, the numbers positively demonstrate the relationship between consistent high-performance cleaning and disinfection protocols in the fight against the spread of deadly pathogens in our homes, schools, and businesses.
Outsourcing your facilities' cleaning and infection prevention and control measures to an experienced service provider is a proven method for ensuring the highest standards of cleanliness and safety are adhered to.
Contact us today and discover why Vanguard Cleaning Systems® is the Standard of Clean® for businesses throughout Northwest Arkansas, Missouri, and Oklahoma.
In Oklahoma, dial 918-960-4450
In Arkansas, dial 479-717-2410
In Missouri, dial 417-812-9777