In an effort to prevent students from falling behind, many schools will be reopening during the summer months to more than the typical number of summer school students, and district superintendents must be prepared to support ongoing enhanced cleaning protocols to ensure their health and safety.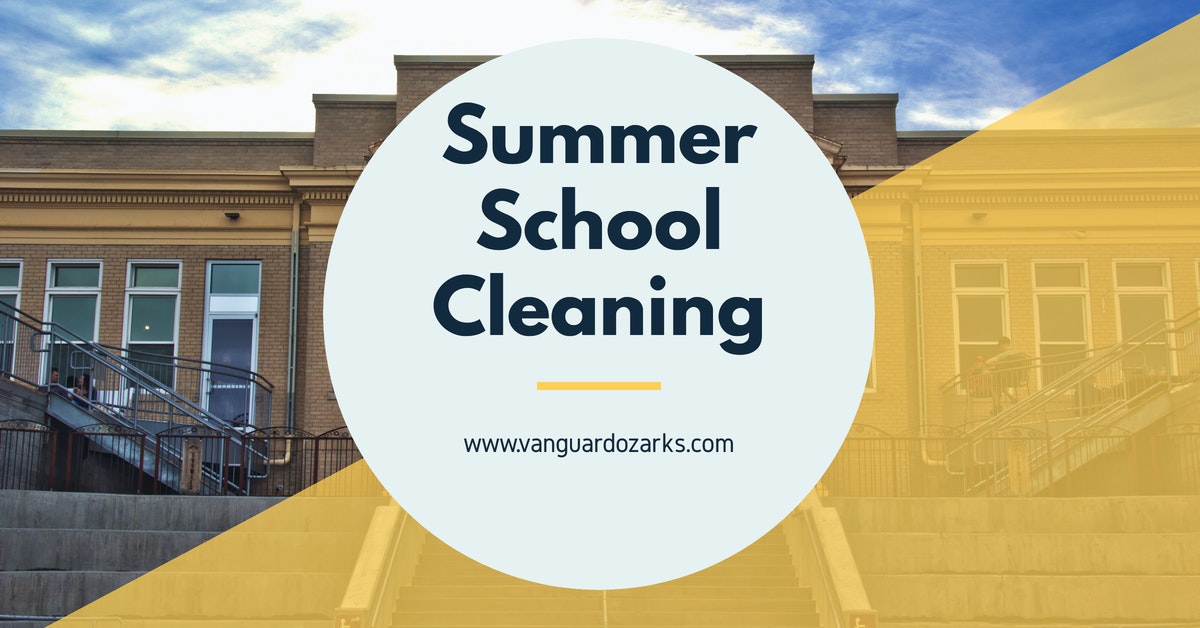 Enhanced Summer School Cleaning
This summer break will be unique for many school districts--caught in the middle of preparing classrooms and other facilities for a new year and a fresh start, while simultaneously facilitating the increased capacity requirements for students returning after a prolonged absence to complete the missed months of the recently closed session.
Efficiency in planning and operations will be critical to ensure that the facilities are adequately prepared for the upcoming year while meeting the needs of the students and teachers attending the summer session, as well as the numerous community programs which take advantage of the public grounds.
Fortunately, the solution to this challenge has already been resolved by numerous districts across the country that operate year-round.
According to Spaces4Learning;
Rethinking, or taking a different approach, is one of the keys to completing the work under these challenging schedule conflicts.

Historically, schools received a thorough cleaning during the summer break.

That meant cleaning and dusting everything — desks, walls, lighting fixtures — and stripping and waxing the floors.

As schools become less and less vacant during the summer months, it is becoming less and less possible to get all of the work done.

One different approach that has been successful in some districts is to implement a roving cleaning crew that would come in after-hours and clean a room at a time throughout the year.

Some districts schedule custodial staff to take advantage of the school breaks — the couple of weeks after summer school, fall, Christmas, and spring break — to do the work.
A New Approach to Summer School Cleaning
Conventional classroom schedules allowed time for labor-intensive deep cleaning and maintenance operations, such as:
Stripping and waxing tile floors and professional maintenance on gym floors.
Replacing broken windows, lights, and ceiling tiles.
Extensive high dusting, and;
Deep cleaning of spaces which are commonly filled with teaching materials or otherwise inaccessible during the regular school year.
Due to present circumstances, many schools are confronting the reality that custodial staff will not have the necessary unfettered access to many areas which they had in the past, complicating the standard summertime deep clean programs.
Methods for addressing both the challenge of getting the facility ready for next year and maintaining hygiene levels for summer session students the year include:
Zoning off specific sessions of the school for deep cleaning and disinfection based on need, occupancy, and use--specifically sports facilities, gyms, locker rooms, and unused restrooms.
Switching to nighttime cleaning schedules for classrooms and other facilities currently being used for summer sessions.
Implementing roving day porters to provide necessary cleaning and maintenance while class is in session.
Using automated floor maintenance systems to free up critical human resources.
Using no-touch cleaning and disinfection appliances to speed up the process and ensure a thorough deep clean on the first pass, and;
Outsource tasks as necessary to experienced service providers to ensure everything is properly sanitized in the truncated available time frame.
References & Resources
Takeaway
The reopening of schools for summer sessions to allow for students who missed the last few months of the previous school year the opportunity to catch up does is not an insurmountable challenge from cleaning and hygiene perspective--it merely requires the adoption of already commonly employed practices by year-round/wrap around school districts.
However, this challenge does present a unique opportunity for district supervisors to begin to adopt and implement proven enhanced cleaning and advanced disinfection practices and technologies to:
Reduce costs and resource waste.
Improve facility hygiene, student performance, and attendance.
Decrease detectable levels of germs, pathogens, and illness-causing mold, and bacterias.
Move closer to CIMS and CIMS-GB certification, and;
Increase custodian efficiency.
Implementing these tools and technologies does require a significant financial investment, ongoing training, and the long-term retention of critical human resources.
The most cost-effective solution, especially over the short-term, is to outsource your district's enhanced cleaning and disinfection requirements to an experienced service provider.
Contact us today and discover why Vanguard Cleaning Systems® is the Standard of Clean® for businesses throughout Northwest Arkansas, Missouri, and Oklahoma.
In Oklahoma, dial 918-960-4450
In Arkansas, dial 479-717-2410
In Missouri, dial 417-812-9777