While coronavirus scares continue to clog the airwaves, Southern States across the U.S. continue to suffer from seemingly endless viral outbreaks of their own.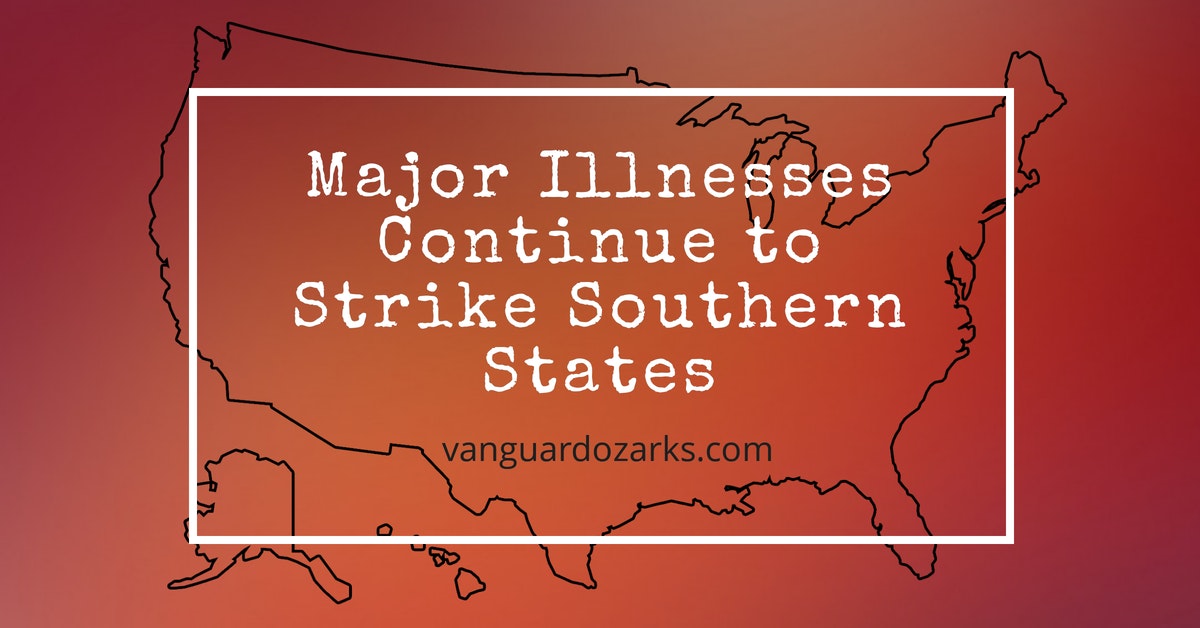 Viral Outbreaks Across the Southern United States
Several viral outbreaks have plagued the Southern United States over the past few weeks, just as terrible news regarding the death toll of the coronavirus in China is announced--having surpassed the previous coronavirus (SARS) outbreak of 2003.
According to reports from the U.S. Centers for Disease Control and Prevention (CDC), every state across the Southern U.S. is reporting high to very high levels of influenza or influenza-like illness activity.
Overall, hospitalization rates remain similar to this time during recent seasons, but rates among children and young adults are higher at this time than in recent seasons.

Pneumonia and influenza mortality has been low, but 78 influenza-associated deaths in children have been reported so far this season.

CDC estimates that so far this season there have been at least 22 million flu illnesses, 210,000 hospitalizations and 12,000 deaths from flu.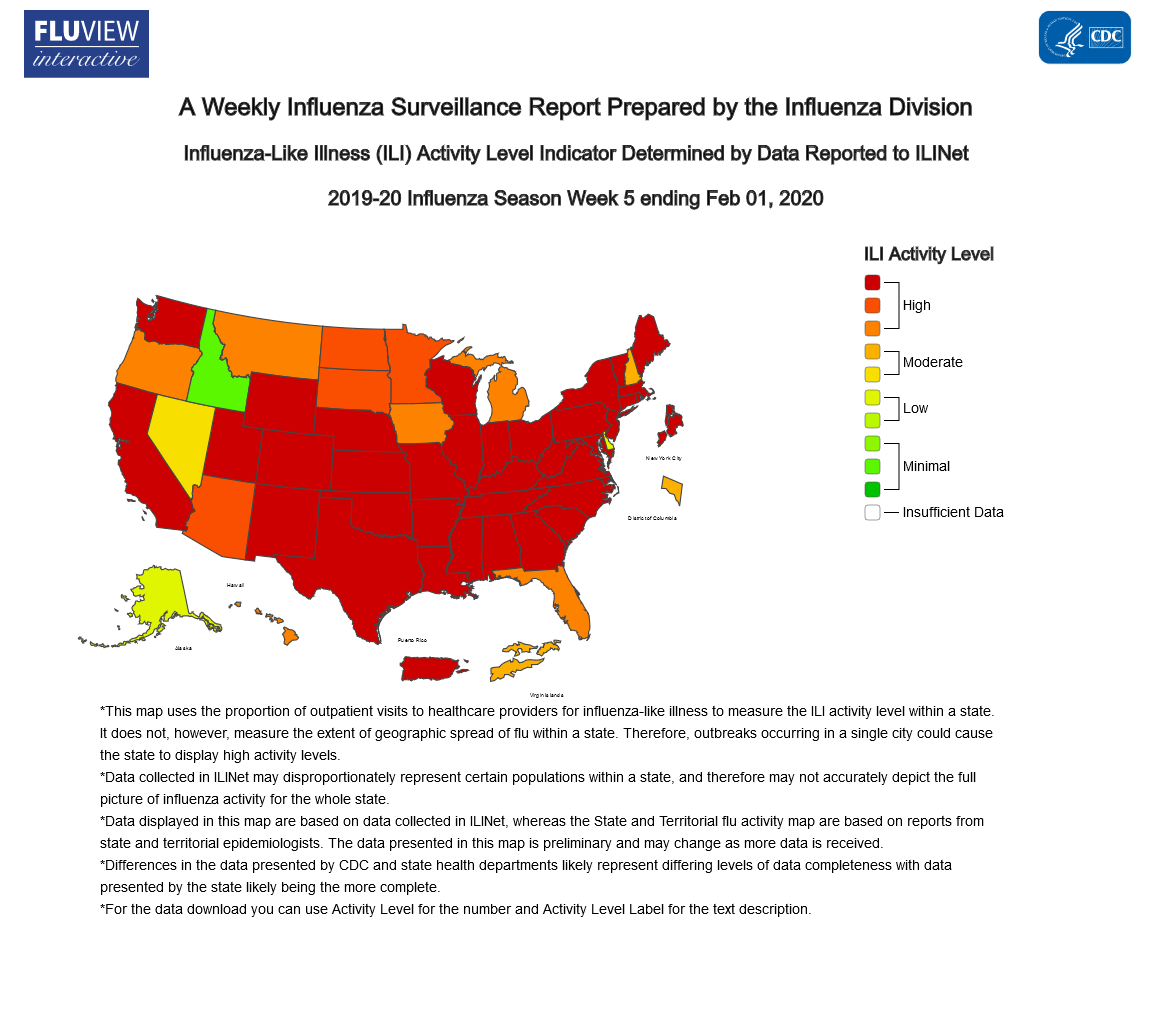 In related local news, a Little Rock Arkansas school district and community center was recently closed due to a high number of absences due to the flu.
According to KATV;
The Little Rock School District will be closed Monday and Tuesday because of students and staff high absenteeism due to the flu season.

According to the district, as of Sunday the total number of calls received resulted in 250 staff members out due to sickness.

After the district made the announcement, the City of Little Rock announced that after school programs at community centers will also be closed on Monday and Tuesday.

High absenteeism due to flu leads LRSD to close Monday and Tuesday
As the influenza outbreak sweeping across the U.S. continues to dwarf the coronavirus outbreak in all but media coverage, seasonal norovirus outbreaks continue to spring up--the latest coming from a Louisianna-based casino.
According to Fox News;
An outbreak of the highly contagious norovirus at a Louisiana casino last week has sickened at least 200 people, according to state health officials who are investigating the matter.

Louisiana's Department of Health confirmed in a statement Thursday that the illnesses reported at L'Auberge Casino in Lake Charles were caused by the norovirus, a gastrointestinal illness that can cause vomiting, diarrhea and stomach pain.

The agency's regional medical director Dr. Lacey Cavanaugh said several hundred people attended the casino's most recent events. She said the agency has received at least 200 surveys from people self-reporting virus symptoms.

Norovirus outbreak at Louisiana casino sickens at least 200, prompts investigation
Finally, a Texas school district closed up shop for the week to allow time for a commercial cleaning company to deep clean their facilities after a confirmed case of meningitis was discovered in one of its students.
According to KRIS 6 News;
After a confirmed case of meningitis was made public last week, a local school district is going to deep clean their district.

Jim Hogg County Independent School District (JHCISD) made the announcement Sunday, Feb 9.

The district will close down Feb 10 - 13 as a precautionary measure, to sanitize the entire district.

School district closing for cleaning after confirmed meningitis case
A Note on Meningitis
Meningitis, for those unfamiliar, is a potentially devastating and deadly illness that attacks the membranes surrounding the brain and spinal cord.
Early symptoms can easily be mistaken as flu symptoms.
Viral meningitis--the most common form--are atypical during winter months, with bacterial meningitis, a much deadlier form is more common, typically accompanied by ear, nose, and upper respiratory infections.
Young children in community settings, such as classrooms, are especially susceptible to infection.
Combatting the Spread of Viral Outbreaks
A critical component of prevention is education, especially in regards to hand hygiene, and is readily demonstrated in the aftermath of the norovirus outbreak originating in the Louisianna casino.
The reported secondary spread of the illness to family members demonstrates a dangerous absence of information regarding the nature of germs, how they are spread, and the need for personal and environmental hygiene.
The key points that must be observed in all cases include:
Hand hygiene.
Isolation, especially for illnesses spread via the respiratory route.
Vaccination, where possible--there is no vaccination for norovirus, and;
Disinfection, especially high-contact points, commonly referred to as fomites.
References & Resources
Takeaway
In nearly every instance of a viral outbreak, an outside commercial cleaning service provider was called in to address the issue and santize the facility.
This is due, in large part, to the added expertise and advanced equipment at their disposal.
Outsourcing your facilities' regular cleaning, as well as infection prevention and control requirements is a proven method for reducing occupant exposure to dangerous and often deadly germs and bacteria.
Contact us today and discover why Vanguard Cleaning Systems® is the Standard of Clean® for businesses throughout Northwest Arkansas, Missouri, and Oklahoma.
In Oklahoma, dial 918-960-4450
In Arkansas, dial 479-717-2410
In Missouri, dial 417-812-9777