Effective cleaning processes have been shown to reduce chronic absenteeism among students due to illness acquired in the classroom from germs, bacteria, and certain cleaning products.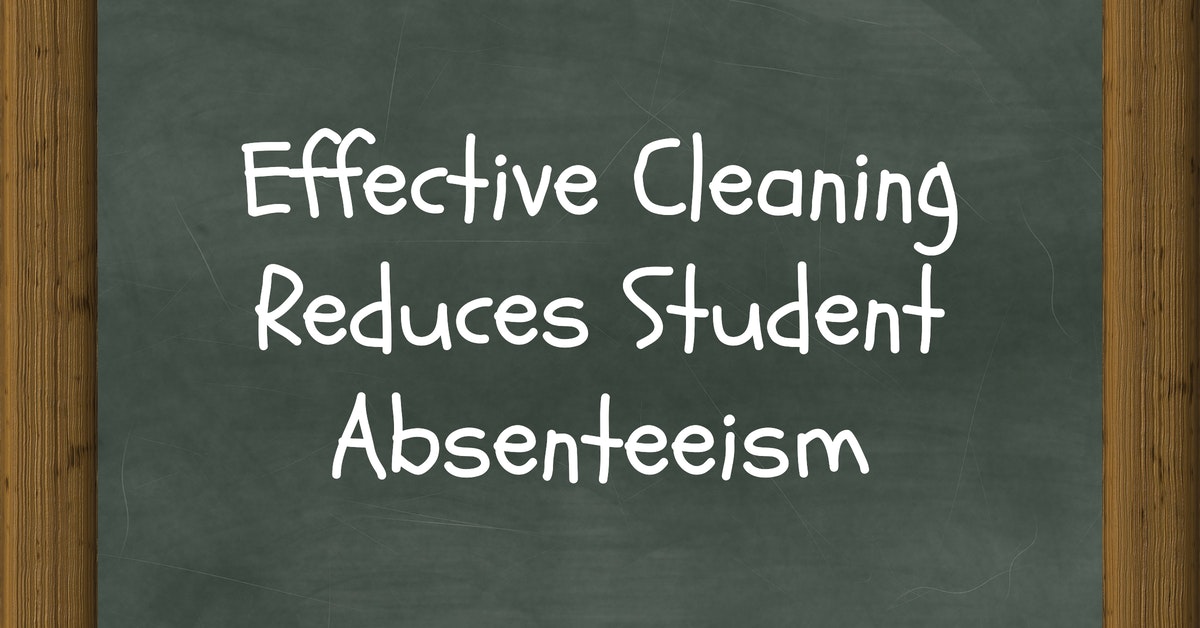 High-Performance Cleaning Processes Reduce Chronic Student Absenteeism
Schools are home to numerous harmful germs and bacteria that contribute to chronic student absenteeism.
According to the researchers, schools are home to many harmful pathogens that can cause viral respiratory illnesses, coughs, colds, and influenza.

They are responsible for most of the absenteeism in K-12 schools [...] in many parts of the world.

Can Effective Cleaning Reduce Student Absenteeism and Improve Student Performance?
Chronic absenteeism has a detrimental effect on student performance, especially when compared to students who miss comparatively fewer days of school, regardless of demographic.
According to the Economic Policy Institute;
Among eighth-graders, those who missed school three or more days in the month, scored between 0.3 percent to 0.6 percent lower on test scores (depending on the number of days missed) than those students who did not miss any school days.
High-performance cleaning processes which include:
Microfiber,
No-touch technologies, and;
Electrostatic disinfection appliances;
have been shown in recent studies to significantly reduce student absenteeism.
A recent study of 5 locations in Southview Public School, located in Ontario, Canada, set out to determine whether the combination of these tools could help reduce the measurable instance of germs, dirt, bacteria, and student absenteeism.
Of the reported results, some of the most encouraging were;
The number of live bacteria — referred to as colony-forming units (CFUs) in the classrooms — decreased by 93 percent.

Comparing the 2017-2018 school year with the 2018-2019 school year, during which the three cleaning technologies were used, there were 513.5 fewer absent days, representing a 15 percent reduction in overall school absenteeism.
Strategies for Improving Student Health
Over the last few years, scientific studies have demonstrated the effectiveness of several high-performance cleaning and hygiene practices which have corresponded with marked improvements in student attendance, including:
No-Touch Cleaning - No-touch cleaning systems forgo conventional mops and rags in favor of spray-on cleaning solutions, followed up by a high-pressure wash that drains to the floor, which is then sucked up through a special vacuum with a scrubber attachment.
Electrostatic Disinfection - Electrostatic disinfection appliances apply a positive charge to particles as they exit the sprayer, which adheres to negatively charged surfaces, such as student desks, countertops, and drinking fountains, allowing for complete coverage of difficult to clean furniture.  A recent study conducted by the Flagler School District in Florida found that daily disinfection with the ESD appliance reduced absenteeism by 14 percent for the year, and 53 percent for the month of December as compared to the previous year.
Microfiber - Microfiber towels, mops, and brooms are ideal for cleaning high-touch surfaces where germs and bacteria breed and quickly spread to occupants, as well as removing dirt, dust, and other particles before disinfecting.
Hand Washing - According to the U.S. Centers for Disease Control and Prevention (CDC), effective hand hygiene can reduce student absenteeism by as much as 20% when practiced consistently, especially before eating, or after sneezing, coughing, or using the restroom.
Indoor Air Quality - Indoor air quality has a significant impact on student health, especially their sense of wellbeing.  Low-quality indoor air can result in the onset of asthma or asthma-like symptoms in students who had never previously displayed any signs of respiratory illness.  One of the primary contributors to low-quality indoor air is conventional commercial cleaning products, especially chlorine-based bleach.
References & Resources
Takeaway
Chronic student absenteeism as a result of poor health derived from low-standards of cleanliness and hygiene in the classroom is a preventable modern tragedy with a cost-effective and straightforward solution, which includes:
Employing advanced equipment and processes.
Training dedicated custodial and facilities maintenance staff, and;
Focusing on occupant health through the use of safer cleaning products.
Not doing so will perpetuate a trend that has resulted in poor life outcomes for many students, often resulting in incarceration or other socially undesirable scenarios.
A cost-effective method for rapidly onboarding these products and services into your school district's plans for improving student health and performance is to outsource to an experienced local service provider with a proven track record of success.
Contact us today and discover why Vanguard Cleaning Systems® is the Standard of Clean® for businesses throughout Northwest Arkansas, Missouri, and Oklahoma.
In Oklahoma, dial 918-960-4450
In Arkansas, dial 479-717-2410
In Missouri, dial 417-812-9777