A clean work environment provides a wide range of benefits for building occupants, many of which translate into increased profits for the organization.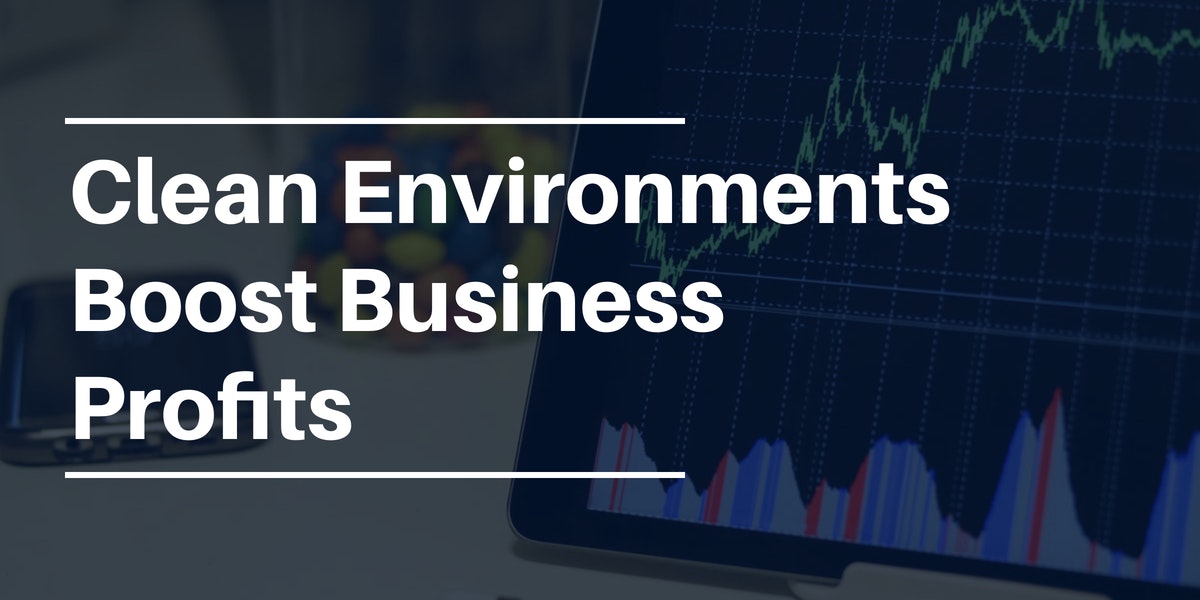 Boosting Profits With a Clean Office
A clean office isn't just good for facility occupants, it's good for the bottom line.
Routine high-performance cleaning services with a health first focus will:
Improve occupant health, thereby decreasing the number of sick days consumed by office staff.
Boost employee morale, resulting in increased job satisfaction and workplace engagement, and;
Increase productivity through a combination of an orderly workplace and the elimination of environmental toxins and pollutants that diminish health, wellness, mood, production, and cognitive functions.
How Important is a Clean Environment to the Success of a Business?
You often come across the age-old adage that human capital is the most valuable asset to a business, but what does that mean?
According to MBA Knowledge Base
High intellectual human capital will generate greater income and profits compare to other assets.

Human capital and income are linked closely.

A person with high educational level will allow him or her to perform high value-added task more efficient and more quickly.

The person will also be capable of applying more new ideas and innovations into his or her work.

In short, higher human capital leads to more output per hour worked and thus productivity is higher.
That being the case, ensuring worker job satisfaction and health, especially in high-demand markets, should be a top priority for business owners and facility managers.
However;
[... Stratus Building Solutions recently commissioned a survey of 503 employees, discussing their employers' cleaning habits.

More than 90 percent said that their productivity has been compromised by a dirty or disorganized office – and 25 percent said that they've thought about quitting, or actually had quit, a job because the office was smelly and unclean.
Turning Clean Into Green
Obviously, workers prefer a clean, well-organized workplace, but how does that translate into increased profits for your business?
First, let's look at what it's costing you.
Each year, on average, a worker will take approximately 7.7 sick days.
Nationwide, those sick days add up to a cost of around $225.8 Billion per year.
Cold and flu symptoms--dry, itchy, or watery eyes, a dry throat, a headache, and general lethargy--result in a 3%-8% drop in productivity.
Dust exposure results in measurable declines in cognitive functions--typing, math, logic, memory, and creative thinking--by an estimated 2%-6%.
All of these issues correspond to an estimated 54% decrease in productivity, and a 39% drop in sales and customer service.
Conversely, implementing a regular high-performance cleaning program has been shown to:
Decrease the detectable levels of illness-causing viruses on commonly touched surfaces by 62%.
Reduce the probability of catching a cold or the flu in the workplace by as much as 80%.
Decrease sick days by as much as 46%.
Increase productivity by 2%-8%.
All resulting in the average savings of $125K per year.

Where Cleanliness Counts
Workplace cleanliness should be a top priority for all businesses, but especially for customer-facing industries, such as hospitality, food service, and retail.
Research shows that:
6 out of 10 fast-food restaurant customers have stated that if the establishment is clean, they will go more often.
The same number of shoppers ranked the cleanliness of a retail establishment over lighting, temperature, and special events, stating that a clean store encouraged them to shop and buy more often.
Regardless of the type of business, including whether or not it serves the public directly--the most problematic area in need of attention was the restroom.
Other areas that every company must focus on to ensure the health and wellness of their customers, as well as the safety and productivity of their employees include:
Keyboards.
Mice.
Desk phones.
Break room sink faucet handles.
Microwave door handles.
Refrigerator door handles.
Water fountain buttons, and;
Vending machine buttons.
References & Resources
Takeaway
Maintaining a high standard of cleanliness and hygiene in your business makes dollars and cents.
Conversely, trying to save a few bucks by cutting corners or ignoring the condition your workers and customers must endure on a daily basis has a demonstrably negative impact on business profits and success.
Ignoring these challenges in today's competitive business market is an excellent method for sending valuable talent and repeat business across the street to your competitors.
Improving your organization's productivity and financial outlook could be just a phone call away.
Contact us today and discover why Vanguard Cleaning Systems® is the Standard of Clean® for businesses throughout Northwest Arkansas, Missouri, and Oklahoma.
In Oklahoma, dial 918-960-4450
In Arkansas, dial 479-717-2410
In Missouri, dial 417-812-9777