Cleaning multi-tenant office buildings comes with several challenges--requiring a flexible service provider, highly trained custodial staff, and advanced equipment and processes capable of providing the highest standard of cleanliness in an often truncated time frame.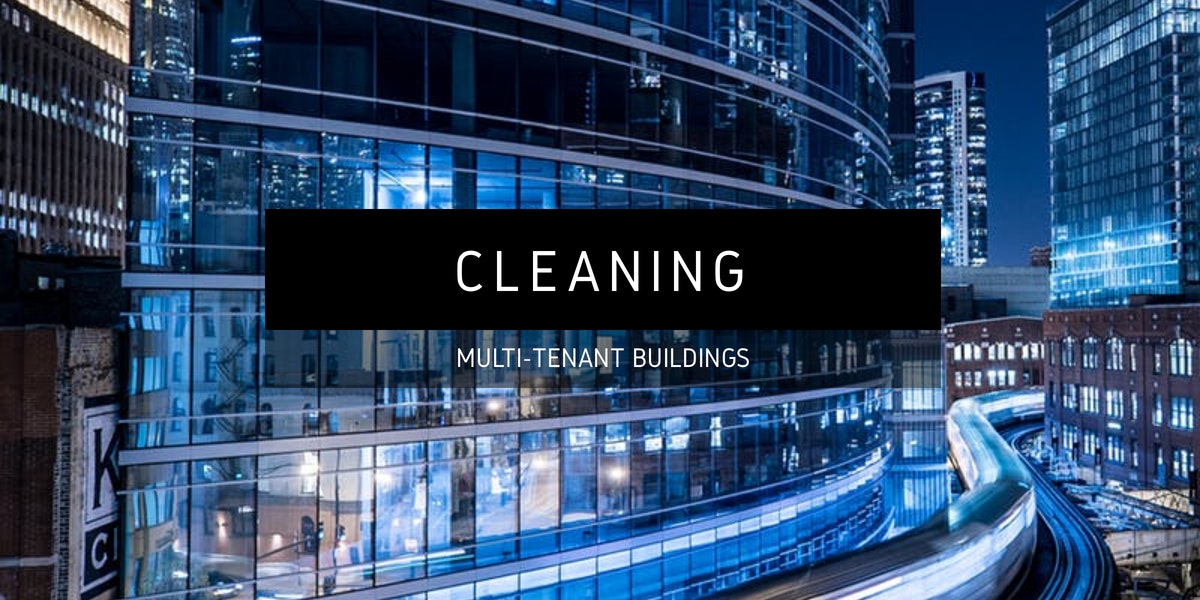 High-Performance Cleaning Services for Multi-Tenant Office Buildings
Cleaning and maintaining the professional appearance of multi-tenant office buildings is a complex task requiring the services of an extremely flexible service provider who has:
Experience cleaning similar facilities.
Access to a sufficient number of trained custodial and facilities maintenance staff to fulfill all regular and special service requirements, and;
Access to, and experience with, the tools and cleaning chemicals required to satisfy the building manager or owner's specific needs.
General Cleaning Services for Multi-Tenant Buildings
Customized cleaning services may be required for specialized tenant businesses, such as medical or childcare facilities but, in general, the following services should be expected.
Common Area Cleaning
Typically, these areas are used by all building occupants and include the entryway, parking lot/structure, lobby, and restrooms.
Parking lot/structure and walkway clean-up is typically considered a special service, depending on the provider and size of the building, but should include:
Regular trash removal.
Occasional pressure washing.
Routine sweeping, and;
Walkway winterizing.
The entryway and lobby will require:
Regular cleaning and maintenance of walkway matting.
Routine floor cleaning, including sweeping and mopping.
Daily trash removal
Seasonal, or bi-yearly stripping, waxing, and buffering, and;
Daily (or several times per week) cleaning and disinfection of the lobby desk and communication equipment to prevent the buildup of germs and bacteria.
Finally, the restrooms:
Should be cleaned and disinfected every day.
May require the attention of a day porter service to address any issues during regular hours of operation, as well as check and maintain the availability of toilet paper, soap, paper towels, and hand sanitizer.
Tenant Office Cleaning
Tenant office cleaning services will likely vary, depending on the nature of the arrangement between the business and the building management or owner.
It is highly unlikely that any one-size-fits-all service will suffice for each business, and so a customized service plan should be devised that includes, at a minimum, weekly;
Dusting.
Vacuuming, and;
Trash removal.
Special Multi-Tenant Office Cleaning Services
Specialized services are usually reserved for seasonal or one-and-off services, such as:
Window cleaning.
Exterior cleaning.
Floor-by-floor carpet cleaning or hard surface floor scrubbing, buffering, and waxing, and;
Tenant move-in/out deep cleaning.
Additional Considerations
When assessing potential service providers, it is critical to know what you need, understand what you agree to, and know how to address any issues or additional requests.
The first step, though advisable, but not required, is to ascertain the needs and wants of the tenant business owners--specifically scheduling requirements and any preference for green cleaning products.
Next, when reviewing bids from competing vendors, make sure they have all the necessary experience, available staff, insurance, bonds, and licensing requirements.
Inquire into who will be cleaning the building.
Will it always be the same person/crew?
Have they passed background and security checks?
How often is training offered to the team?
How much experience do they have cleaning a building of your type and size?
Do they have access to advanced cleaning products and equipment, such as backpack vacuums, electrostatic disinfection appliances, and automated floor scrubbers, that will significantly improve the quality of clean while reducing the amount of time required to complete the task?
Then, review the terms of any contracts that are presented to your organization and ensure that, at a minimum, the following is addressed:
Terms - How long will the agreement last and when are you expected to pay.  Lengthy contract terms can marry your organization to diminishing returns on your service.
Cancellation - Specifically, what constitutes a breach and what is the procedure for cancellation during and upon completion of contract terms.
Scheduling - When will what be cleaned?  Who is to be contacted if the service provider cannot access any area of the facility that is scheduled to be cleaned?  When and how are missed assignments addressed?
And, finally, determine the primary point of contact with the chosen service provider.
Experienced service providers will have the equivalent of a property manager support service or account manager that is assigned to your facility.
This team or individual will be able to assist with:
Remediation.
Special event scheduling.
Service provider rescheduling.
Complaint handling, and;
Service provider communication.
Takeaway
The size and variation of tenant business types in a multi-tenant facility lend towards a complex series of cleaning and maintenance requirements that can shift on a dime.
Maintaining an in-house, well-trained, experienced, and dedicated custodial staff has proven extremely costly due to high-turnover numbers.
Outsourcing provides your organization with a team of highly trained personnel possessing all of the equipment necessary to comply with your facilities' requirements without the cost and overhead associated with direct-hire employees.
Contact us today and discover why Vanguard Cleaning Systems® is the Standard of Clean® for businesses throughout Northwest Arkansas, Missouri, and Oklahoma.
In Oklahoma, dial 918-960-4450
In Arkansas, dial 479-717-2410
In Missouri, dial 417-812-9777