The curb appeal, showroom shine, and general health and cleanliness of your auto dealership will make or break your business.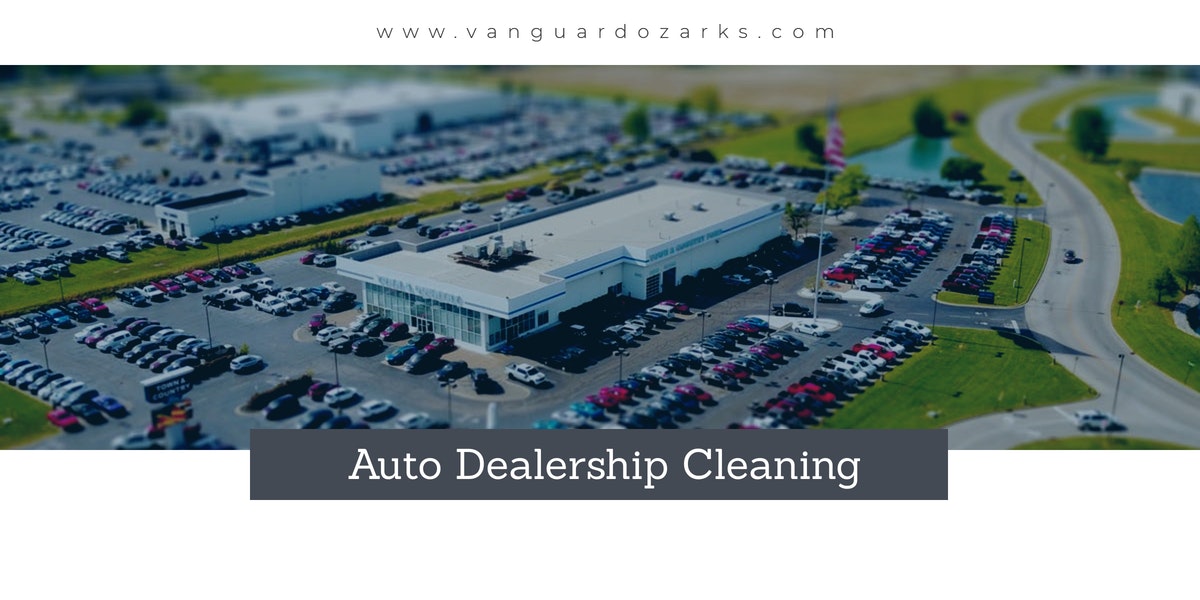 The Importance of High-Performance Cleaning for Auto Dealerships
There are several critical areas within an auto dealership facility that require a high level of attention to detail, and are typically broken up into:
Customer-Facing Spaces - The showroom floor and glass are probably the most prominent areas, but it's essential to keep the cleanliness of the lot and walkways well maintained, especially in the winter.
Back Office Spaces - Just like any other office space, the cleanliness of the sales and administrative office spaces, restrooms, and breakrooms are critical to maintaining the wellbeing, and ultimately, ensuring the health and performance of your office staff, and;
Automotive Repair Spaces - While the service and repair area isn't typically cleaned according to office space or customer area standards, the cleanliness of the restroom used by service personnel is critical to ensuring health and safety standards.
Customer Facing Spaces
From the moment a potential customer steps foot onto your lot, you want them impressed by the incredible inventory, not appalled by the condition of your facility.
The outdoor lot must be regularly checked and cleared of any physical debris and garbage.
The walkways should be swept and pressure washed as needed, and all walkway/entryway mats should be vacuumed and serviced regularly, especially if they are starting to appear worn.
The windows should be clear, and sparkle to help emphasize the showroom display, and the showroom floor should shine, which means regular sweeping, mopping, scrubbing, and polishing or buffing.
All of the garbage cans should be emptied every night, and the display portion of the facility should be dusted regularly, and;
The customer waiting area and furniture should be wiped down every night, especially if your facility provides drinks or other snacks that can create sticky stains if left unattended.
Back Offices
The back office area of a car dealership faces the same challenges as any other business office, and the same solution applies--the higher your standard of cleanliness, the better your team will perform.
Sales manager desks should be regularly cleared of clutter to avoid frustration and distraction, as well as ensure a professional appearance to prospective buyers.
Trashcans should be emptied every night to prevent the buildup of unpleasant smells and bacteria that can rapidly spread to other areas.
Computer equipment and other technological devices should be sanitized regularly, especially if your team is prone to working lunches at their desks.
Office team restrooms should be serviced daily to ensure your teams comfort and health, as well as prevent the spread of disease between employees, and;
Break and lunch rooms should have the refrigerator cleaned out every week, and all used dishes should be washed every night, especially used coffee pots and mugs, which consistently rank as one of the top germ hot spots in relevant studies.
Service and Repair Areas
Dirt and grease can build up in service and repair areas quickly.
While a certain degree of messiness is expected, the chemicals used in automobiles can damage expensive equipment and leave unsightly stains that may turn away more discerning customers.
To maintain a top-notch appearance:
Remove all clutter and debris from service stalls every night.
Regularly pressure wash floors, walls, and stalls to remove dirt, oil, and grease which represents a significant slip and fall hazard, and;
Scrub the restrooms clean every night to prevent the building up of dirt and grease, which can damage your facility and present a potential health risk to occupants and service personnel after prolonged exposure.
Remember to Clean for Health First
More and more, consumers value doing business with organizations that take proactive steps to ensure their operations are sustainable and environmentally conscientious.
However, from the perspective of a businesses bottom line, studies support the premise that a clean for health first approach increases worker performance, health, and cognitive functions, which translates into fewer sick days and more sales.
To bring this all together in a manner that makes the most sense for your dealership:
Institute a facility-wide recycling plan and partner with your janitorial provider to assist with the safe disposal of the waste.
Use color-coded microfiber systems to eliminate cross-contamination and prevent the spread of illness between office workers and customers.
Employ electrostatic disinfection technologies to quickly and safely sanitize electronic equipment and furniture, and;
Switch to safer use or certified green cleaning products to prevent exposure to toxic chemicals or the buildup of smells that turn away business and irritate office workers.
Takeaway
New car sales is a highly competitive industry where every advantage counts.
Presenting a clean and professional appearance is the bottom line standard with which your facility must operate, but that goes for your competition as well.
Taking the next step and upgrading your cleaning procedures to scientifically-backed clean for health first practices will give your entire staff the edge they need to perform at a higher level, close more sales, and reduce accidents and illness in the workplace.
Contact us today and discover why Vanguard Cleaning Systems® is the Standard of Clean® for businesses throughout Northwest Arkansas, Missouri, and Oklahoma.
In Oklahoma, dial 918-960-4450
In Arkansas, dial 479-717-2410
In Missouri, dial 417-812-9777