A clean healthy workplace will help combat the increasing rise in turnover rates across all industries in the U.S.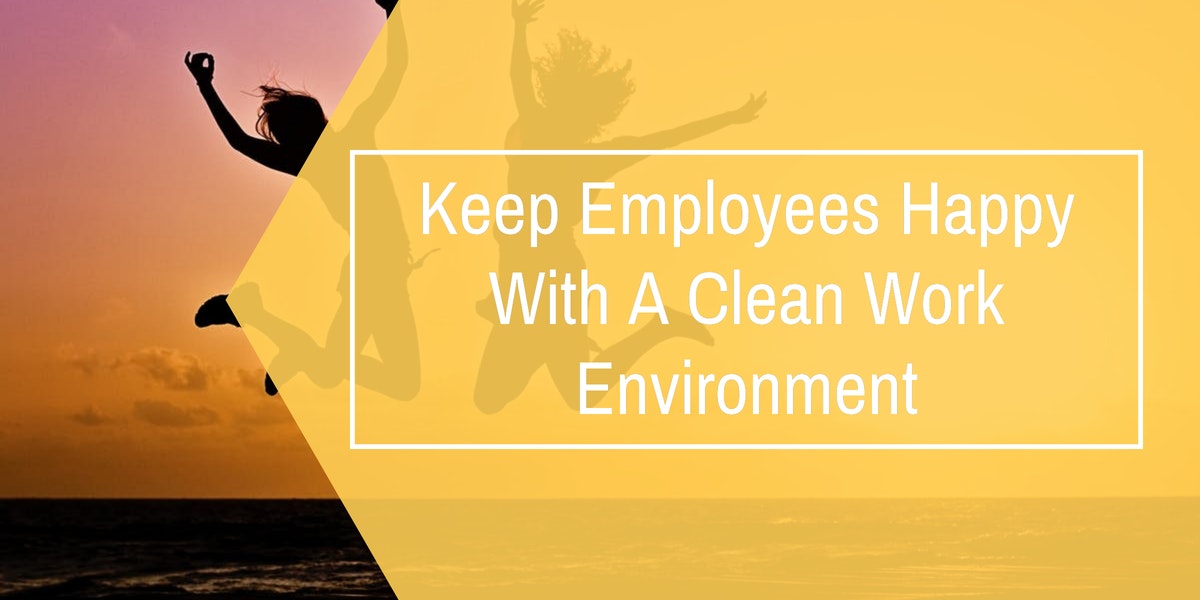 Combating Employee Turnover With A Clean Office
The national turnover rate, a deceptively costly accepted norm in standard business operations, rose dramatically between 2014-18--exceeding 44%, or an increase of 5%, over that period.
While reality mandates that the loss of the occasional worker is inevitable, consistent and increasing turnover rates carry several unseen issues, including:
Reductions in productivity until a replacement can be found and trained up to speed.
Increases in management overhead necessary for hiring and increased oversight of new workers.
Additional potential expenses associated with unemployment or litigation, and;
Serious issues with employee morale.
What may come as a surprise to many is how significant of an impact that a clean, well organized workplace has on worker happiness and job satisfaction.
[...] a 2018 survey on employee satisfaction, [found that] cleanliness is a key factor.

The survey found a significant majority of the respondents identified safety and hygiene (94 percent), and organization of work environments (93 percent) as main components of their happiness on the job.

In addition, according to the study, nine of 10 manufacturing employees believe quality on-the-job tools, such as cleaning products, impact their productivity (90 percent) along with their happiness.
The State of the American Workplace
According to the latest Gallup State of the American Workplace survey:
51% of workers are looking for a new job or opening.
68% believe they are overqualified for their current position.
Only 33% of employees reported being engaged in their current position, and;
Company culture was cited as one of the top five reasons workers left their current job for a new one.
Employee disengagement in the workplace, due in large part to a disconnect between them and their corporate culture, is an enormously expensive challenge.
The more disconnected employees feel, the greater their readiness to job hop.
According to Gallup;
While 37% of engaged employees are looking for jobs or watching for opportunities, higher numbers of not-engaged and actively disengaged employees are doing the same (56% and 73%, respectively).

Actively disengaged employees are almost twice as likely as engaged employees to seek new jobs.

Workers want to feel connected to their job, manager and company.

If those ties are not there, they have all the more incentive to quit, leaving their organization to start the costly recruitment, hiring and onboarding dance all over again.

Gallup estimates that actively disengaged employees cost the U.S. $483 billion to $605 billion each year in lost productivity.
Cleaning for Health Increases Employee Engagement
Nobody gets up in the morning excited about going to work in a filthy office that makes them feel like they have the flu for eight or more hours per day.
However, that is exactly the challenge facing many businesses--a direct result of low-quality cleaning practices that utilize toxic cleaning and disinfecting products--commonly referred to as sick building syndrome.
For those of you unfamiliar with the concept;
[...] your office's standard practices for cleaning may involve harmful chemicals that affect employee health adversely and damage the office and natural environment.

Many companies don't realize their employees are suffering from sick building syndrome, including skin irritation, fatigue, dizziness, inability to focus and throat, nose and eye sensitivity.

As of 1983, the World Health Organization (WHO) stated sick building syndrome had become a global threat. Green cleaning practices address recycling, energy use, consumption, water quality, waste and sanitation without the use of toxic chemicals and may improve the company's power bill.
Implementing clean for health first practices, conventionally referred to as green cleaning, your business can significantly improve the health and engagement of office workers and directly address the challenge of increasing employee disengagement and turnover.
Green cleaning includes:
Scent-free biodegradable chemicals with low volatile organic compound (VOC) emissions that contribute to indoor air quality challenges and are directly related to instances of sick building syndrome, as well as;
Environmentally friendly products, such as microfiber, which reduce natural resource use and waste.
Takeaway
Worker turnover in the U.S. is high and on the rise due to several factors, including complete disengagement between the employee and their employer and workplace due to low quality cleaning and indoor air that makes them feel sick, unproductive, and miserable.
A clean for health first approach has been shown to increase indoor air quality, improve employee engagement and feelings of well-being--all of which translate into higher profit margins and increased productivity for the business.
Outsourcing to a franchise-owned service provider can have a rapid and dramatic impact on your facilities health and hygiene.
Contact us today and discover why Vanguard Cleaning Systems® is the Standard of Clean® for businesses throughout Northwest Arkansas, Missouri, and Oklahoma.
In Oklahoma, dial 918-960-4450
In Arkansas, dial 479-717-2410
In Missouri, dial 417-812-9777