Turnover in the janitorial industry, on average, ranges from approximately 75-400% annually--the average coming in at approximately 200%--costing U.S. businesses a small fortune in lost profits and productivity.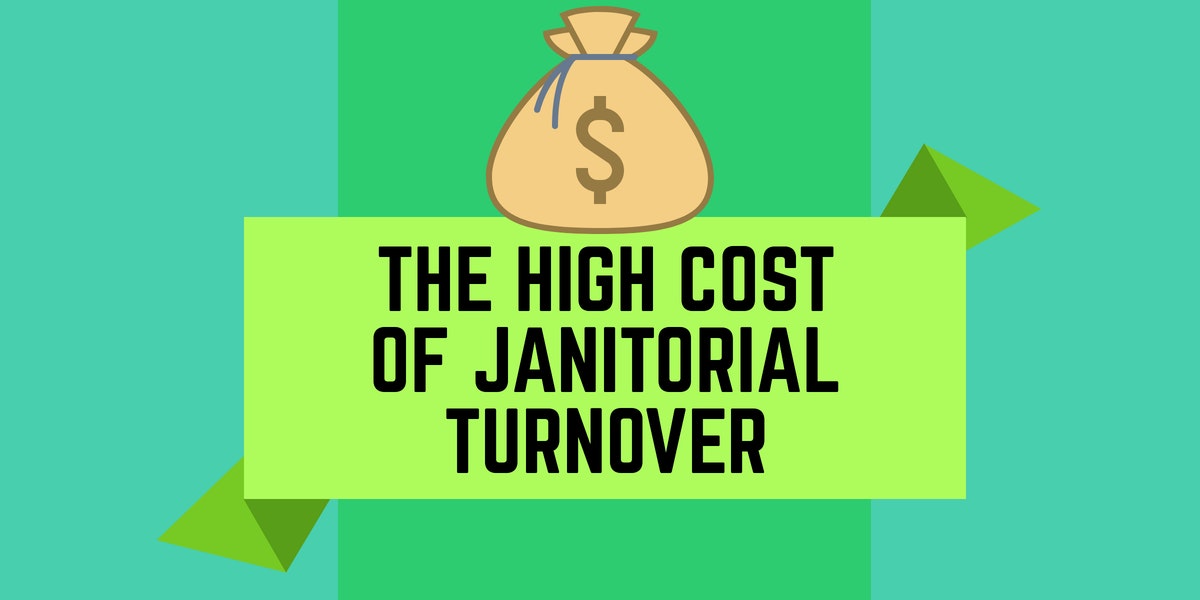 How Much Does Your Janitorial Service Cost?
While the cleaning services industry, as a whole, suffers from several challenges, such as:
A want to clean for appearance first, as opposed to health.
The assumption that all services and providers are essentially equivalent, and;
A relatively low budget being assigned to large or complicated facilities.
The single most significant factor relating to cost, performance, and outcome is the disturbingly high turnover numbers, industry-wide.
According to 4M Business Solutions;
Recruitment of new employees, onboarding and lost productivity while new hires learn their jobs are all extra costs.

If it costs $1000 to hire a new employee, in order to sustain a team of 100 workers at a 200 percent turnover rate, the cleaning company must hire 200 workers each year, which adds $200,000 to their annual costs; costs which are likely to be absorbed by the customer.

In addition, the amount of money spent on new hires is money that is not being invested in new equipment, technology and training programs.

So basically, it's a lose/lose for everyone involved.
These numbers are not the sole domain of in-house cleaning staff, but weigh heavily on outsourced providers as well.
The causes range from:
Little to no industry training.
A lack of upward mobility within an organization.
Working conditions, and;
Low pay when compared to other industries.
These factors combine to create an ongoing scenario where schools and businesses of every kind are replacing their entire custodial team, up to four times per year, leading to a host of additional business challenges, including:
Lost employee productivity.
Increased time to complete standard cleaning tasks.
Accidents or unsafe working conditions.
Potential security issues, and;
Custodial worker training and recruitment costs.
Outsourcing Janitorial Services as a Solution to High Turnover
By itself, outsourcing is not an end all and be all solution.
As previously stated, outsourced vendors typically suffer from the same employee churn rates as in-house custodial and facilities maintenance teams.
The fundamental difference lies in the franchise business model--more specifically, the owner-operators of franchise janitorial providers are financially invested in their own organization and its success, thereby incentivizing top performance and successful client-vendor relationships.
The combination of available training and increased earning potential--two of the most problematic areas in the cleaning industry--addresses many of the challenges facing the industry as a whole, and directly benefits the organization's customers, who typically see several benefits, including:
An increase in building and worker performance at a lower cost.
A reduction in the amount of time necessary to clean a facility as a result of years of experience.
A significant reduction in accidents or exposure to toxic chemicals, common among new and inexperienced custodial workers.
Decreased resource waste, and;
A safer, more secure working environment.
Standing out From the Crowd
Vanguard Cleaning Systems® of the Ozarks stands head and shoulders above its competition--boasting less than 10% turnover among its franchise janitorial teams annually.
This places our organization, and its franchise business owners in the top 1% nationwide.
We are able to succeed where so many others have struggled due to our commitment to the success of our franchise business owners and their employees, as well as their business relationship with the organizations that they service.
Takeaway
Office and classroom cleaning services are a critical component of a successful working and learning environment.
Due to issues with high custodial worker turnover, many businesses have pressed regular staff into service--a dangerous and potentially costly decision--or worse, have completely forgone the offering of routine cleaning services within their organization.
Managing an in-house cleaning or facilities maintenance team, or an outsourced provider with a historically high turnover rate, on top of managing your business, can quickly become overwhelming and costly, leading to a host of potential issues, including potential problems with security.
If you would like to learn more about the advantages of outsourcing your organizations custodial needs to an experienced vendor with a proven track record of success and franchise retention--contact us today!
In Oklahoma, dial 918-960-4450
In Arkansas, dial 479-717-2410
In Missouri, dial 417-812-9777